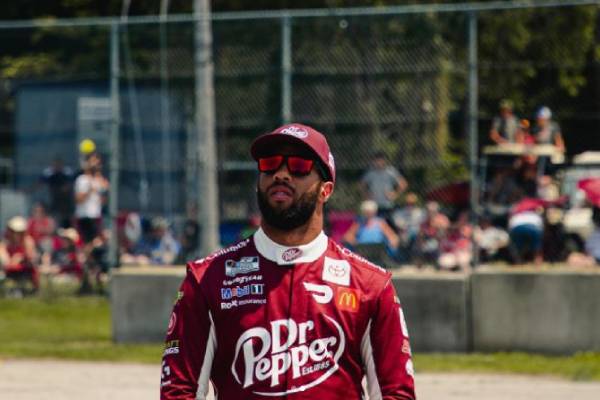 When discussing NASCAR Series, Bubba Wallace's name definitely pops up. He initially raced in NASCAR Camping World Truck Series and Xfinity Series before debuting in NASCAR Cup Series. Furthermore, he is making his return in two NASCAR Xfinity Series races in 2022.
The sportsman became the first African American racer in fifty years to win in one of NASCAR's top three national touring series in 2013. He is also the first African American driver to become a full driver in NASCAR Cup Series. Hence, the racer is an inspiration for all people.
So, let's learn more about this inspiring personality's family, siblings, career, salary, and love life in this biography.
Bubba Wallace's Parents Support His Motorsports Career
The NASCAR driver was born William Darrell Wallace Jr., on October 8, 1993, in Mobile, Alabama, USA. His sister, Brittany Wallace, called him Bubba as a child, which just stuck.
Bubba Wallace's father, Darrell Wallace Sr., owns an industrial cleaning company. He also introduced his son to racing when he was nine years old. Furthermore, after Bubba's parents' divorce, his dad, Darrell, was in charge of accompanying him on race tracks.
Bubba Wallace's mother, Desiree Wallace, was initially a bit hesitant about her son's racing interest. But, she supported his decision after seeing his dedication towards it. Likewise, Bubba's sibling, Brittany, also became involved in sports and played basketball in college.
View this post on Instagram
The racer graduated from Northwest Cabarrus High School. He often returns to his school to provide scholarships to students and is one of the most significant contributors.
Also Read: More About Racer Alex Bowman
Bubba Wallace, Net Worth – $3 Million
Bubba Wallace's net worth stands at $3 million. His income also benefits from his contracts, prize money, endorsements, sponsors, merch sales, etc.
The racer began kart racing at nine and soon switched to car racing. He competed in Legends and Bandoleros Car Racing Series until eleven. Eventually, Bubba advanced to the NASCAR series in 2010 and became the youngest driver to win at Greenville-Pickens Speedway. He also obtained the Rookie of the Year honor the same year.
Let's see some of his earnings in NASCAR Camping World Truck and Xfinity Series below:
| | |
| --- | --- |
| Year | Prize Money |
| 2012 NASCAR Nationwide Series | $98,507 |
| 2013 NASCAR Camping World Truck Series | $359,242 |
| 2014 NASCAR Nationwide Series | $58,636 |
| 2014 NASCAR Camping World Truck Series | $588,515 |
| 2015 NASCAR Xfinity Series | $1,212,362 |
Aside from that, Wallace's income also comes from his sponsors Leidos, Dr. Pepper, DoorDash, Beats by Dre, McDonald's, etc. His earnings also come from his merch sales priced from $25 above. Furthermore, a race car driver earns an average of $41,919 a year. So, Bubba's salary might also be around that range.
Thus, Bubba Wallace's net worth of $3 million is primarily from his career as a racer. Another individual who competes in NASCAR Cup Series is Austin Cindric.
Is Bubba Wallace Married?
Well, the NASCAR driver isn't married yet, but he is engaged to his long-time girlfriend, Amanda Carter. She is a North Carolina native and works at Bank of America.
The pair began dating in 2016 and has been inseparable since. Bubba Wallace's fiancee, Amanda, wasn't aware of NASCAR before meeting him. But, she has supported his racing passion from the get-go. In addition, she has also starred in her fiance's series Behind The Wall: Bubba Wallace and Race: Bubba Wallace.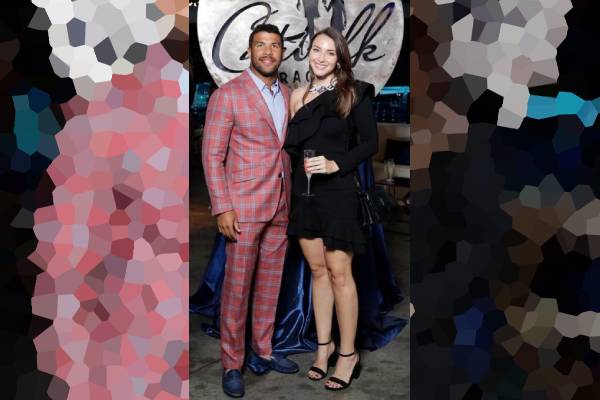 However, the couple also went through a rough patch in the early stages of their relationship. Wallace's partner, Carter, revealed Bubba was mentally struggling with his parents' divorce, which put a strain on their love life. Thankfully, the duo overcame that phase.
Wallace made a surprise proposal to his lady love in July 2021. The lovebirds haven't shared their wedding plans precisely, but Bubba often calls his partner soon-to-be-wife in his IG captions. So, both might be getting married soon. Let's wish the pair more happiness ahead.