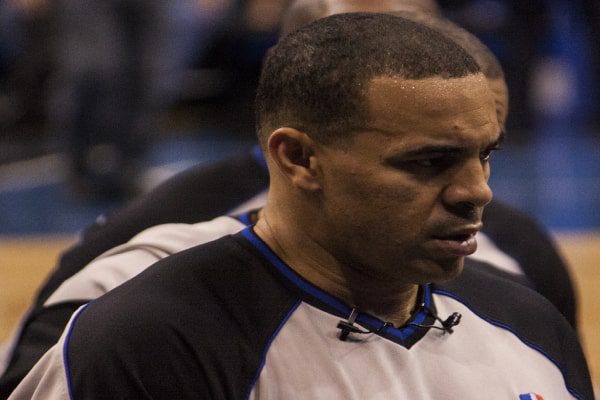 Birth Date

September 24, 1970

Birth Name

Curtis Blair

Age

53

Height

6' 3''

Weight

185.18 pounds

Birth Place

Roanoke, Virginia, USA

Birth Sign

Libra

Nationality

American

Profession

NBA Referee

Relationship Status

Married

Eye Color

Brown

Hair Color

Black

Children

Curtis Blair III

Education

Bachelor's Degree in Criminal Justice
Curtis Blair is a former professional basketball player and the current referee in the National Basketball Association (NBA). He spent most of his playing career at the collegiate level and had a breakthrough in the 1991-92 season. He finally started officiating in 2009.
The Houston Rockets selected the now referee in the 1992 NBA draft. Having won the CAA Player of the Year during that time, he was the 26th pick in the second round of the draft. Moreover, Blair also played a few seasons in Turkey.
With the ever-growing popularity of the NBA, many are wondering about the personal details of the NBA referee. So, let's discuss more about Blair's family, career, and net worth in this article.
Gradual Transition to Officiating
Curtis was born on September 24, 1970, to American parents. Blair Curtis' father and mother raised him in Roanoke, Virginia, USA. However, the former NBA player has not revealed many details about his siblings. He attended Patrick Henry High School and played basketball there.
Blair also played as a guard for the Redmond Spiders at the University of Richmond. He was a significant member of the 1991 men's basketball team in the NCAA Tournament. Having graduated with a Bachelor's degree in Criminal Justice from the university in 1992, the NBA referee competed in many games with the team.
Also, the player was named the Colonial Athletic Association Player of the Year in the 1991-92 season. He was also selected for the CAA All-Tournament Team and All-CAA First Team.
However, Curtis was always fascinated with the idea of officiating and claims the most important thing to succeed as a referee is to get rid of your ego. Having worked as a referee for almost fourteen years, he explains how preparing for the unexpected has helped his gradual transition to officiating.
Moreover, Blair, who has played in Australia, Austria, and Turkey during his playing times, says communication is a key to officiating in basketball. Since he started as a player, that experience has helped a lot in his refereeing career too. However, he adds that always wanting to be right is not his crucial focus, as that does not help while dealing with the players and the coaches.
Also Read: More About NBA Referee James Williams 
Curtis Blair Net Worth And Career
As mentioned above, Blair has been officiating in the NBA for more than a decade now. In all these years, the referee has not just garnered massive fame but also a considerable amount of income. So, we can assume that Curtis Blair's net worth is a significant sum.
Curtis started his refereeing career in several collegiate tournaments. He began in the ACC tournament before switching to Atlantic 10 and Colonial Athletic Association (CAA). Then, he was called to the NBA to officiate, which he has been excelling at since 2009.

According to Sports Brief, an NBA referee can earn up to $10,000 per game, officiating just some playoff round matches. With the lowest salary of the referee estimated to be $180,000 per year, one can assume that Curtis Blair's salary must be a significant amount. Furthermore, since he has officiated over 600 games, it is pretty likely that his earnings must be around that of a senior referee's i.e., $550K.
The former athlete also officiated some games in the NBA G League, including the 2008 Finals. Likewise, his contract with Houston Rockets must have also guaranteed a good amount of money. Hence, Curtis Blair's net worth must be a notable amount.
Tyler Ford is another NBA referee with significant net worth.
Is Curtis Blair Single?
Well, Curtis seems like a private person and has not disclosed anything about his personal life. Still, as per several sites, the referee is a married man with two children. Similarly, going through one of his interviews, he has been married for more than two decades. But, the details about Curtis Blair's wife have not been revealed.
Curtis Blair's son, Curtis Blair III, is a basketball player at Liberty University. He has been considered one of the brightest prospects in basketball. Furthermore, Blair III was also offered admission by his dad's alma mater.
View this post on Instagram
Nevertheless, it seems Curtis is living a happy and peaceful life with his spouse and kids. Blair's family must be proud of his achievements as a referee. Let's hope he can continue doing well as an NBA official in the coming days.
Trivia And Facts
Curtis Blair's hidden talent is tennis.
His favorite movie is Grease, while his favorite TV show is Dexter.
His favorite musicians are K-Ci and JoJo.