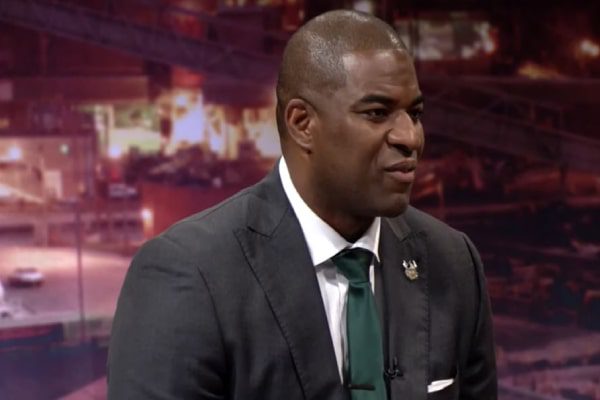 Birth Date

April 28, 1976

Birth Name

Harvey Daniyal Robinson

Age

47

Birth Place

Rock Island, Illinois, USA

Nationality

American

Profession

Basketball Coach

Salary

$325,000/ Year

Partner

Kim Marie Robinson

Relationship Status

Married

Eye Color

Black

Children

Devyn Robinson, Reece Robinson, Reid Robinson

Education

Bachelor's Degree in Health Education

Twitter

https://twitter.com/coach_d_rob
Daniyal Robinson is a former basketball player and the current head coach for the Cleveland State Vikings men's basketball team in the NCAA Division I. After serving as an assistant coach for five collegiate teams, Robinson finally got his long-awaited chance to become the head coach. He joined the Cleveland State in the 2022 season.
With the growing popularity of collegiate basketball, many are wondering about the personal details of the coach. So, let's talk about Daniyal's family, career, and net worth in this article.
Was Raised By His Grandmother
Harvey Daniyal Robinson was born on April 28, 1976, in Rock Island, Illinois, USA. As per his interview with Quad-City Times, Daniyal Robinson's father wasn't present in his house. Instead, he was raised by his grandmother, Bertha Clark.
Daniyal Robinson's grandmother sacrificed parts of her happiness to help him succeed. The coach credits his grandmom for turning him into the type of man he is now. She even urged her grandson to join college and study, which has certainly changed the events of his life.
Robinson also has an elder brother, David Robinson, whom he considers his biggest idol. He is also the head coach at Davenport West High School.
The NCAA coach started his playing career at Rock Island High School and afterward attended Indian Hills Community College. After spending two years there, he switched to playing for the Little Rock Trojans men's basketball team from 1996 to 1998.
Daniyal graduated from the University of Arkansas at Little Rock with a Bachelor's Degree in Health Education in 1999. Before that, he earned an Associate's Degree in Arts and Sciences from Indian Hills.
Also Read: More About NBA Referee Nick Buchert
Daniyal Robinson Net Worth And Career
With a career spanning over two decades, Daniyal has definitely amassed a considerable amount of wealth. He started his coaching career as the administrative assistant for Little Rock in 2000 and has been working in the sector for more than 20 years now. So, Daniyal Robinson's net worth mainly includes his earnings as a coach.
Robinson's coaching credits include working for the men's basketball teams of Illinois State Redbirds, Iowa State Cyclones, Houston Cougars, Loyola Ramblers, etc. He held the assistant coaching position in his previous workplaces. Well, he only became a head coach for the first time in April 2022.
Here's a breakdown of Daniyal Robinson's salary from Cleveland State University.
| | |
| --- | --- |
| Contract Clause | Amount |
| Base Salary | $325,000 |
| Annual Bonus | $25,000 |
| If a CSU player makes the Horizon All-Academic team | $10,000 (Bonus) |
| If the team has a GPA over 3 | $5,000 (Bonus) |
|  If he leaves after one year (Buyout) | $1.3 million |
Table Source: Cleveland Official Website 
As mentioned earlier, the collegiate coach has had a successful career with decades of experience. According to sources, Daniyal will earn a base salary of $325,000 over the next five years. Likewise, he also made $285,000 in the 2020 season under head coach Steve Prohm in the Iowa States Cyclones men's basketball team. Hence, with the new head coaching position, we can assume that Daniyal Robinson's net worth must have also increased.
Brent Barnaky is another basketball sportsperson with a massive net worth.
Is Happily Married
Daniyal is happily married to his beautiful spouse Kim Marie Robinson. The couple celebrated their 18th marriage anniversary in August 2021. The head coach who credits his success to his beau shared their wedding photos on his Twitter account that day.
Happy Anniversary @kimrobinson830 18 years 💪🏾
❤️❤️❤️ #TeamDRob #WeStillSmiling pic.twitter.com/RcGajpddBh

— Daniyal Robinson (@Coach_D_Rob) August 31, 2021

Kim seems to be an avid volleyball enthusiast as she keeps uploading pictures of the women's volleyball games. Daniyal Robinson's wife is also very supportive of his coaching career and encourages him to do better. She also constantly shares news and information about Daniyal's matches on Twitter. Furthermore, the pair must be quite happy and content in each other's company.
Father of Three
Robinson is a father of three beautiful children. Daniyal Robinson's oldest daughter, Devyn Robinson, is following in his sports footsteps, but not quite the same sport. Devyn is currently in her sophomore year and is part of the volleyball team.
View this post on Instagram

Likewise, Daniyal and Kim have two other kids, Reece Robinson and Reid Robinson. Daniyal Robinson's son, Reece, was born on December 26, 2005, while the youngest Reid was born on May 31, 2009.
Daniyal and his family seem to be living a happy and comfortable life. His career has also seen him climbing from assistant coach to head coach. Let's hope Robinson will help the college win many titles and make his family proud.
Trivia And Facts
Daniyal is the 17th head coach of Cleveland State.
His daughter won a gold medal in the NORCECA Championship in Honduras.