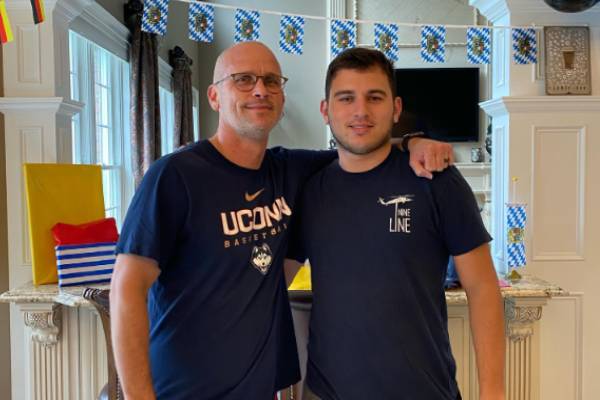 Birth Date

July 1, 1999

Birth Name

Danny Hurley

Age

24

Father's Name

Dan Hurley

Mother's Name

Andrea Hurley

Birth Place

Glastonbuy, Conneticut, USA

Nationality

American

Profession

Aide to Governor

Relationship Status

Not Confirmed

Eye Color

Brown

Hair Color

Brown

Education

Bachelor of Arts

Instagram

https://www.instagram.com/danhurley.15/
Last updated on June 29th, 2022 at 07:14 am
One of the most talented American college basketball coaches, Daniel S. Hurley, is professionally known as Dan Hurley. The 2018 A-10 Coach of the Year currently serves as the head coach of the men's basketball team of the University of Connecticut.
Besides his successful professional life, the coach also enjoys a blissful life with his wife, Andrea Hurley, and two children, Danny Hurley and Andrew Hurley. So, there is a lot of curiosity regarding the coach's family members. Thus, in today's biography, we present detail about Dan Hurley's son, Danny's earnings, career, love life, and more. Keep reading.
Is The Eldest Son Of His Parents
Danny was born as the eldest son to the renowned basketball coach Dan Hurley and his spouse, Andrea Hurley, on July 1, 1999. Andrew Hurley is Danny Hurley's younger brother, who was born in January 2002.
As stated above, Danny Hurley's father is the head coach of UConn Huskies. The former's grandfather, Bob Hurley Sr., previously coached at St. Anthony High School. Not only that but his uncle, Bobby Hurley, is the head coach of Arizona State University.
At the same time, Danny Hurley's mother is a supportive partner and a doting mother. She is also running a podcast, "Ball of Wife," along with her friend, Nicole Flory, who is the wife of Derek Kellogg.
Dan Hurley's son, Danny, went to Seton Hall University and graduated with a BA in 2021. Dan congratulated his child on his big day and also complimented him as a good son. Furthermore, Danny is currently pursuing a Master's Degree in Public Administration at the same college.
View this post on Instagram
Furthermore, Danny Hurley's parents also graduated from the same university. Meanwhile, his younger brother, Andrew, is a 2020 graduate of East Catholic High School and is attending the University of Connecticut. He has also joined the college's basketball team and is one of the significant players on his team.
Danny Hurley Net Worth And Career
Although Danny comes from a basketball family, he seems to have a different career interest. As already mentioned above, he attended Seton Hall University and graduated in 2021. However, he didn't seem to have joined the university's basketball team.
The Seton Hall alumnus previously interned at Legislative District 38 Office, Kent County Court House, and UConn Athletic Department. Moreover, Danny currently works as the aide to Governor Phil Murphy, who is the 56th governor of the Garden State.
Even as the governor's aide, the eldest Hurley seems to be earning a significant amount. Thus, Danny Hurley's net worth is undoubtedly enormous.
At @homeofguinness to learn about the rich history of Guinness and, of course, how to pour the perfect pint. Slaintѐ! #NJIrelandMission pic.twitter.com/D0NYjOUv5U

— Governor Phil Murphy (@GovMurphy) April 24, 2022
As reported by Open Payrolls, the average pay of an aide to the governor is $70,264. Could it be Danny Hurley's salary must also be around that range?
With Danny Hurley's net worth of a considerable sum, he can easily afford a comfortable life. Likewise, he must be doing great and living peacefully.
On the other hand, Danny's father has amassed a considerable sum from his coaching career. He earns more than two million per year from his head coach job.
Who Is Danny Hurley's Girlfriend?
Danny Hurley came into the limelight for being the son of a famous basketball coach. Despite all the fame, he has kept his love life away from the public eye. In addition, he is active on Twitter but his Instagram account is private.
As a result of his secretive nature, Danny Hurley's girlfriend is a mystery. He might also be focusing on his career and goals at the moment.
Nevertheless, the Hurley family is proud of Danny, and they have been very supportive of his career. Not only that, but he is also living a comfortable life. Hopefully, Danny Hurley will live a prosperous life.