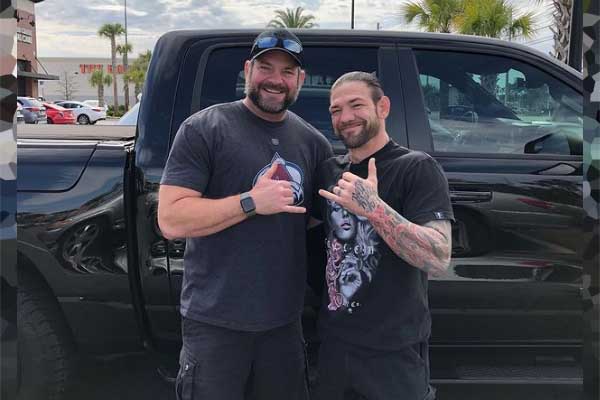 Birth Date

January 21, 1973

Birth Name

Duane Lee Chapman Jr.

Age

50

Father's Name

Duane Lee Chapman

Mother's Name

La Fonda Sue Honeycutt

Birth Place

United States of America

Birth Sign

Aquarius

Nationality

American

Profession

Bounty Hunter

Relationship Status

Divorced

Hair Color

Brown
Last updated on March 26th, 2022 at 07:16 pm
If you are a fan of Dog The Bounty Hunter, you must be familiar with Duane Lee Chapman Jr. He was one of the bounty hunters of the reality show. In addition, he gained much fame and fortune from the show.
The reality tv star is recognized as the legendary TV personality Duane Lee Chapman's son. He has received international acclaim from his several bounty hunting shows. Moreover, Chapman Sr. was convicted of first-degree murder before his ascent to fame.
But unlike his celeb dad, Chapman Jr. prefers to lead a private life. So, what is he doing now; let's learn in this biography.
Duane Jr. Was Born From Duane's First Marriage With La Fonda
The media person was born on January 21, 1973, in America. His parents raised him in Pampas, Texas.
Duane Lee Chapman Jr.'s mother, La Fonda Sue Honeycutt, is the first wife of Chapman Sr. However, she has remained in the shadows since her divorce from her ex-husband.
Duane Lee Chapman Jr.'s brother, Leland Blane Chapman, had also starred in the family bounty hunting series. He has now opened Kama'aina Bail Bonds in Hawaii.
View this post on Instagram
Likewise, Duane's dad, Chapman Sr., married six different women, including his current wife, Francie Frane. From his pops marriages, the bounty hunter has ten half-siblings, namely, Bonnie Chapman, Lyssa Rae Chapman, Tucker Dee Chapman, Wesley Chapman, James Robert Chapman, Garry Chapman, Cecily Barmore-Chapman, Christopher Michael Hecht, and late Zebediah Duane Chapman, and Barbara Katie Chapman.
Duane Lee Chapman Jr. Net Worth And Career
The television personality appeared in Dog The Bounty Hunter alongside his family. Many people loved the show, and it continued for eight seasons. So, Duane Lee Chapman Jr.'s net worth must have increased during his time starring in the series.
However, he later left the show after the arguments regarding paychecks. The bounty hunter also worked as a financial advisor.
The average income of a bounty hunter is $50,510, as per Work Chron. So, Duane Lee Chapman Jr.'s salary must have been around that same range.
Since then, the reality show star has relocated to Florida to start his own business. He has used his bondsman experience to launch Duane Lee Chapman Bail Bonds Inc.
Thus, his earnings mainly benefit from his private firm, and Duane Lee Chapman Jr.'s net worth must be a considerable amount.
Speaking of Duane's father, he too has gained massive success from his bounty hunting profession. Duane Lee Chapman's net worth is $6 million. Similarly, his brother, Leland Chapman's fortune amount to $2 million.
ALSO READ: Michael Masi Biography
Duane Lee Chapman Jr. Is A Divorcé
The bondsman was initially married to his long-time partner Teresa R. Roybal. She was his high school sweetheart. The ex-pair might have instantly connected and dated for four years. Both married in a private wedding event in 1999.
Sadly, the ex-couple divorced in 2008 for unknown reasons. Since her divorce, Duane Lee Chapman Jr.'s ex-wife, Teresa, has stayed away from the media. She might have moved on with a new partner.
Aside from her, the bounty hunter was rumored to be dating Michelle Riddle and Ana Cordova. But whether they were really Duane Lee Chapman Jr.'s girlfriend is unknown.
Chapman Jr. Is A Father Of A Son
The television star is a proud dad of a son from his previous relationship. Duane Lee Chapman Jr.'s son, Dylan Chapman, has grown up and is in his 20s.
Chapman Jr. is also a stepdad to his ex-spouse, Teresa's children. But, his stepdaughters Jody, Jasmine, and Jennifer also have a low media presence.
Duane has kept a low profile since leaving Dog The Bounty Hunter. He also didn't attend his late stepmom, Beth Chapman's funeral.
Hopefully, we might see him returning to the entertainment industry in the future.