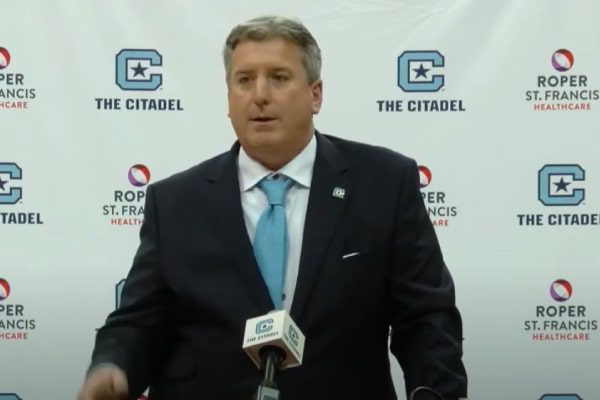 Birth Date

February 17, 1967

Birth Name

Edward S. Conroy

Age

56

Also Known As

Ed Conroy

Birth Place

Davenport, Iowa, USA

Birth Sign

Aquarius

Nationality

American

Profession

Basketball Coach

Partner

Ginny Conroy

Relationship Status

Married

Eye Color

Blue

Hair Color

White

Children

Riley Conroy, Hunt Conroy, Hannah Conroy.

Education

Bachelor's Degree in Business Administration

Awards Honors

SoCon Coach of the Year, Skip Prosser Man of the Year

Instagram

https://www.instagram.com/coachedconroy/
Ed Conroy is a renowned basketball coach who currently serves the men's college basketball team, The Citadel Bulldogs. Having served multiple teams as an assistant coach, Conroy got the role of the head coach in 2006. This is Ed's second stint with The Citadel, a military college featuring in the NCAA Division I.
The coach started his career with another NCAA team NC State Wolfpack in 1990 as an assistant coach and has been active since. He also led Citadel to their first 20-win in more than thirty years in the 2008-09 season.
With the growing popularity of NCAA basketball, many are wondering about the personal details of the coach. So, let's discuss more about his family, career, and net worth in this article.
Ed's Cousin Was Abused
Ed was born Edward S. Conroy on February 17, 1967, to American parents. The details of his father and mother have not been disclosed. However, he was the first cousin of famous writer Pat Conroy. Pat wrote a book about his abusive father and terrorized mother which led to their family being dysfunctional and traumatized.
It did not directly impact Ed's upbringing, but seeing his cousins getting beaten up and belittled by their father, Donald Conroy had to be pretty hard for the coach. After a series of books showcasing the abuse of The Citadel and Donald, Pat was treated harshly by the military college and even his family. It was Ed's coaching antics that finally helped Pat get welcomed back to the college.

After reading the book, Ed Conroy's uncle, Don, called it fiction. But then he started attending Ed's games and also took him out to eat on weekends. There was a renewed sense of change in the military man who had terrorized his entire family.
After reading the book about his cousin's experiences at The Citadel, Ed decided to go to college despite knowing his identity would cause him problems. He trained and became a good player and then graduated with a bachelor's degree in business administration.
Furthermore, Ed Conroy's brother, Duffy Conroy, attended Saint Ambrose University in Iowa, where he also played basketball. Duffy is currently the assistant coach at The University of Tulsa.
Also Read: More About Basketball Head Coach Jon Scheyer 
Ed Conroy Net Worth And Career
With a coaching career stretching over three decades, Conroy certainly has amassed a significant amount of fortune from his profession. From an assistant coach to the head coach, his journey has been fruitful. So, Ed Conroy's net worth primarily consists of his earnings as a basketball coach.
After ending his playing career at The Citadel in 1989, Ed worked as an assistant coach for six different teams from 1990 to 2006. He first joined the NC state before getting jobs in Tulsa, Tennessee, Coastal Carolina, etc., men's basketball teams. In between that, he also worked as the head coach for Tulane Green Wave.
Here's a table of the teams Ed has coached:
| | | |
| --- | --- | --- |
| Season | Team | Position |
| 1990-93 | NC State Wolfpack | Assistant Coach |
| 1997-2000 | Francis Marion Patriots | Head Coach |
| 2006-2010 | The Citadel Bulldogs | Head Coach |
| 2010-16 | Tulane Green Wave | Head Coach |
| 2022-Present | The Citadel Bulldogs | Head Coach |
Table Source: Wikipedia
As mentioned earlier, the collegiate coach also had a head coach stint with The Citadels from 2006 to 2010. He rejoined the university in 2022 and signed a five-year-long contract that runs through April 30, 2027. Furthermore, Ed Conroy's starting base salary is $225K per year, and it will increase to $250K in 2024 and $275K in 2026.
Hence, looking at his earnings, one can assume that Ed Conroy's net worth is massive. Gary Gygax is another celebrity with massive income.
Happily Married With Three Children
Ed is happily married to his beautiful spouse Ginny Conroy, aka Virginia Conroy. The pair haven't revealed when they got married but seem to be enjoying marital bliss. Moreover, Ed Conroy's wife, Ginny, leads a private life away from the media.
The couple has three children together, two sons and a daughter. Ed Conroy's children are Riley Conroy, Hunt Conroy, and Hannah Conroy.
View this post on Instagram

Ed Conroy's son, Riley, was born on February 25, 1996, in New Orleans and is currently working as the assistant coach for the Southeastern Louisiana University. On the other hand, his second son, Hunt, played basketball for the University of Minnesota. In addition, he is now a graduate assistant at Vanderbilt University.
Meanwhile, Ed Conroy's daughter, Hannah, is currently studying at Clemson University. She is the youngest child of the coach.
Ed and his family must be living a happy and blissful life together. His coaching career has been an inspiration for many new coaches. Let's hope Ed's coaching profession goes smoothly and he will lead his team to win many titles in the future.
Trivia And Facts
Ed has more than 4K Twitter followers.
He was named the 2009 SoCon Coach of the Year.