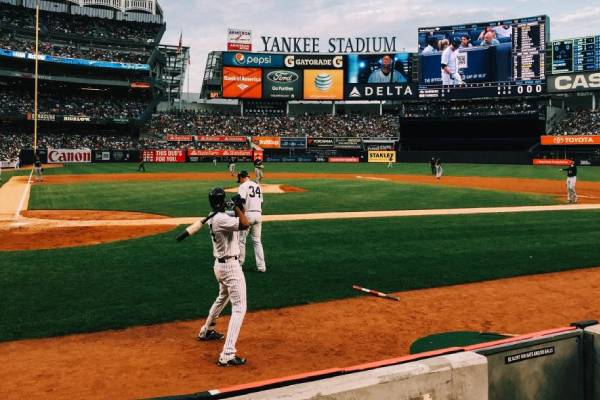 Last updated on July 24th, 2022 at 04:46 am
Baseball is one of the richest games and the oldest major professional sports league in the world. The world's premier baseball league Major League Baseball (MLB) has been a constant source of big money branding and income for players all over the country. Having started the league in 1876, the reputation has just gone uphill in the modern era as players battle out for supremacy every season.
Baseball players are some of the most well-paid sportspeople in the world with a massive salary base and contracts. As the popularity of this sport has skyrocketed, especially in recent times, fans are eager to know who earns the most. So, let's talk about the top five players who are the highest paid in the MLB in 2022 in this article.
5) Carlos Correa: $35.1 Million
Carlos Javier Correa Oppenheimer Jr. is a Puerto Rican baseball shortstop who currently is associated with the Minnesota Twins. Having won the World Series in 2017 and being a two-time All-Star, Carlos has managed to earn quite a lot of money as he earns $35.1 million per year starting from 2022.

Earlier, Carlos Correa signed a deal with his former team Houston Astros in 2018 with a $4.8 million signing bonus. And now having signed a three-year contract with the Twins, Carlos will earn $105.3 million. With such a gargantuan deal, the Puerto Rican athlete certainly ranks among the well-paid professionals.
Moreover, the baseball player will also receive $250,000 if he becomes the MVP, and $100,000 each for World Series MVP, All-Star, Silver Slugger, and Gold Glove. He has signed sponsorship deals with Nike for merch and an industry innovator company Blast Motion. Thus, Carlos Correa's net worth amounts to $7 million.
4) Gerrit Cole: $36 Million
Gerrit Alan Cole is a baseball pitcher who currently plays for New York Yankees in the MLB. Having started his career in 2011, Cole has won 126 games so far with three different teams. He has also appeared in five All-Star Games, and now has a salary of $36M on a yearly basis.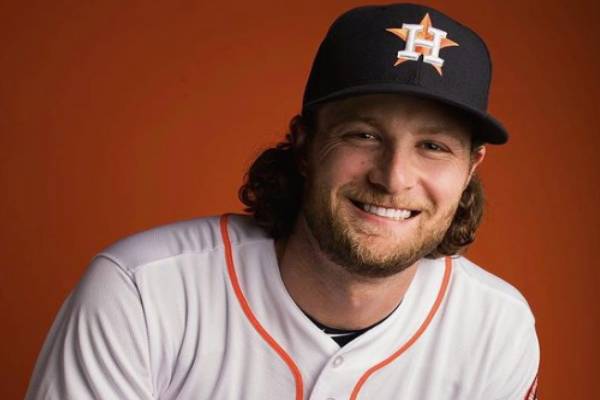 The baseballer signed a nine-year deal worth $324 million with the Yankees in December 2019. That was the largest ever contract awarded to a pitcher, and the fourth-largest contract in MLB history. Aside from that, he has also released merches which further add to his income.
Cole must have also landed multiple endorsements deals with renowned brands. Hence, with all these earning sources, Gerrit Cole's net worth is estimated to be $50 million.
Also Read: More About Two-Time Emmy Nominee Actor Michael Stuhlbarg
3) Anthony Rendon: $36.57 Million
Anthony Michael Rendon is a popular American baseball player who currently serves as a third baseman for Los Angeles Angels. He was exceptional in 2019 as he won the World Series (WS), a Silver Slugger award, and was named to All-Star Game and All-MLB First Team. With such a great career and consistent performances, Anthony Rendon's salary is now $36.57 million annually.
View this post on Instagram
Rendon signed a seven-year contract with the Angels worth $245 million which included a $4 million signing bonus in 2020. Moreover, the other clauses of his contract include $250,000 for WS MVP and $150,000 for League Championship MVP. He also earns $125K for becoming an all-star starter.
Also, his long-term contract is the tenth biggest in MLB history. Likewise, Anthony's jerseys are also available for $134.99 and $359.99 on the MLB shop. Thanks to his salary and other ventures, Anthony Rendon's net worth is estimated to be $40 million.
2) Mike Trout: $37.11 Million
Michael Nelson Trout is the second highest earner in MLB right now as he plays as the center fielder for Los Angeles Angels. Serving one of the top teams in the league, he has recorded 1,495 hits and 334 home runs. As he has competed in the All-Star Game 10 times and was named AL MVP three times, Michael Trout's salary of $37.11 million is not surprising.
Trout signed a 12-year contract with the Angels in 2019, which is worth $426.5 million. Likewise, the deal also includes a signing bonus of $20 million. Moreover, Mike will get $500,000 for the AL MVP award, $100,000 for Silver Slugger, and $50,000 for All-Star MVP.

Moreover, the most astonishing part of his deal is Michael will earn more than $500 million in just salary for the duration of his career. With all the endorsement and merch deals, his estimated earnings is $10 to $20 million per year. Hence, Mike Trout's net worth is a staggering $140 million.
Also, did you know MotoGP riders also earn tremendously?.
1) Max Scherzer: $43.34 Million
Maxwell Martin Scherzer is an American pitcher who has won the World Series once along with eight All-Star honors. Currently playing for the New York Mets, the baseballer holds the record for most strikeouts in a nine-inning game tied with Roger Clemens and Kerry Wood.
Scherzer signed a three-year deal with the Mets after being traded from Los Angeles Dodgers in December 2021. With the contract, Max earns an annual average salary of $43.34 million, taking his total deal to $130 million. It was a massive jump in salary for the athlete as he used to earn $15 million a year with the Dodgers.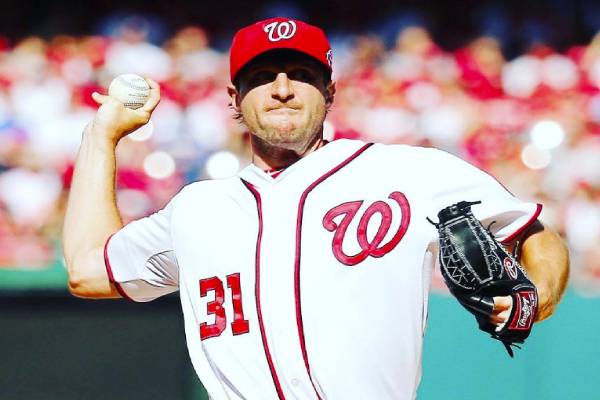 With such a huge contract deal, Max has established himself as the highest earner in the MLB. He has also signed endorsement deals with Nike and Rawlings as he is the main aspect of merch sales for the companies. Hence, with all this income to his name, Max Scherzer's net worth is a whopping $120 million.
Thus, from this list alone, we can see that baseball players earn an astounding amount of money. That should come as no surprise as they put quite an effort in their games with physical performances throughout the season. Let's hope they can keep entertaining us and get the money they deserve.