Dirt Bike racing is one of the most challenging and risky sports in the world. With a high-level intensity and professional stature, the race has earned the applauds of fans and critics around the world and is quite entertaining. Despite the danger surrounding the race with huge obstacles to beat, there are many people who participate in the sport.
Some of the riders even retire young because of the pressure and intensity of dirt bike racing. As it is such a dangerous job, the riders in the game are highly reputed and sought out for sponsorship deals. So, let's learn more about the top five of the best award-winning dirt bike riders of all time:
5) Ryan Dungey
Starting off our list, we have Ryan Dungey, a professional dirt bike rider famous for winning the Supercross and Motorcross Championships four times each. Having featured in Motocross from 2006 to 2017, he came back from retirement and competed in 2022 as well.
Furthermore, the Motocross champ has won every major title in Supercross and Motorcross and won the Motocross des Nations, the largest international motocross race, three times. He has seven major AMA Championships to his name. With 80 total wins, he is one of the most celebrated riders. Thus, Ryan Dungey's net worth is $8 million.
Talking about his background, Ryan was born on December 4, 1989, to American parents Troy Dungey and Michelle Dungey. His dad and brothers, Jade Dungey and Blake Dungey, are amateur racers too.
Dungey married his beautiful partner, Lindsay Dungey, in November 2014. The lovebirds are proud parents of two. Their first child, Harper Rose Dungey, arrived on June 14, 2019, while their son, Banks Michael Dungey, was born on February 22, 2022.
View this post on Instagram
Hence, the dirt bike racer is enjoying a successful career and leading a beautiful family of four.
4) Chad Reed
Chad Mark Reed, shortly, Chad Reed is an Australian motocross, and supercross racer famous for 54 career wins and the record holder for the most main event starts in AMA Supercross history. With 265 starts and a career stretching almost 20 years, he is considered one of the best talents in dirt bike riding.
With all his achievements, Chad became Australia's most successful motocross racer. Likewise, Chad Reed's net worth is also $20 million. Sadly, he announced his retirement from Supercross in 2020.

The former motocross racer was born on March 15, 1982, to parents Mark Reed and Robyn Reed. Chad Reed's father was quite strict and kept him disciplined. It also helped him stay focused on his career.
Also, speaking of his personal life, Reed is happily married to his childhood sweetheart Ellie Reed. The pair have two children, a son named Tate Brady Reed and a daughter Kiah Mattox Reed.
Also Read: More About Top Five Sportscasters
3) Jeremy McGrath
Jeremy McGrath is a renowned American Motocross and Supercross champion as he has won seven Supercross Championships in his career. He was well known for his great performances in the 90s, which earned him the title 'The King of Supercross.'
Now that's a keeper __✍🏼 #Memories pic.twitter.com/QUoHAw3QAR

— Jeremy McGrath (@JeremyMcGrath) October 12, 2018

Jeremy was born on November 19, 1971, in San Francisco, California, USA. His father is Jack McGrath. By 18, the sportsman had become a professional rider and also won his first championship. With a total of 89 career wins and a gold medal in the 2004 Moto X Step Up, McGrath has managed to make quite a name for himself. Likewise, Jeremy McGrath's net worth is estimated to be $6 million.
Talking about his marital life, the rider is married to his beautiful spouse, Kim McGrath, and has two daughters with her. Jeremy McGrath's wife gave birth to Rhowan Parker McGrath and Bergen Paisley McGrath in 2005 and 2008, respectively.
2) James Stewart
James Stewart Jr., aka Bubba Stewart, is a professional motocross racer who participated in the AMA Motocross and the AMA Supercross Championships. For his brilliant performances over the years with immense speed and athleticism, Stewart has been lauded as the 'Fastest man on the Planet.' James was born on December 21, 1985, to motocross enthusiast James Stewart Sr. and his wife Sonya Stewart in Bartow, Florida.
James Stewart was able to win 11 National Amateur Championships and turned pro when he was just 16. He has 98 total wins in AMA and is the second-highest all-time supercross winner behind Carmichael.
Not just that, James also made his debut in the X Games in 2009. He ranked second in the best whip competition and won his first-ever medal in the game. Moreover, he released a reality show called Bubba's World that aired for two seasons. With all these projects, James Stewart's net worth is $18 million.
According to several reports, James Stewart's wife is Brianna Chavarria. The former has not revealed much about his spouse, but it seems he has two children with her. James Stewart's first child is a son named Tabiahs L. Stewart, who was born on July 9, 2016.
1) Ricky Carmichael
Our list certainly can't end without the legendary Ricky Carmichael. Born Richard Carmichael, Ricky was a popular dirt bike rider during the late 90s who has won a multitude of awards throughout the years. He is considered to be the Greatest of All Time by many fans and critics around the world, winning a total of 136 races. Ricky was born on November 27, 1979, to American parents Rick Carmichael and Jeannie Carmichael in Clearwater, Florida.
Likewise, Ricky has won the AMA Supercross 450cc titles five times and AMA Motorcross 450cc seven times. He has 48 career wins in the supercross and 76 in motocross. Having won so many titles in his career, Ricky Carmichael's net worth is $25 million, according to Celebrity Net Worth.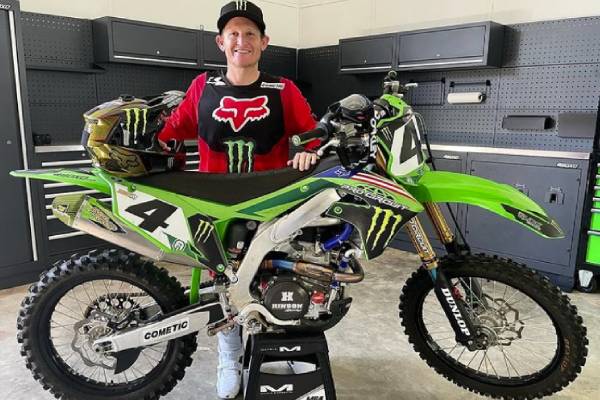 Richard, who made his professional debut in 1997, has been divorced once in his life. He married Ursula Holly on October 5, 2002. The details of their separation have not been revealed yet. The ex-pair welcomed twins Elise Carmichael and Kadin Carmichael on March 16, 2007. Moreover, the rider is now spending his marital life with Teye Carmichael.
With such great performances and hard work, the aforementioned riders have achieved a lot and managed to contribute just as much to the sport. Their dedication has inspired a lot of young athletes to continue their legacy. Also, like them, many stunt performers have also gained fame.