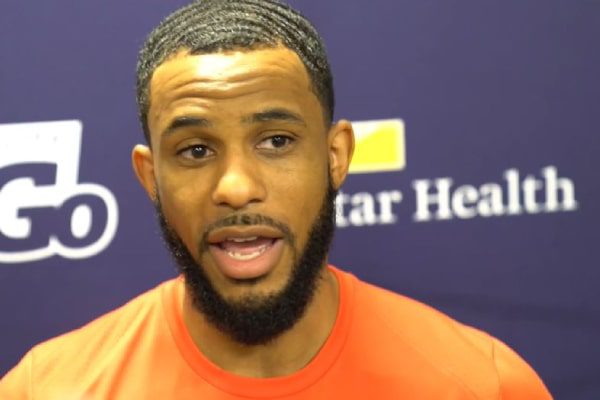 Birth Date

July 19, 1986

Birth Name

Jarell Christian

Age

37

Height

6' 1''

Weight

185.19 pounds

Father's Name

John Christian Jr.

Birth Place

Quinton, Virginia, USA

Birth Sign

Cancer

Nationality

American

Profession

Basketball Coach

Partner

Elizabeth Christian

Relationship Status

Married

Eye Color

Brown

Hair Color

Black

Children

Jayden Emory Christian, Luca Allen Christian

Education

Bachelor of Arts

Twitter

https://twitter.com/jarell_allen
Last updated on June 17th, 2022 at 06:33 am
Jarell Christian is a former professional basketball player and the current head coach of the Maine Celtics in the NBA G League. He had a short playing career before starting his journey as an assistant coach for several teams. From serving in the development teams to earning a head coach job, the athlete has excelled massively.
The Celtics coach also served as the assistant coach of the NBA team Washington Wizards for a season. With the growing reputation of the G-League, many people are curious about the up-and-coming coach. So, let's discuss more about Jarell's career, family, and net worth in this article.
His Father Missed Out On Summer Olympics
On July 19, 1986, the head coach was born to American parents in Quinton, Virginia. Jarell Christian's father, John Christian Jr., was one of the 1980 US Olympic track team members to boycott the Olympics following the Soviet Invasion of Afghanistan at the end of 1979.
Jarell's dad, John, was a standout track athlete at Virginia State University. He then became a track and field coach at Charles City County High School. On the other hand, Jarell chose a different path and pursued his interest in basketball at the New Kent High School.
Jarell Christian's mother is a retired special education teacher. The former's elder brother, Jamion Christian, was a Division I head coach for the George Washington Men's Basketball Team. He was fired from the head coach position after three years in March 2022.
Like his father, Jarell also participated in track and field and was an All-State track performer in high school. He also recorded state records in the 200m, 400m, and 4*100 relay race. Afterward, he earned his BA in Sports and Fitness Administration/Management from Emory & Henry College.
Jarell Christian Net Worth And Career
Christian has been involved in the coaching business for over a decade. So, Jarell Christian's net worth primarily consists of his earnings as a coach. However, the Virginia native has never revealed his exact income to the public, but his stints as an assistant coach must have helped him amass a considerable sum. Additionally, his career as an NBA G League coach must have further increased his wealth.
After spending the 2018-19 season with Capital City Go-Go, Jarell was promoted to the NBA, where he worked as the assistant coach for Washington Wizards. It was a crucial experience for the basketball coach as his performances for the Wizards led him to be appointed the head coach for Maine Celtics in 2021. Celtics is the affiliation team of Wizards in the G League.
Let's take a look at some of the teams Jarell has coached:
| | | |
| --- | --- | --- |
| Year | Role | Team |
| 2009-10 | Assistant Coach | Tusculum College |
| 2010-12 | Assistant Coach | Emory & Henry |
| 2018-19 | Development Team Head Coach | Capital City Go-Go |
| 2019-21 | Assistant Coach | Washington Wizards |
| 2021-Present | Head Coach | Maine Celtics |
Table Source: Wikipedia
Moreover, an NBA head coach can earn $3 million per year. So, we can assume that Jarell Christian's salary might be slightly lesser than that, considering G League is the minor league of the NBA. Still, Jarell Christian's net worth must be a significant amount.
In the G League, Jarell competes against the likes of many head coaches, including Jason Terry and Tom Hankins.
Is Happily Married
Christian is happily married to his spouse Elizabeth Christian. The pair first met in 2008 while attending Emory & Henry College and began a relationship just a year later. The duo dated for many years before tying the knot on August 3, 2013.
Jarell Christian's wife, Elizabeth, is the owner of the Wooden Spoon Cakery, which she founded in 2018. She was initially a school counselor but left her job to pursue baking full-time. Moreover, the coach's partner has also credited his coaching career for making her business possible.
Also Read: More About Skier Keely Cashman
Father Of Two
The head coach is a father of two adorable boys. Jarell Christian's eldest son, Jayden Emory Christian, was born in February 2016. Whereas his younger kid, Luca Allen Christian, was born in November 2017.
The American coach also mentioned his eldest child started attending pre-school in 2019. Both Jayden and Luca seem like good kids who enjoy quality time with their mom and dad. Furthermore, Jarell and his wife, Elizabeth, are expecting a daughter in September 2022.
Jarell has been doing very well in the world of basketball. He has come a long way from starting as a college player to coaching a top G League team. Many expected him to follow in his father's footsteps and get involved in track and field, but he chose differently and has created his own legacy in basketball.