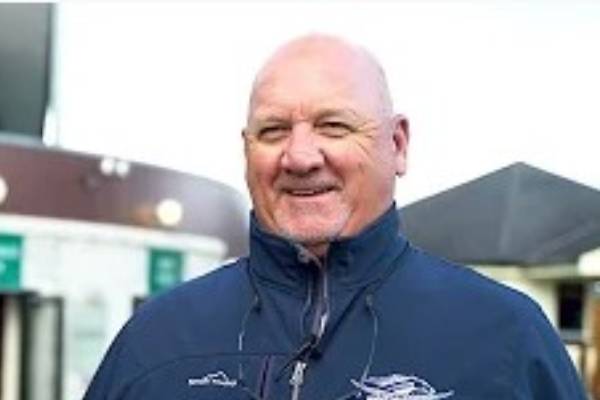 Birth Date

August 2, 1962

Birth Name

Kenneth G. McPeek

Age

61

Father's Name

Ron McPeek

Mother's Name

Ann McPeek

Birth Place

Fort Chaffee, Arkansas, USA

Birth Sign

Libra

Nationality

American

Profession

Horse Trainer

Relationship Status

Divorced

Education

Bachelor of Arts in Business Administration

Awards Honors

Big Sport of Turfdom Award(2002)
Last updated on May 22nd, 2022 at 04:35 am
Kenneth McPeek is a horse trainer from the United States of America. He is a successful farm owner and businessman as well. Moreover, he is one of the prominent bloodstock agents and owner of numerous horses and stables.
Since his early career days, the horse trainer's professional life has been public. However, many people might be interested in knowing Kenneth McPeek's personal details as well. So, let's learn about his net worth, career, family, parents, wife, children, and many more.
Kenneth's Father Owned Horses
Kenneth was born Kenneth G. McPeek on the 2nd of August,1962, in Fort Chaffee, Arkansas, USA. He moved to Lexington, Kentucky, with his family and grew up there. Furthermore, the renowned horse trainer also goes by the name Ken McPeek or Kenny McPeek.
Kenneth McPeek's father, Ron McPeek, owned several Thoroughbred horses, which sparked his interest in racing from an early age. Sadly, Kenneth's mother, Ann McPeek, has passed away.
The young guy attended Tates Creek High School in Lexington. Afterward, he graduated from the University of Kentucky with a Bachelor of Arts in Business Administration in 1984.
After graduation, Kenneth took an entry-level job at a Keenland-based stable and began his training career.
Also Read: Learn More About Sarah Ludden's Biography
Kenneth McPeek Net Worth And Career
The UKY alumnus is a horse trainer, farm owner, and businessman. He obtained his Thoroughbred Trainer's Licence in 1985. McPeek worked with Kentucky Derby-winning trainer Shug McGaughey in New York for a short period before opening his stable.  
In Kenneth's career, he has won more than 200 stakes, of which 97 are graded. The outstanding horse trainer has 1,815+ wins and accumulated more than $94M. Hence, Kenneth McPeek's net worth must be of a considerate amount. He will likely earn more in the upcoming days.
The Arkansas native was also awarded the Big Sport of Turfdom Award in 2002. Some of his major wins are Preakness Stakes, Kentucky Jockey Club Stakes, Breeders' Futurity Stakes, Belmont Stakes, etc. The wins must have incremented the horse trainer's income.
Having won so many horse racing events, let's take a look at some of Kenneth McPeek's earnings and career stats.
| | | |
| --- | --- | --- |
| Year | Starts | Earnings |
| 2021 | 431 | $7,013,518 |
| 2020 | 409 | $5,170,764 |
| 2019 | 387 | $3,519,481 |
| 2018 | 452 | $5,391,378 |
Table Source: Equibase
Kenneth is a prominent figure in the racing industry with extensive knowledge of racehorses. He has bought and trained many mares over the years. Moreover, his most significant horses are Tejano Run, Sarava, Noble's Promise, Curlin, Kathmanblu, Take Charge Lady, etc.
Aside from that, McPeek has invested in lands, properties, and stocks as a businessman. He has also ventured into the online app, and launched Horse Races Now, a horse racing app.
In 2006, the award-winning trainer purchased a property in Lexington, which he renamed the Magdalena Farm. It is spread around 115 acres and provides world-class facilities and services for horse riders.
Hence, all of his business endeavors must have increased Kenneth McPeek's net worth.
Similarly, Mike E. Smith is another successful Thoroughbred horse trainer with immense fortune.
Who Is Kenneth McPeek's Wife?
Well, the horse trainer was married to Sue Lustig McPeek, who had been with him since his early career days. The couple jointly received the 2002 Big Sport of Turfdom Award. But, they are divorced now.
Kenneth McPeek's ex-wife is also VP and co-founder of Horse Races Now LLC. She also helped her then-husband in launching his mobile app.
The horse trainer's former spouse graduated with a Wildlife Biology degree from Colorado State University. She worked as a freelance equine photographer for Three Chimney's Farm. Furthermore, her passion and love for horses brought her to the horse racing industry, where she worked on farms and racetracks.

In 2000, Kenneth McPeek's then-wife was diagnosed with a rare form of cancer. Fortunately, she recovered with proper treatment. Presently, Sue is working as an Equine Insurance Agent for Sterling Thompson Company.
Although the ex-couple divorced, they remain good friends, co-founders, and business partners.
Kenneth McPeek Has A Daughter
The accomplished horse trainer and entrepreneur is also a father. Kenneth McPeek's daughter, Jennifer Lynne, was born in 2000. But, she prefers to remain in the shadows away from the media.
Jennifer's parents are very passionate about horse racing. So, is she also interested in the sport?
The horse trainer's career has been full of ups and downs. However, his experiences in life have taught him never to give up and work harder. Kenneth McPeek has been in the racing industry for thirty-five years. Yet, he continues to excel in his profession.
We wish him more success and prosperity in the future.