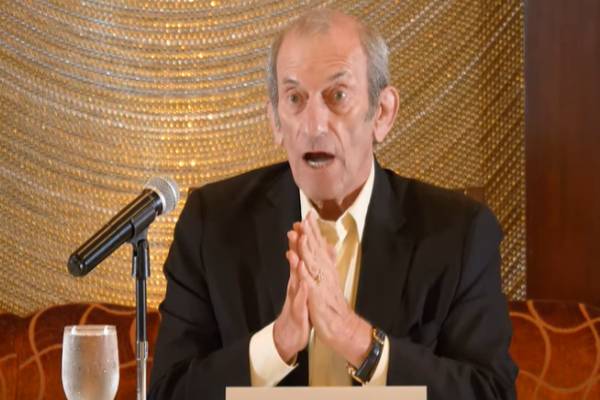 Birth Date

June 24, 1940

Birth Name

Kenneth Ziffren

Age

83

Also Known As

The Pope

Father's Name

Paul Ziffren

Birth Place

Chicago, U.S.A.

Birth Sign

Cancer

Nationality

American

Profession

Entertainment Attorney

Partner

Ellen Ziffren

Relationship Status

Married

Eye Color

Brown

Hair Color

Grey

Children

Laura Wasserman

Education

Bachelor of Arts

Official Website

https://www.ziffrenlaw.com/attorneys/ken-ziffren/
Last updated on June 14th, 2022 at 09:11 am
Kenneth Ziffren is an American entertainment attorney who is well-known in the TV and movies industry for his groundbreaking deals with many celebrities. His work mainly consists of representing corporate clients with mergers and acquisitions, financing and distributing agreements in movies, digital media, and television. He also has worked as a sports attorney several times.
Despite being quite popular in the media industry, many still do not know much about Kenneth's day-to-day life. Since he has worked as an entertainment attorney for a long time, people are eager to learn what he has achieved in his tremendous career. So, in this article, let's talk more about Kenneth Ziffren's net worth, family, and career.
Both His Parents Were Attorneys
Kenneth was born on June 24, 1940, to his American parents, who were both attorneys. Having been surrounded by politics and lawyers throughout his life, his choice to follow in his mom and dad's footsteps was quite clear to him early on. Moreover, Ken Ziffren's father, Paul Ziffren, was a big leader of the Democratic party, while his mother was a criminal and divorce attorney.
Likewise, Paul was engraved in the Democratic Convention in 1960 and was the chairman of the Los Angeles Olympic Organizing Committee that sponsored the 1984 Summer Olympics. But, Kenneth Ziffren's parents divorced when he was only eight. Nevertheless, his mother was also active in the Democratic party, and his dad was the Democratic National Committeeman from 1953 to 1960.
Kenneth lived with his mom and attended public schools while his mother worked in law firms. He graduated with a bachelor's degree in philosophy and political science from Northwestern University in 1962. After attending UCLA School of Law, Ziffrin started working as Editor-in-Chief of the Law Review under Chief Justice Earl Warren. He eventually chose to work at his father's firm, where his two uncles also practiced.
Roy Black is another attorney whose parents also separated.
Kenneth Ziffren Net Worth And Career
Ziffren has been working for over 55 years and is considered one of the best lawyers in the movie industry in the United States. He began working for his family's law firm, Ziffren & Ziffren, in 1966 and focused on entertainment and media law and corporate, real estate, and tax work cases. He must have garnered quite an income from his works. As per The Richest, Kenneth Ziffren's net worth was estimated to be $6.5 million in 2013. It must have massively increased by now.
The American attorney co-founded Ziffren Brittenham LLP in 1978, which functions as a group specializing in structuring, executing, and negotiating transactions in the entertainment industry. Furthermore, he has been working as an Adjunct Law Professor at UCLA since 1998. Ken was also named the chairman of the law school's Advisory Board from 2008 to 2013. He successfully launched a fundraiser campaign of $100 million and still serves as one of the board advisors.
Ziffren and Harry Brittenham had established Ziffren Brittenham LLP in the late 70s. However, after working with a series of famous producers, actors, and musicians as their clients, the two decided to go their separate ways. The former partners also represented several political candidates in the 70s, such as former Governor Jerry Brown, ex-Senators John Tunney and Alan Cranston, and former congressman Jim Corman. Then, Ken began working on corporate clients and focused on the National Football League and DirecTV.

Kenneth has managed to take the company to great heights with big celebrities from his law firms. He worked with actors and producers such as Eddie Murphy, Harrison Ford, Gary David Goldberg, Stephen Joseph Cannell, Glen Larson, Tom Selleck, Richard Pryor, and John Ritter, to name a few. In addition, he has been credited with helping end the writers' strike that crippled the entertainment industry in 1988, taking in more than $10 million per year.
With all these projects, the law practitioner must have collected considerable wealth. Thus, Kenneth Ziffren's net worth must be immense.
Also Read: More About Paddle Player Ana Marija Zubori
Happily Married; Has A Daughter
Apart from all the successes, the veteran attorney enjoys good family life. He is married to his beautiful spouse Ellen Ziffren. The specifics of their marriage have not been disclosed to the public. But, from what we know, Kenneth Ziffren's wife works as a non-profit consultant.
Likewise, Ziffren's beau gave birth to a beautiful girl named Laura Wasserman. Kenneth Zifferen's daughter is married to Casey Wasserman and has two children.
The attorney has been living a wonderful life with his family. Let's hope he can keep doing great work and be actively involved in law practice for more years to come.
Trivia And Facts
Ken negotiated Emmy for TV Academy in 2003 and 2011.
He is a board member of the Skirball Foundation.
He sold his Beverly Hills house for $13.1 million to Jennifer Aniston and Brad Pitt in 2001.