Birth Date

October 5, 1999

Birth Name

Matias Knudsen

Age

24

Height

6'3"

Weight

176.37lbs

Father's Name

Christian Knudsen

Mother's Name

Ana Maria Martin Botero

Birth Place

Bogota, Colombia

Birth Sign

Libra

Nationality

Colombian

Profession

Squash Player

Relationship Status

Not Confirmed

Hair Color

Blonde
Last updated on March 26th, 2022 at 06:52 pm
Matias Knudsen is one of the emerging stars in the PSA World Tour. He has achieved much success at such a young age. For instance, he was named South American Champion in the U19 category.
The sportsman is one of the leading squash athletes at Drexel University. He has earned many accolades and led Drexel Dragons to many victories. So, let's learn more about this squash pro's background, family, net worth, relationships, and more in this biography.
Matias Knudsen Is A Colombian Player
The professional squash player was born on October 5, 1999, in Bogota, Colombia. But he currently resides in Philadelphia, United States.
Matias Knudsen's father, Christian Knudsen, and mother, Ana Maria Martin Botero, raised him in a loving household. However, his parents don't appear much in the media. Still, they must have supported his squash career from the get-go.
Knudsen has a younger sibling named Simon Knudsen. He adores his baby brother and often shares pictures of him on Instagram.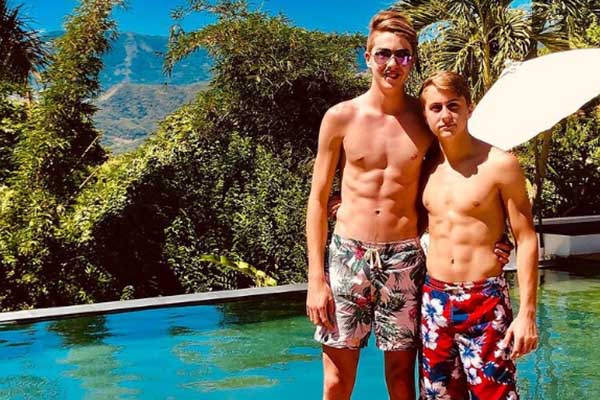 Talking about the squash player's educational background, he first attended Gimnasio Moderno in his hometown. He later moved to America and enrolled at Drexel University in 2018. He is majoring in finance at college.
ALSO READ: Biography Of Retired Squash Player, Ben Garner
Matias Knudsen Net Worth And Career
Matias Knudsen's net worth is heavily influenced by his budding squash career. His riches come from squash tournaments, sponsors, endorsement deals, prize money, etc.
The athlete had initially gained recognition in Colombia. For instance, he was the U19 Canadian Junior Open Champion. Moreover, Knudsen ranked no. one in Colombian junior rankings and became a Pan America runner-up. He and teammate Catalina Peláez won a bronze medal in mixed doubles at the 2019 World Doubles Championship.
Por primera vez Colombia logra dos medallas en el Mundial de Dobles de Gold Coast realizado en Australia, así quedó la medallería:

🥉Dobles masculino: Juan Camilo Vargas – Felipe Herrera

🥉Dobles Mixto: Catalina Peláez – Matías Knudsen

📸: Catalina Peláez@SquashColombia pic.twitter.com/Wm6QjRPrwc

— Comité Olímpico COL (@OlimpicoCol) June 20, 2019
Likewise, Matias' Drexel accomplishments include two Second-Team All-American and Drexel University School of Education Athlete of the Week honors. He didn't compete in the 2020-21 season due to the COVID-19 pandemic.
The college athlete joined PSA in 2021 and has competed in Nash Cup, Colombia Open, etc. Sports Centaur estimates the average salary of a pro squash player is $100K. So, Matias' salary must also be around that range.
Knudsen's income also comes from his sponsors Dunlop, Comité Olímpico Colombiano, Federación Squash Colombia etc. Thus, Matias Knudsen's net worth must be a considerable sum thanks to his squash career.
Another emerging squash star who has gained much fame in PSA World Tour is Amanda Sobhy.
Is Matias Knudsen Dating Anyone?
Talking about the Colombian player's love life, he has been tight-lipped regarding his partner. He hasn't shared whether he is courting anyone or not. Still, one thing is for sure, he is not a married guy.
But, the handsome lad hasn't revealed his romantic interests in the media. Instead, he might have hidden his partner to protect her privacy. So, Matias Knudsen's girlfriend remains a mystery among his fans. He might be single, considering fewer details of his dating status.
Going through the squash pro's Instagram account, he seems to enjoy hanging out with his friends. He often shares photos of his travels and his time enjoying other outdoor sports on Instagram. Furthermore, Knudsen occasionally posts pictures of his gorgeous female friends on social media. However, he only seems to be buddies with them.
Knudsen might be prioritizing his squash career more as of now. Still, anyone will be lucky to date a guy like him. Hopefully, he will share details of his love life in the future.