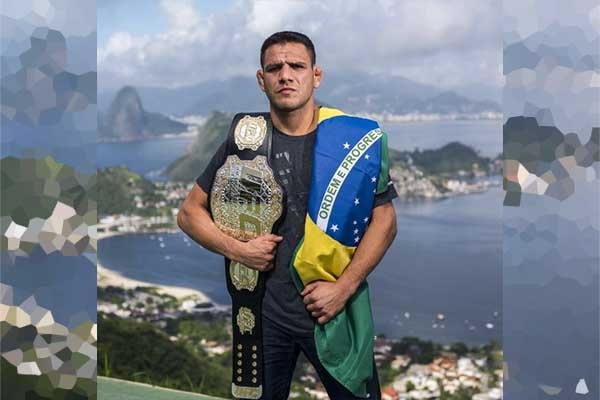 Birth Date

October 26, 1984

Birth Name

Rafael Souza dos Anjos

Age

39

Also Known As

Rafael dos Anjos

Height

5'8"

Weight

155lbs

Father's Name

Paulo dos Anjos

Mother's Name

Rosane dos Anjos

Birth Place

Niterói, Rio de Janeiro, Brazil

Birth Sign

Scorpio

Nationality

Brazilian-American

Profession

UFC Fighter

Partner

Cristiane dos Anjos

Relationship Status

Married

Eye Color

Black

Hair Color

Black

Children

Rafinha dos Anjos, Roginho dos Anjos

Official Website

https://www.rdosanjos.com/

Instagram

https://www.instagram.com/rdosanjosmma/
Last updated on March 26th, 2022 at 06:21 pm
When discussing UFC, one can not forget the iconic Rafael dos Anjos. He competes in the Lightweight division and is the former UFC Lightweight Champion. In addition, he has previously fought in the Welterweight division.
The fighter's aggressive striking style makes him more distinct than his opponents. He has achieved massive fame and fortune from his mixed martial arts career. So, let's learn more about his background, parents, earnings, and more in this biography.
Rafael dos Anjos Was Involved In Wrong Groups As A Youngster
The UFC fighter was born Rafael Souza dos Anjos on October 26, 1984, in Niterói, Rio de Janeiro, Brazil. He became fascinated with fighting after watching videos and classes. He then began training Brazilian jiu-jitsu at nine.
The young guy began winning jiu-jitsu tournaments at thirteen. However, later he began to get involved in the wrong crowds. Thankfully, Rafael dos Anjos' mother, Rosane dos Anjos, sent him to Belo Horizonte to train under Aldo "Caveirinha" Januário.
View this post on Instagram
Similarly, Rafael dos Anjos' father, Paulo dos Anjos, must have encouraged his fighting passion from earlier. His family has supported his career from earlier.
The athlete hasn't shared much about his educational background. But, he must have attended schools in his hometown.
ALSO READ: Biography Of Professional Squash Player, Spencer W. Lovejoy
Rafael dos Anjos Net Worth And Career
Rafael dos Anjos' net worth is heavily influenced by his fighting career. It comprises his earnings from UFC matches, contracts, pay-per-view bonuses, etc.
The sportsperson started his career as an MMA fighter in his hometown. He debuted in UFC on November 15, 2008. However, Rafael lost his first two matches. Despite that, he cashed $30,000 as a fight-night bonus at UFC Fight Night 18.
Anjos won UFC Lightweight Championship by defeating Anthony Pettis in 2015. As per MMA Junkie, he earned a $50K bonus. In addition, Anjos took home $300,000 after defending his title against Donald Cerrone at UFC on FOX 17.
Let's see some of his prize money from various matches as per MMA Salaries below:
| | | | | |
| --- | --- | --- | --- | --- |
| Event | Base Salary | Win Bonus | Sponsorship | Total Money |
| UFC Fight Night: Blaydes vs. dos Santos | $115K | – | $20K | $135K |
| UFC Fight Night: dos Anjos vs. Lee | $110K | $110K | $20K | $240K |
| UFC 225 | $350K | – | $30K | $380K |
| UFC Fight Night: Lawler vs. dos Anjos | $54K | $54K | $20K | $128K |
| UFC Fight Night: Holm vs Correia | $50K | $50K | $20K | $120K |
Aside from that, Anjos' income comes from being an instructor at Evolve Mixed Martial Arts. His endorsement deals with Yorgus, Reebok, etc., must also add up to his earnings.
As per Tapology, Rafael's total career earnings amount to $1,491,000. Thus, Rafael dos Anjos' net worth must be a notable amount from his UFC career.
Another individual who has had a successful sports career is former F3 racer Max Fewtrell.
Rafael dos Anjos Is A Married Man
The former UFC lightweight champ is married to his gorgeous spouse Cristiane dos Anjos. She is his long-time partner and number one supporter.
The pair have been dating since 2007, as per one of Rafael's IG posts. He has also shared how he was never in a serious relationship before his then-girlfriend, Cristiane. Furthermore, the lovebirds married in a simple ceremony with no rings exchanged in December 2011.
Rafael dos Anjos' wife, Cristiane, leads a private life away from the media. Still, she seems to be a devout Christian like her husband.
Anjos Is A Father Of Three
Rafael is a doting father of three boys. His firstborn, Rafinha dos Anjos, is in his teenage years and loves playing games. In addition, he has taken shooting lessons.
Rafael's younger son, Roginho dos Anjos, aka Roger, was born on September 17, 2018. He also has a stepson named Gustavo B. Mello.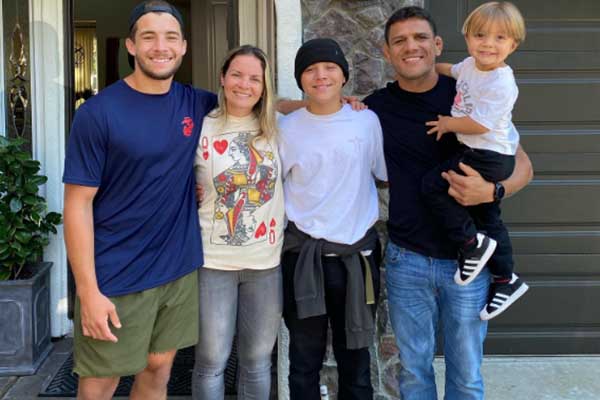 The MMA fighter loves his boys and prioritizes them. He often shares pictures of family travels, vacations, holiday celebrations, etc., on social media. Hopefully, we might see Rafael dos Anjos' children following in his footsteps in the future.