Birth Date

April 24, 1997

Birth Name

Reeham Sedky

Age

26

Also Known As

The Hammer

Height

5 ft 5 in

Weight

116 pounds

Birth Place

Seattle, United States of America

Birth Sign

Taurus

Nationality

American

Profession

Squash Player

Relationship Status

Not Confirmed

Eye Color

Black

Hair Color

Black

Education

Bachelor's in computer science

Awards Honors

CSA individual winner, two time Ivy League Player of the Year
Last updated on March 26th, 2022 at 07:28 pm
Reeham Sedky is a rising American squash player. Even at a young age, she has won many accolades. Similarly, the young squash star has been honored at various levels and has come a very long way.
Hence, in this article, we are going to learn more about the talented squash player Reeham Sedky.
Reeham Has Her Roots Connected To Egypt
Reeham Sedky was born in Seattle, United States, on 24 April 1997. She was born to an Egyptian father who was also a squash player. Moreover, the young lady adores the fact that the sport she is passionate about is really big in Egypt.
Reeham Sedky's dad now works in the computer science field. In contrast, information about her mother and siblings is unknown to the public.
Moreover, the squash star admires what her dad accomplished with Amazon and Microsoft. Similarly, since she always loved math and physics during high school, she grew fond of CIS 110. Hence, she took computer science as her major.
In an interview, Reeham shared that swimming, squash, and tennis were among the sports she enjoyed trying out. Finally, she selected squash because it piqued her interest. The player also understood that the sport was a better fit for her body type because swimming requires one to be really tall and long.
It proved to be a wise decision, and we are sure that Reeham Sedky's family is proud of her.
Reeham Sedky Net Worth & Career
All four years at the University of Pennsylvania, Reeham Sedky was voted first-team All-America and All-Ivy. Similarly, in her junior year, she became Penn's first female Individual National Champion since 1996.
The Squash enthusiast also received the Betty Richey Honor. It is the College Squash Association's most prestigious individual women's collegiate squash award. We wonder if that impacted Reeham Sedky's net worth.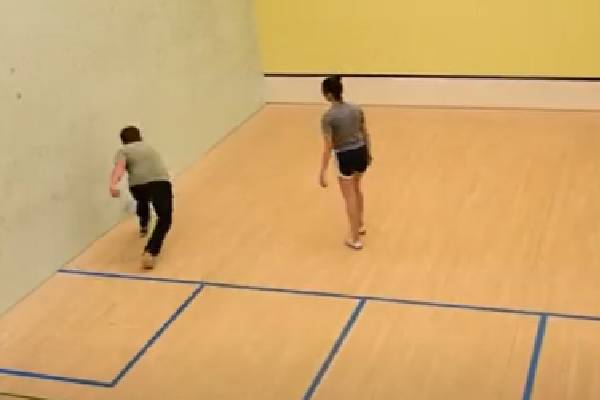 Reeham has focused her attention on the professional squash circuit since graduating, winning the 2019 MTC Squash Russian Open. She defeated No. 1 Emilia Soini of Finland in three games to win the championship match as the No. 2 seed. This was the computer science graduate's third win on the Professional Squash Association World Tour in a row.
In addition, it qualified Reeham for the 2019-2020 CIB PSA Women's World Championship. The mentioned program is one of the most prestigious events in professional women's squash.
The American player was placed 58th in the world in August of 2019. Speaking of her salary, it is not yet available in the public domain. However, in the 2018-2019 season, the prize money on the women's tour amounted to $2 million.
Hence, we believe Reeham Sedky's net worth would also be credited with a good amount of fortune in upcoming tournaments. Moreover, on average a professional tour player earns $100,000 per year. So, Reeham might also pocket a similar amount from her playing career.
ALSO READ: Learn More About Squash Player Andrew P. Douglas
Is Reeham Sedky Dating?
Reeham Sedky most probably is not dating anyone. Apparently, she is single and is focusing on her career. Moreover, the young player has also kept a reasonable distance from social media.
Thus there is no information about Reeham Sedky's boyfriend. Hence, it is safe to say that all her focus and concentration might be towards upcoming tournaments.
The American player's objective is to pursue a professional squash career for a couple of years. Reeham also stated that since she is a big sports fan, she would attempt to find something that uses computer science to analyze athletic performance, whether it's through Nike or Fitbit.