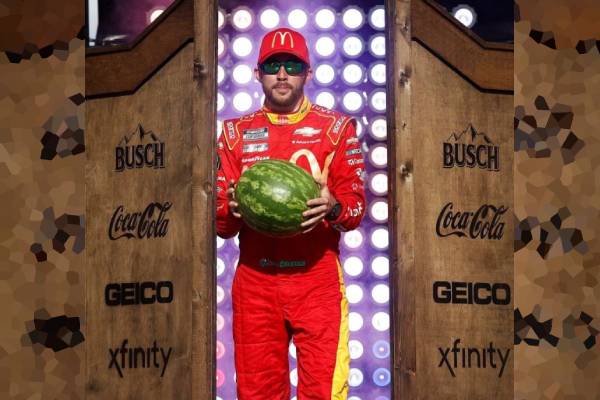 Ross Chastain is one of the well-renowned stock car racers. He competes in the NASCAR Cup Series full-time with Trackhouse Racing. In addition, he achieved his first cup win at Circuit of the Americas on March 27, 2022.
The driver had previously earned many victories in different racing championships. For instance, he won the Limited Late Model division of the 2011 World Series of Asphalt Stock Car Racing. Furthermore, he has scored two wins in NASCAR Xfinity and three in Camping World Truck Series.
So, let's learn more about Chastain's background, family, salary, and love life in this biography.
Ross Chastain Hails From A Family of Farmers
The sportsperson was born Ross L. Chastain on December 4, 1992, in Alva, Florida, USA. He is also called The Watermelon Man due to his family being watermelon farmers and his custom of breaking the fruit while celebrating his wins.
Ross Chastain's grandfather, Jim Prevatt, and father, Ralph Chastain, often competed on Florida short tracks before. Ross decided to pursue a racing career at twelve and left his farming days.
On the other hand, Ross Chastain's mother, Susan Chastain, is a traveling nurse who has supported his career from the get-go. She often attends his races to cheer for him. Likewise, Ross' younger brother, Chad Chastain, is a race car driver who has competed in NASCAR Camping World Truck Series. He also runs the family watermelon farm.
The driver graduated from Riverdale High School. He attended Florida Gulf Coast University in 2011 but dropped out after a semester and two weeks.
Also Read: More About Football Coach Nate Carroll
Ross Chastain Net Worth And Career
Ross Chastain's net worth is heavily influenced by his racing career. His earnings come from his contracts, sponsors, merchandise, endorsements, etc. Moreover, Chastain has signed a multi-year deal with Trackhouse Racing which must be worth thousands of dollars.
The Alva native initially competed in Late Model and Fastruck Series. He scored more than fifty wins, including Fastruck Fastkids Championship, Fastruck Pro Touring Series, Orlando Speedway, etc. Finally, he debuted in the NASCAR series at eighteen.
Let's see some of his earnings in the NASCAR Series in different seasons below:
| | |
| --- | --- |
| Championships | Earnings |
| 2011 NASCAR Camping World Truck Series | $55,200 |
| 2012 NASCAR Camping World Truck Series | $274,726 |
| 2013 NASCAR Camping World Truck Series | $296,814 |
| 2014 NASCAR Nationwide Series | $129,600 |
| 2015 NASCAR Xfinity Series | $877,840 |
Source: Racing Reference
Aside from that, Ross' income benefits from his sponsors, Bell Helmets, AdventHealth, Florida Watermelon Association, Watermelon Board, DGM Racing, etc. He has also released merch under Melon Man Brand, which adds up to his earnings.
Hence, Ross Chastain's net worth must be a considerable sum from his racing career. Another individual competing in NASCAR Series is Ryan Blaney.
Is Ross Chastain Dating Anyone?
Well, the NASCAR driver hasn't been so forthcoming regarding his dating life. He hasn't precisely shared whether he is dating anyone or is in a relationship. In addition, he hasn't revealed anything about his past affairs.
Likewise, the racer's social media accounts don't hint at his possible romantic partner. Instead, he often poses with beauties who only seem like his fans or friends. So, Ross is likely a single man as of now.
Or, it might be that the driver is keeping his partner away from the public. He might have tried to protect her privacy from unnecessary media scrutiny. Whatever the case, Ross Chastain's girlfriend, remains a mystery.
Nonetheless, the sports personality seems to be enjoying a comfortable life with his family. Going through his Instagram posts, he seems busy with races and other endeavors. Hopefully, he will reveal more about his dating status in the days ahead.