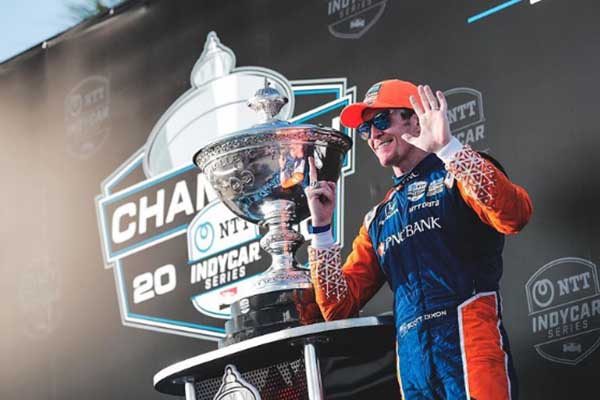 Birth Date

July 22, 1980

Birth Name

Scott Ronald Dixon

Age

43

Also Known As

Scott Dixon

Height

5' 10"

Weight

150 lbs

Father's Name

Ron Dixon

Mother's Name

Glenys Dixon

Birth Place

Brisbane, Queensland, Australia

Birth Sign

Cancer

Nationality

New Zealander

Profession

Race Car Driver

Partner

Emma Davies Dixon

Relationship Status

Married

Hair Color

Brown

Lucky Number

9

Children

Poppy Davies Dixon, Tilly Davies Dixon, Kit Dixon

Official Website

http://www.scottdixon.com/

Facebook

https://www.facebook.com/scottdixon

Instagram

https://www.instagram.com/scottdixon9/
Last updated on April 28th, 2022 at 04:30 am
Scott Dixon is a familiar name in IndyCar Series. He has won six IndyCar Championships since debuting in the series. In addition, he is a six-time ESPY best driver nominee.
The racer has also shown his racing prowess in endurance racing, Indy Lights, Formula Ford races, etc. For instance, he has won three 24 Hours of Daytona in 2006, 2015, and 2020. He has also become an inspiration for many upcoming drivers.
So, let's learn more about Dixon's family, racing career, love life, earnings, etc., in this biography.
Scott Dixon's Parents Were Racers
The driver was born Scott Ronald Dixon on July 22, 1980, in Brisbane, Queensland, Australia. His family returned to New Zealand when he was little.
Scott Dixon's father, Ron Dixon, and mother, Glenys Dixon, were race car drivers and owned a race track. His parents supported his racing career earlier and mortgaged their house to sponsor him.
View this post on Instagram
Likewise, Scott's elder sisters Traci Dixon Burke and Adelle Dixon often attend his races to cheer him. He also has a younger sister, Melissa Dixon. Furthermore, he attended James Cook High School in Auckland.
The sportsman began karting at seven. Thankfully, he only had a few crashes in his amateur years.
ALSO READ: More About 2018 Indy Lights Champion Pato O'Ward
Scott Dixon Net Worth And Career
Scott Dixon's net worth mainly comprises his earnings from his racing profession. It includes his income from contracts, prize money, salaries, sponsors, etc.
The driver won his car racing debut at 1993-94 Formula Vee New Zealand. He soon clinched Formula Ford and Australian Drivers' Championship. Eventually, he moved to Indy Lights and earned the title in 2000.
Dixon became the first to win the IndyCar Series in his debut in 2003. He took home $1,032,500 from the event. His other IndyCar championship wins, including prize money, as per Racing-Reference, are tabulated below:
| | |
| --- | --- |
| Year | Prize Money |
| 2008 IndyCar Series | $1,605,000 |
| 2013 IZOD IndyCar Series | $2,405,497 |
| 2015 Verizon IndyCar Series | $2,772,850 |
| 2018 Verizon IndyCar Series | – |
| 2020 NTT IndyCar Series | $505,000 |
Scott won the 2008 Indianapolis 500 and earned $2,988,065 prize money. His income also benefits from his sponsors Oakley Motorsports, Richard Mille, pncbank, Rodd & Gunn, Honda Performance Development, etc.
Alongside success, the driver has also had a fair share of accidents. For instance, he had a massive crash after colliding with Jay Howard in the 2017 Indianapolis 500. Let's see the clip below:
Despite such a scary incident, Dixon walked away unharmed.
Nevertheless, Scott Dixon's net worth must be a notable figure from his racing career. Another individual who has earned many wins in the Indy 500 is Helio Castroneves.
Scott Dixon Is A Married Man
The six-time IndyCar winner is married to his lovely spouse Emma Davies Dixon. She is a runner and former Welsh and British 800m winner.
The pair first met through a mutual friend. However, both only got to know each other well after a few years in 2006. Furthermore, the couple instantly connected and began dating soon after. Scott Dixon's then-girlfriend, Emma, left her dream job in London and moved to America.
The lovebirds engaged in December 2006 and married in February 2008. Both have been enjoying a comfortable life since.
Scott Dixon's wife, Emma, is very supportive of his motorsports career. She often travels alongside her husband to attend his races. In addition, the duo attends the red carpet events together.
Dixon Is A Father Of Three
Scott has welcomed three adorable children. His firstborn, Poppy Davies Dixon, was born in 2009. In addition, the driver rushed from the race track to attend his baby girl's birth.
Scott Dixon's second daughter, Tilly Davies Dixon, was born two years later in 2011. He welcomed his youngest son, Kit Dixon, on December 27, 2019. He often shares pictures of his kids playing on Instagram.
Likewise, Dixon's children often attend his races with their mother, Emma. The family of five is undoubtedly living happily. So, let's wish them more prosperity and success in the days ahead.