Birth Name

Sheldon Bream

Father's Name

Sylvester Bream Jr

Mother's Name

Jouetta M. Bream

Nationality

American

Profession

Principal at Bream Speaker Management

Partner

Shannon Bream

Relationship Status

Married

Hair Color

Black

Education

Bachelor's Degree in Sports Management and Business

Instagram

https://www.instagram.com/breamsheldon/
Last updated on March 26th, 2022 at 04:51 pm
Shannon Bream is a household name in American news media. She has worked as a correspondent, reporter, and news anchor for many television stations. In addition, she is an anchor at Fox News @ Night With Shannon Bream.
Anyone affiliated with the Fox anchor will undoubtedly come under the media radar. So, it's no surprise to see many interested in Shannon Bream's husband, Sheldon Bream. Moreover, he is a former Director of Bureau Relations at the Washington Speakers Bureau.
So, let's learn more about Sheldon's background, family, career, and more in this biography.
Sheldon Bream's Brother Is A Former MLB Player
The media personality hasn't revealed his birthdate or where he grew up. Nonetheless, his wife, Shannon, always wishes him a happy birthday in October.
Sheldon Bream's late father, Sylvester Bream Jr., was a veteran of the Korean war and retired from Masland Industries. Sadly, he passed away on May 25, 1995, in Hershey Medical Center.
Sheldon Bream's late mother, Jouetta M. Bream, was a Uriah United Methodist Church member and worked at Karns Foods. She often appeared on her daughter-in-law, Shannon's IG posts. Unfortunately, she died on February 9, 2022.
View this post on Instagram
Sheldon's brother, Sid Bream, is a former professional baseball player who competed in MLB for over a decade. He played for Los Angeles Dodgers, Pittsburgh Pirates, Atlanta Braves, etc. Moreover, Sheldon's sibling, Sid, is now a motivational speaker.
The businessperson has another brother named Stanley Bream. He also has three sisters Laurie Hull, Christine Mumma, and Theresa Bream.
Speaking of Bream's educational background, he attended Liberty University in 1988. Shannon Bream's husband graduated with a Bachelor's degree in Sports Management and Business in 1993.
ALSO READ: More About Indy 500 Racer Alexander Rossi
Sheldon Bream Net Worth And Career
As mentioned earlier, Sheldon's previous occupation was at the Washington Speakers Bureau. He worked there for thirteen years before launching his own company Bream Speaker Management LLC. So, Sheldon Bream's net worth primarily comprises his earnings from his firm.
The businessman's company features well-renowned experts like Vivek Ramaswamy, Jason Chaffetz, Lawrence B. Jones III, Vinny Boles, and others. His partner, Shannon, is also one of the speakers. Furthermore, the firm must be generating good revenue with such talented speakers.
Leadership and motivation from a former 2-star General in the most respected institution in America…it doesn't get much better than that. #Motivation #leadership https://t.co/Wy0oSJOEDg

— Sheldon Bream (@sbream1) August 6, 2019
Bream works as a principal at Bream Speaker Management LLC. Shannon Bream's husband's income must be a notable figure, considering his position. Likewise, Sheldon's salary from his time with WSB must have been a hefty amount.
Thus, Sheldon Bream's net worth must be a considerable sum. Speaking of fortune, Sheldon's spouse, Shannon Bream's net worth is $10 million.
Sheldon Bream Met His Wife In College
Sheldon and his wife, Shannon's first interaction dates back to their college days. Both met each other while attending Liberty University in the '90s. Moreover, the pair instantly connected and began dating soon after.
After graduation, the couple became engaged, but unfortunately, Bream was diagnosed with a rare brain tumor amidst their wedding plans. In addition, he had to undergo a nine-hour surgery to remove the tumor.
The duo married shortly after. Although both haven't revealed their wedding date, Heavy speculatesthe couple exchanged vows on December 30, 1995.
The lovebirds don't shy away from showing their chemistry in media. For instance, Sheldon Bream's wife, Shannon, often shares pictures of them traveling, celebrating holidays, etc., on social media.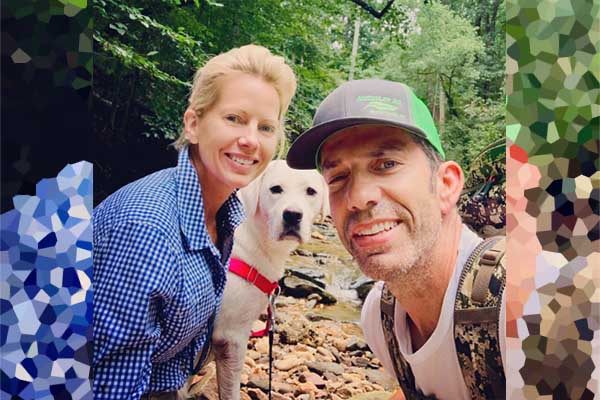 The businessman doesn't have any children. But, he is a doting father of his dog Biscuit Bream. In addition, Sheldon is enjoying a comfortable life with his lady love, Shannon.
So, let's wish the family more happiness and success ahead.