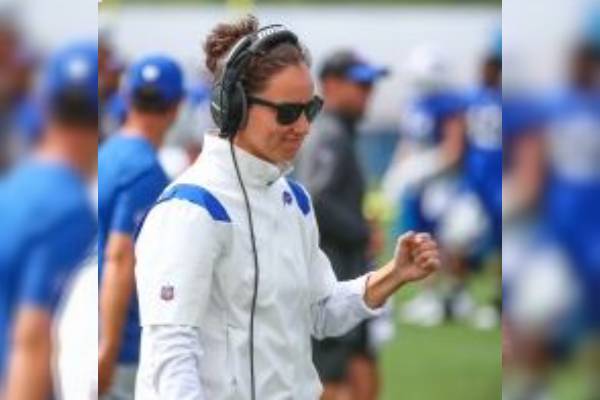 Birth Name

Sophia Lewin

Father's Name

Glenn Lewin

Mother's Name

Irene Lewin

Birth Place

U.S.A.

Nationality

American

Profession

Football Coach

Relationship Status

Not Confirmed

Eye Color

Brown

Hair Color

Brown

Education

Bachelor of Arts

Twitter

https://twitter.com/sophia_lewin
National Football League has seen many female coaches' emergence over the years. Among them is Sophia Lewin, an offensive assistant coach for Buffalo Bills. In addition, she is the second woman to hold a full-time coaching job with the team.
The NFL coach had previously worked as a training camping assistant before her promotion to full-time staff in 2021. She has also accumulated tremendous coaching experience serving in collegiate teams. For instance, she was a quality control coach at Princeton University.
So, let's learn more about this rising female coach's background, family, career, earnings, and love life in this biography.
Sophia Lewin's Mom Is An Immigrant
The NFL coach was born in 1997 in the United States of America. She hasn't revealed her birthdate or birthplace to the public. But from what we know, she grew up in New Jersey.
Sophia Lewin's mother, Irene Lewin, is from Peru and immigrated to the US with her family. After coming to America, she faced many biases and worked hard to reach her current state. Moreover, Sophia's mom is interested in art and designed their family house. She is also very supportive and always have been there for her daughter.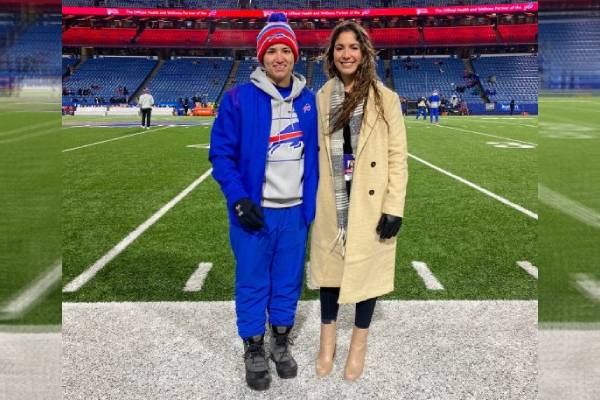 Sophia Lewin's father, Glenn Lewin, is a huge Oakland Raiders fan who taught her much about the game. The father-daughter duo often bonded over football matches. Furthermore, Sophia learned work ethics from her parents. She also has two elder siblings who probably had a big influence on her.
The coach graduated from Wayne Hills High School. She also worked with the school's football team in her junior and senior years. Afterward, Lewin attended Monmouth University and became a student assistant for the Hawks football team for three seasons. She earned her BA in sociology in 2019.
Also Read: More About Football Coach Jennifer King
Sophia Lewin Net Worth And Career
After graduation, the Wayne Hills alumni began coaching for Hudson Catholic High School. She then transitioned to coaching collegiate football teams and eventually the NFL team. Hence, Sophia Lewin's net worth is heavily influenced by her career as a football coach.
Sophia was assigned wide receivers, linebackers, and snappers at Hudson Catholic. She was also a substitute teacher there. Furthermore, the coach moved to Princeton University as an offensive quality control coach in February 2020. She served in the university for a year.
Buffalo Bills hired Lewin as their offensive assistant coach in May 2021. She is the second female after Kathryn Smith to hold the full-time coaching position on the team. Likewise, Sophia's contract with the Bills must be worth thousands of dollars.
"Sophia Lewin has been named as a full-season offensive assistant coach at the Buffalo Bills as the NFL franchise continues to lead by example in diversity, equity and inclusion."

Buffalo Bills name Sophia Lewin as a full-season offensive assistant coach https://t.co/avOK2s3Yum

— Sam Rapoport (@samrap10) May 20, 2021
An offensive coordinator makes $20,484 a year on average. So, Lewin's salary must also be around that range. Thus, Sophia Lewin's net worth must be a considerable amount from her coaching profession.
Another individual who has made history as a female assistant coach in NFL is Lori Locust.
Is Sophia Lewin Dating Anyone?
Well, the Bills coach hasn't talked much about her private affairs. She hasn't opened up about her dating status or relationships. Likewise, she hasn't precisely mentioned her partner in her interviews.
The sports personality's Twitter account also doesn't hint at her romantic affairs. But it's certain that she is not married and doesn't have a husband or children.
Sophia might be a single woman, considering little information about her partner. Or, the football coach might have hidden her relationship to evade media scrutiny.
Nonetheless, Sophia Lewin's boyfriend remains a mystery. Hopefully, she will reveal about her love life in the days ahead.