Birth Date

January 28, 1977

Birth Name

Takuma Sato

Age

46

Also Known As

Taku

Height

5' 4"

Weight

130.07 lbs

Mother's Name

Akiko Sato

Birth Place

Tokyo, Japan

Birth Sign

Aquarius

Nationality

Japanese

Profession

Race Car Driver

Partner

Chiharu Sato

Relationship Status

Married

Eye Color

Black

Hair Color

Black

Children

2

Awards Honors

Two Indianapolis 500 wins

Official Website

http://www.takumasato.com/
Last updated on April 22nd, 2022 at 07:43 am
Takuma Sato is one of the well-renowned race car drivers. He has competed in various racing championships, including Formula One, in his career. Moreover, he had a successful run in F1 for seven years.
The racer competes for the Dale Coyne Racing team and has accomplished many victories. For instance, he is the two-time winner of the Indianapolis 500 and the first Japanese driver ever to do so. Furthermore, his notable F1 career result includes ranking eighth at the 2004 FIA Formula 1 World Championship.
So, let's learn more about this talented sports personality's family, earnings, wife, and kids in this biography.
Takuma Sato Developed Motorsports Passion Earlier
The former formula one racer was born on January 28, 1977, in Tokyo, Japan. He is also known by his nickname Taku among his fans. Furthermore, he fell in love with motorsports after attending the F1 race at ten.
The driver's family has supported his motorsports career from the beginning. Takuma Sato's mom, Akiko Sato, often attends his races to cheer for him. In addition, she usually watches her son's races live regardless of time zones.
Likewise, Takuma Sato's late father must have been proud of his racing career. He hasn't shared anything about his siblings, but if he has any, they might also be his fans.
父と一緒に乗った初めてのゴーカート。
旅はきっとここから始まったんだよね。

父の日を前に、改めて亡き父に伝えたい。

「いつも応援してくれてありがとう」#母の日父の日つなぐハピネス#FWD富士生命https://t.co/owPrhcfu0A pic.twitter.com/SfsklVLDfv

— Takuma Sato (@TakumaSatoRacer) June 19, 2021
Sato attended high school in his hometown. He competed in cycle races and won the inter-high school title. Moreover, the young man later enrolled at the School of Human Science at Waseda University in 1996. But, he quit his study midway to pursue racing.
ALSO READ: More About NASCAR Racer Alex Bowman
Takuma Sato Net Worth And Career
The Japanese racer started his career relatively late as a kart racer. After receiving a scholarship from SRS-Formula, he moved to the UK and became a professional racer. Hence, Takuma Sato's net worth is heavily influenced by his career as a race car driver.
The driver's most notable results were winning Formula 3 Macau GP, Formula 3 Britain, and Masters of Formula 3 in 2001. He also became the test driver in F1 the same year. Afterward, he began competing in F1 from 2002 to 2008.
Sato switched to IndyCar racing in 2010 and has competed in it since. Let's see some of his earnings from several seasons in the IndyCar Series below:
| | |
| --- | --- |
| Year | Earnings |
| 2010 | $1,302,055 |
| 2013 | $1,112,297 |
| 2014 | $1,082,473 |
| 2016 | $1,078,913 |
| 2020 | $1,370,500 |
Takuma cashed $2,458,129 after winning his first Indianapolis 500 title in 2017. He also earned $1.37+ million prize money from his second Indy 500 win in 2020. Likewise, a racer's average income is $40,904 a year. So, Sato's salary must be more, considering his numerous victories and F1 experience.
Thus, Takuma Sato's net worth must be a notable figure from his racing career. Another individual who has gained recognition for his racing skills is Austin Cindric.
Is Takuma Sato Married?
The two-time Indy 500 champ is happily married to his spouse Chiharu Sato. She is his long-time partner, as per several sources. However, Takuma Sato's wife, Chiharu, has a low media presence.
The couple reportedly married in 2005. However, both kept their matrimonial event private and haven't shared any wedding pictures. Moreover, the pair also rarely appears in media together. Nonetheless, from what we know, Takuma's spouse, Chiharu, is very supportive of his motorsports career.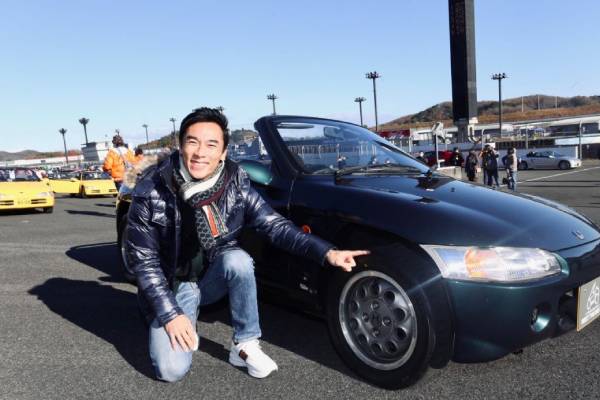 According to a news article by Tokyo Reporter, the driver had been involved in an extramarital affair. It stated that Takuma was seeing announcer Satoko Naito. In addition, the story also presented that the supposed couple began dating in 2010. Takuma's partner, Chiharu, also learned about the affair and the duo discussed divorce.
However, the racer hasn't clarified this story with the media. Considering how he is still with his wife, Chiharu, the pair might have solved this issue.
Sato Is A Father of Two
The IndyCar driver is a doting father of two adorable kids. He often speaks fondly of his son and daughter in his interviews. Similarly, they are also massive supporters of their dad's races.
But, Takuma Sato's children are also kept away from public eyes. He might have done that to evade unnecessary media attention. Hopefully, he will reveal more about his babies in the days ahead.