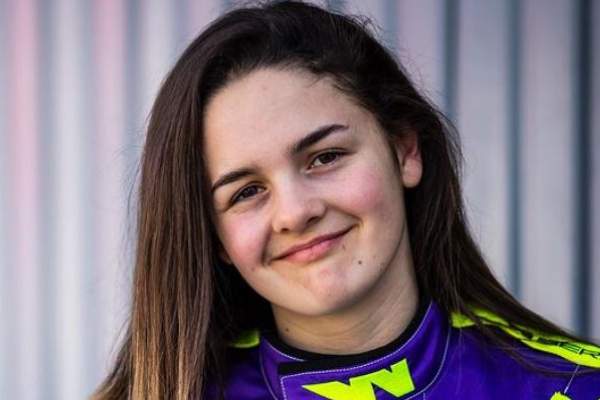 With the inauguration of the W Series in 2019, several female drivers have come into the limelight. For its third season, many new racers and previous contenders have taken part. Abbi Pulling is one of the participants of the 2022 W Series season, who also competed in 2021.
Abbi rarely talks about her personal life in the media. So, not many know that her dad is also a racer. Well, there are several other interesting facts about her, which we will discuss in the following biography.
One Of The Two Children Of Her Parents
The race car driver was born on March 21, 2003, to Andy Pulling and Karen Pulling. She is one of the two kids of her parents. Furthermore, Pulling grew up in Gosberton, United Kingdom, with her sibling, Jaime Pulling. In addition, Abbi Pulling's sister studied at Bourne Academy and is now working at the Aldrich Group. The Pulling siblings must have grown up having a wonderful time.
Racing has been a dream for Pulling since she was a little girl. As mentioned earlier, Abbi Pulling's father is also a racer. However, he rides bikes. Furthermore, her mother and sister ride horses, and during their riding trips, she always chose the quickest horse named Coco. In one interview, the driver revealed that she had a need for speed quite early on.
Moreover, seeing her old man ride motorbikes across the country, the Gosberton native might have been fascinated by it. On top of that, horse riding also enhanced her love for races. Regarding Abbi Pulling's educational background, she attended Bourne Academy and graduated in 2019. After that, she went to Loughborough College, where she pursued L3 sport in business and motor vehicle. Pulling earned her degree in 2021 and is now solely focused on her racing career.
Also Read: Learn In Detail About Patrick Mapel
Abbi Pulling Net Worth And Career
At the age of nine, Abbi began taking part in karting competitions. From karting to W Series, she has come a long way. Hence, it's no doubt that she has become well-known globally. Furthermore, the British national must have earned considerably. So, Abbi Pulling's net worth might be a commendable sum.
The sportswoman's first ever race was non-MSA at Tattershall Kart Club, and shortly after, she got her first podium securing 3rd place. After she got the Karting bug, she began competing all over the country. Additionally, she broke the lame cadet lap record in her first full year of Karting. By the time she was 18, Pulling was already a British Karting Champion.
In early 2020, the Bourne Academy alumna made her single-seater debut with JHR Developments in the F4 British Championships. Then, in late 2020, she made a one-off appearance in Formula Renault Eurocup. Eventually, in 2021, she became one of the participants of the W Series.
View this post on Instagram
In Abbi's debut season, she finished overall 7th with 40 points. Likewise, she is back for a full W Series season in 2022 and competes for its Racing X team along with Bruna Tomaselli. As she finished third in the Silverstone circuit in July 2022, will we see her upping her rank in the coming rounds?
In addition, Abbi and Hadrien David were signed by the Alpine F1 Team as a member of their new Alpine Affiliate program in March 2022. She is managed by Alice Powell, who is in the development program of the Alpine F1 team.
Aside from that, Pulling is sponsored by several companies such as Banzai, Tal-Ko Racing, Thermserve, High Row Marketing, etc. These sponsorships must be paying her considerably. Furthermore, after securing the seventh position in the 2021 season, Pulling received $70K. Likewise, she must have earned significantly from previous different races. So, we can assume that Abbi Pulling's net worth must be a commendable sum.
Is Abbi Seeing Anyone At The Moment?
The racer, who stands at the height of 5 feet and 6 inches, has gained significant fame in her professional career. As a result, her personal life has also been brought into the limelight. Mainly, her love life is what people want to know more about.
With that being said, the racer has unfortunately kept the information about her dating status hidden. She has neither spoken about it in the media nor posted it on social media. That's why Abbi Pulling's boyfriend remains a mystery for now.
As we can see on her social media handles, Abbi regularly uploads about her professional ventures. So, who knows, she might be solely focusing on her racing career and must be training adequately to hone her skills and establish herself as one of the successful racers.
Overall, the former F4 racer must have made her family members proud. Let's hope she continues reaching the top position in every season she competes. We wish Abbi Pulling a prosperous and blissful life ahead.
Trivia And Facts
Abbi has 20.8K followers on Instagram.
Pulling is the winner of the Super 1 National Junior TKM Championship in 2017 and 2018.
Abbi and Aseel Al-Hamad became the first women to race an F1 car in Saudi Arabia.