Birth Date

October 15, 1989

Birth Name

Callie Brownson

Age

34

Height

5' 6"

Father's Name

Bruce B. Brownson

Mother's Name

Nancy E. Brownson

Birth Place

Alexandria, Virginia, U.S.A.

Birth Sign

Libra

Nationality

American

Profession

Football Coach

Relationship Status

In a Relationship

Eye Color

Blue

Hair Color

Brown

Education

Bachelor's in Sports Management

Twitter

https://twitter.com/calbrown17

Instagram

https://www.instagram.com/calbrown17/
Callie Brownson is a familiar name among female coaches in National Football League. She is an assistant wide receivers coach for Cleveland Browns. In addition, she joined the team as the chief of staff in 2020 before getting a promotion to her current position.
The NFL coach previously played in the D.C. Divas of the Women's Football Alliance (WFA). She became a five-time team captain and four-time All-American. Furthermore, she also played for Team USA in many championships.
So, let's learn more about Brownson's background, earnings, family, and love life in this biography.
Callie Brownson Was Raised By A Single Parent
The former WFA player was born on October 15, 1989, in Alexandria, Virginia, USA. Callie's parents divorced when she was young, and she was raised by a single parent.
Callie Brownson's father, Bruce B. Brownson, raised her all by himself. He provided his children with a fantastic life full of support, leadership, and love. Likewise, Callie's elder brother, Brad Brownson, must also be proud of her accomplishments.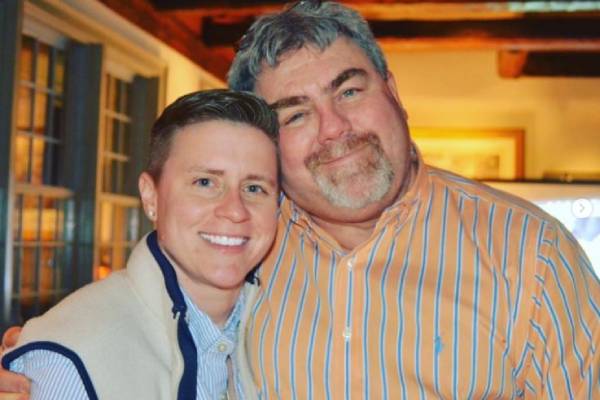 Callie Brownson's mother, Nancy E. Brownson, previously suffered from substance abuse and was peripherally involved in her life. She occasionally shares pictures of mom-daughter hangouts on Twitter.
The coach became a football fan by watching Miami Hurricanes football games on TV with her dad. However, she couldn't play football at Mount Vernon High School and became a softball player instead. Afterward, Brownson attended George Mason University and earned her Bachelor's in Sports Management degree in 2015.
Also Read: More About NFL Coach Lori Locust
Callie Brownson Net Worth And Career
The football player played for D.C. Divas from 2010 to 2017. She competed as a safety, running back, and slot receiver for eight seasons. Moreover, she also helped the US team win gold medals in 2013 and 2017. So, Callie Brownson's net worth must have increased during her playing career.
The athlete began her coaching career with her alma mater Mount Vernon High. She coached their softball team for three seasons. Then, Brownson landed an eight-week internship in the scouting department of the New York Jets. She later served for Buffalo Bills in the 2019 season.
Brownson joined Cleveland Browns in 2020 and made NFL history in her first season. Callie became the first woman to coach an NFL position group in a regular-season game after filling in for Drew Petzing.
The assistant wide receivers coach's contract with the Browns must pay her significantly. An NFL assistant earns between $39,604 and $57,940 a year on average. So, Callie's salary must also be around that range.
Thus, Callie Brownson's net worth must be a notable amount, thanks to her prosperous coaching career. Another individual renowned for coaching in NFL is Sophia Lewin.
Is Callie Brownson Dating Anyone?
Well, the Browns coach is in a loving relationship with a beautiful woman named Sami Bloom. However, she seems to be a person of secrecy, considering her private IG account.
The pair first shared a photo in November 2019 on Instagram. Both might have begun their relationship around that time. Since then, the couple often shares pictures of them hanging out on social media. Their friends also comment love emojis, adorable, happy for you, etc., on the photos.
The mentor doesn't shy away from revealing her feelings for her partner. For instance, she uploaded the duo's snap with the caption Love you to the moon. Likewise, Callie Brownson's girlfriend, Sami, might have also shared many couple photos on her account.
The coach doesn't have any children of her own yet. But, she seems good with babies, looking through images of her with her nephew. So, let's wish Callie and her lady love much happiness in the days ahead.