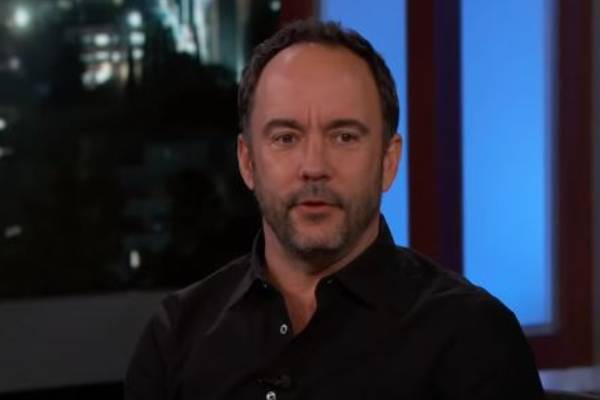 Birth Date

January 9, 1967

Birth Name

David John Matthews

Age

56

Height

6'2"

Father's Name

John Matthews

Mother's Name

Valerie Matthews

Birth Place

Johannesburg, South Africa

Birth Sign

Capricon

Nationality

American

Profession

Singer, Actor, Record Label Owner

Net Worth

$300 million

Partner

Jennifer Ashley Harper

Relationship Status

Married

Eye Color

Brown

Hair Color

Black

Children

Stella Busina Matthews, Grace Anne Matthews, August Oliver Matthews
Dave Matthews is a well-known name in the music industry. He is a singer-songwriter and record label owner who is known globally as the lead vocalist of the popular rock band Dave Matthews Band.
As the lead singer of the band, Dave's personal life has been in the spotlight for many years now. His fans are eager to know every detail of him. Hence, in this biography, let's know about Dave Matthews' parents, wife, children, and many more.
Grew Up In New York
The band's frontman, Dave Matthews was born David John Matthews on January 9, 1967. His birthplace is Johannesburg, South Africa, and when he was two years old, his family moved to Yorktown Heights, New York.
Dave Matthews' dad, John Matthews was a physicist, and while they were residing in New York, he worked for IBM. In 1974, the Matthews family moved to Cambridge, England. After a year, they returned to New York. In 1977, Dave lost his dad to lung cancer.
Dave Matthews' mom, Valerie Matthews, also known as Val Matthews, is an inspiration in his life and music. He has three siblings, Jane Matthews, Anne Matthews, and Peter Matthews. He is the third child of Valeri and John.
Dave attended Damelin College high school and graduated in 1985.
Dave Matthews, Net Worth – $300 million
As a musician, the American star has amassed a significant amount of money. As per Celebrity Net Worth, Dave Matthews' net worth is estimated to be $300 million.
Dave was interested in music from a very young age, and in 1986, he became a part of the musical community. Then, he began performing in public. In 1991, he founded Dave Matthews Band with his fellow bandmates Stefan Lessard, LeRoi Moore, Carter Beauford, Boyd Tinsley, and Peter Griesar.
The band's debut album was Under the Table and Dreaming, which was released in 1994. Since their first music albums, eight other studio albums have been released, which have debuted at No.1 in the USA.
The table below shows some of the albums and their earnings.
| | |
| --- | --- |
| Albums | Earnings |
| Remember Two Things (live album) | $1 million |
| Under the Table and Dreaming | $6.05 million |
| Crash | $7.1 million |
| Red Rocks (live album) | $2 million |
| Before These Crowded Streets | $3.1 million |
| The Central Park | $1 million |
Table Source: The Richest
Apart from the music that the band has released, Dave has also worked on a few solo albums. In 2003, he released his album Some Devils, which made estimated earnings of $1 million. Similarly, his other record, Live at Radio City earned $70K.
Additionally, Dave also makes significant earnings from merchandise sales and tours. The American rock band's online store lists some of the merchandise of the Dave Matthews Band. A few of the items and their respective prices are listed below:
So Damn Lucky Tee – $35
DMB Emblem Tee – $15
Snake Script Women's Tank – $15
Since 91 Badge Pullover Hoody – $65
Alpine Long Sleeve Tee – $40
As mentioned earlier, Dave has earned mainly from the band. The band has made considerable earnings from their live shows and tours. It has been reported that from 2000 to 2010, the band sold a large number of tickets and made more money comparatively than any other act in North America.
Furthermore, in 2018, the band earned $1 million per show during 84 shows tour. As a founder of the band, Dave must have been benefitted hugely from its income.
Similarly, Dave has also acted in a few of the projects, including Because of Winn-Dixie, I Now Pronounce You Chuck and Larry, House, etc. He also earns through Blenheim Vineyards which produces 55,000 cases of wine annually.
Furthermore, in 2000, he and Coran Capshaw founded ATO Records. He must be earning significantly from the record label.
Looking at his earnings from different sources, Dave Matthews' net worth of $300 million is considerable.
Also Read: Learn About Shaheen Holloway's Personal Details
Met His Wife At A Halloween Party
The Dave Matthews Band's lead singer, Dave Matthews shares a blissful marital life with Jennifer Ashley Harper. The couple met in college during a Halloween party. When Dave saw his wife, it was love at first sight for him.
However, it was not the same case for Dave Matthews' wife, Jennifer. For the occasion, Dave had shaved his head, painted it yellow, and had even put on a lot of eye makeup. His appearance with a leather jacket and makeup made his wife think he was gay.
Dave and Ashley began their relationship soon after, and in 2000 the couple walked down the aisle together. While the married duo has not revealed their exact wedding date, as per IMDb, they got hitched on August 10.
Since then, the married pair have been enjoying their blissful marital life.
Lexi Henkel is another person whose relationship is still going strong even after many years.
Welcomed Three Kids Together
Dave and Ashley are proud parents of three children. Among Dave Matthews' children, his daughters are twins, and his son is the youngest child.
Dave Matthews's daughters, Grace Anne Matthews and Stella Busina Matthews were born on August 15, 2001. On June 19, 2007, the musician and his wife welcomed their son, August Oliver Matthews.
Dave's mom and siblings always support him. His musical career has helped him gain significant fame and fortune. In addition, his wife has been with him throughout his career. His musical journey has inspired several of his fans.
So, let's wish him more success in the future.