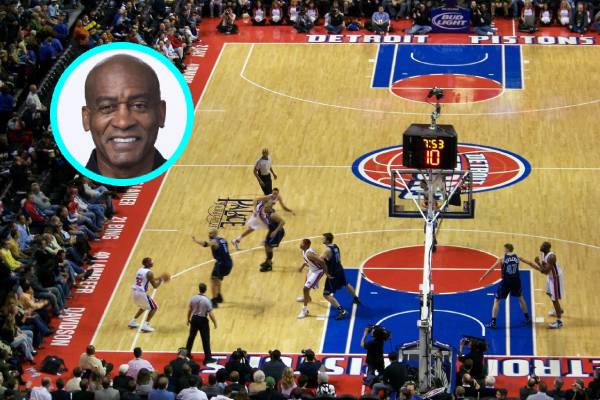 Birth Date

July 15, 1965

Birth Name

Derrick Collins

Age

58

Birth Place

New Orleans, Louisiana, USA

Birth Sign

Cancer

Nationality

American

Profession

NBA Referee

Relationship Status

Married

Education

Bachelor of Arts
For a basketball game to run smoothly, the referees must be present to mediate the game. Derrick Collins is one of the 75 full-time NBA officials of the 2022 season who has officiated over a thousand regular-season games over eighteen seasons.
Despite being on the basketball court for a long time, not much information has been revealed about the referee. Fans must be curious to know about him. So, let's get to know about Derrick Collins' net worth, career, wife, children, and more in this short biography.
Played Collegiate Basketball
Derrick was born on July 15, 1965, in New Orleans, Louisiana, USA. He completed his high school studies at Brother Martin High School, a college-preparatory school in New Orleans. The referee then attended the Xavier University of Louisiana, also located in the same city.
Collins played basketball at his school and university. Furthermore, he was a member of his college's basketball team and played for four seasons. The athlete even earned Honorable Mention All-American honors. Eventually, he graduated in 1988 with a bachelor's degree in Mass Communications.
The NBA official was born to supportive parents. Derrick Collins' father and mother are in their 70s and watched him as a player through his academic years. Now, his parents attend his games when he is in New Orleans. Also, when they cannot go to the matches, Collins' mom and dad use their League Pass to watch them at home.
Collins talked about his family members when discussing what role basketball played in his life and how it led to a career as a referee. He also mentioned that the sport has brought life to his family. Hence, he likely has a close relationship with his parents.
Also Read: About NBA Referee And Former Basketball Player Curtis Blair
Derrick Collins Net Worth And Career
Derrick has loved basketball from a young age and played it throughout his school and college days. Before joining the NBA, the referee had experienced officiating numerous times. For instance, he officiated five seasons in the CBA and three in the WNBA, including the Finals in both the leagues. Hence, Derrick Collins' net worth is heavily influenced by his officiating career.
Collins used to officiate games at the high school level when living in Louisiana. Additionally, he has seven years of collegiate officiating experience in various conferences. It includes Big 12, Sun Belt, Conference USA, Southland, SEC, TAAC, OVC, and SWAC. As an NBA official, he has officiated 1,110 regular-season games along with 30 playoffs over 18 seasons as of May 2022.
The sports personality must earn a remarkable sum from his career as a basketball referee. As per Sports Brief, NBA officials are paid according to their level of experience. The site estimates the average salary of a referee in the league to be between $180,000 and $550,000 annually. So, Derrick Collins' salary must be around that of a senior official's, i.e., $550K.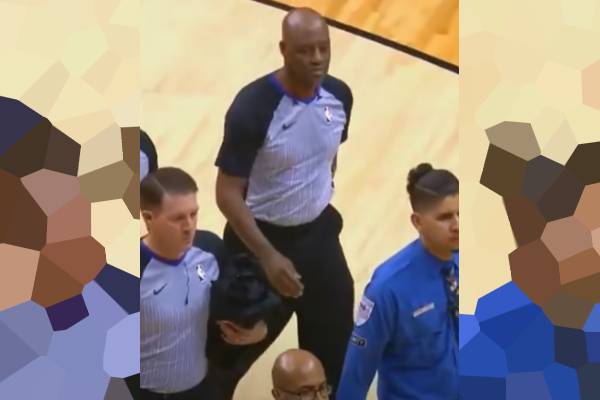 NBA referees are provided with additional benefits such as travel reimbursements, insurance, and retirement plans as they are members of NBRPA. Considering his long-time career and experience in the league, Collins must be bagging a remarkable sum. Hence, Derrick Collins' net worth must be a significant amount.
Similarly, Justin Van Duyne is another NBA referee with a notable net worth.
Is Derrick Collins Married?
The experienced referee is happily married to his spouse, whose name, unfortunately, has not been revealed yet. In one of his interviews, he mentioned his partner while talking about his fondest NBA officiating memory. Furthermore, Collins had a chance to reintroduce himself and his wife to an All-Star, and, it seems he was quite pleased with the interaction between them.
Besides that, not much has been revealed about Derrick Collins' wife. Likewise, it is also unclear whether the couple has any children together. It is difficult to know as he doesn't seem to be present on any social media platforms. There is a possibility that the NBA official prefers to keep his family out of any spotlight.
We can only hope to learn more about Derrick's spouse and kids in the upcoming days. The referee's career in the league is still ongoing, so his net worth will likely increase too. We wish Derrick Collins a prosperous and happy life ahead.
Trivia And Facts
Derrick wears the number 11 jersey.
He enjoys fishing, horseback riding, pool, weight training, bowling, and golf.
Flying an airplane is on Collins' bucket list.
He would like to visit Africa someday.