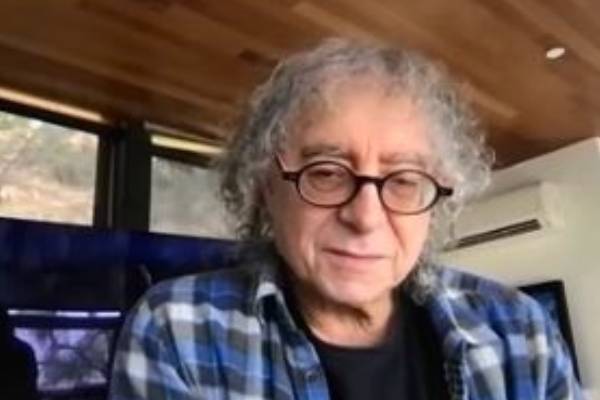 Birth Name

Hank Corwin

Nationality

American

Partner

Linda Corwin

Relationship Status

Married

Eye Color

Black

Hair Color

White
Last updated on March 26th, 2022 at 03:45 pm
The 2021 movie Don't Look Up became a massive hit. Thanks to the film's success, many people involved in it found immense fame and fortune. One of them is Hank Corwin.
Hank is a film editor who has worked on numerous films including Don't Look Up. However, the man who shows his magic in the movies by staying behind the camera has rarely talked about his personal life.
Thus, in this biography, why not learn about Hank Corwin's early life, love life, net worth, children, and many more.
Hank Has Stayed Mum About His Early Life
The film editor has definitely earned significant fame and fortune to his name. But even after being in the entertainment business for several decades, he has kept himself away from media scrutiny.
As a result, it is not known when the film editor was born. There's also no information about Hank Corwin's parents. Similarly, he has not revealed if he has siblings or if he is the only child of his father and mother.
Talking about his education, in one of his interviews, Hank revealed that he finished school in New York and then went to Berkeley. But similar to his childhood details, not much is known about what he studied.
Hank Corwin Net Worth And Career
The talented editor is a well-established name in the entertainment field. Apart from the fame, he must have earned a considerable sum in his professional career. Furthermore, Hank Corwin's net worth comprises his earnings as a film editor and several other ventures that he has been involved in.
Hank began his professional career in 1991 as an additional editor. He worked under the supervision of Oliver Stone in the film JFK. The movie became a massive hit and even won Academy Awards for Best Cinematography and Best Film Editing.
After that, Corwin went on to work as an editor in Stone's three other movies: U Turn, Nixon, and Natural Born Killers. The film editing career that Hank started in the 1990s is still going smooth, and he has 21 credits in his IMDb.
The table below shows some of the films in which Hank worked as a film editor along with their box office collections.
| | |
| --- | --- |
| Movies | Box Office Collections |
| U-Turn | $6.6M |
| The Horse Whisperer | $75.4M |
| Snow Falling on Cedars | $14.4M |
| The Legend of Bagger Vance | $30.7M |
| What Just Happened? | $1.1M |
| The Tree of Life | $13.3M |
| The Big Short | $70.2M |
| Vice | $47.8M |
| Don't Look Up | $791.8K |
Apart from the handsome money that Hank received in his film editing career, he has also won several awards. Likewise, he was also nominated for 2022 Oscar Award for the 2021 movie Don't Look Up.
Hank has worked with notable directors like Robert Redford, Adam McKay, Terrence Malick, and many others. Furthermore, apart from film editing, he has also worked as a director and producer.
A film editor makes $49,359 as an annual average salary. Thus, Hank must have made significant earnings. As a result, Hank Corwin's net worth must have been a huge amount.
ALSO READ: Get To Know Documentary Filmmaker Jay Rosenblatt
Who Is Hank Corwin's Wife?
As mentioned earlier, Hank Corwin has established himself as one of the successful film editors of his time. However, when it comes to his personal life, he rarely speaks anything in the media. As a result, many are curious to know if the editor is married.
Well, Hank shares a blissful marital life with Linda Corwin. The couple often attends several award functions together.
Although the duo has made several public appearances, it is not known when they walked down the aisle. Similarly, like him, Hank Corwin's wife does not have any social media account to her name.
But in the movie, Don't Look Up, we can see a glimpse of Hank and Linda's wedding video. The exclusive camcorder shot video had an Elvis impersonator in the background.
Furthermore, it is not known if the Corwin couple has any kids. Nevertheless, let's hope he opens up more about his personal life and we get to know about Hank Corwin's children.
Hank must be enjoying a blissful life with his family, away from the media limelight. We wish him more success in the coming days.