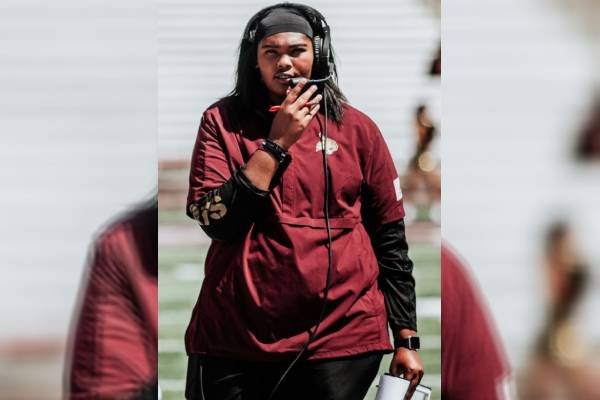 Birth Name

Jada Gipson

Father's Name

Jefferey Gipson

Mother's Name

Misty Gipson

Birth Place

U.S.A.

Nationality

American

Profession

Football Coach

Relationship Status

Not Confirmed

Eye Color

Black

Hair Color

Black

Instagram

https://www.instagram.com/jada_gipson/
The emergence of female coaches in the NFL has broken traditional stereotypes. The rising number of women coaches also influences many young girls to pursue a career in sport. Jada Gipson ranks among those following their passion in the football industry.
Gipson is an assistant linebacker coach at Texas State University. Before she stepped on to her role, Texas State's coaching staff was made up of male coaches. Furthermore, Jada is proving her worth through her commitment and dedication to her job.
So, let's learn more about this rising coach's background, family, earnings, and love life in this biography.
Jada Gipson's Father Was A Basketball Player
The college coach hasn't precisely revealed her birthdate or birthplace. But from what we know, she grew up in Mexia, Texas, and celebrates her birthday in July.
Jada Gipson's dad, Jefferey Gipson, was a basketball player at Mexia High School and Baylor University. He led the college team to the Conference/Regional Tournament. Moreover, Jada's father, Jefferey, was an assistant vice president for Woodforest National Bank. Unfortunately, he passed away on July 4, 2021.
Jada Gipson's mother, Misty Gipson, is very proud of her football accomplishments. The former's sister, Jazlyn Gipson, also often shares her sports news on her Twitter account.
Jada's brother, Jaylen Gipson, played as a quarterback at Texas State University. In his high school years, he was named a three-star recruit by 247sports.com, Espn.com, Rivals.com, and Scout.com. Furthermore, Gipson's sibling, Jaylen, supports her coaching passion wholeheartedly.
The Texas State coach graduated from Mexia High School in 2018. She then enrolled at Texas State and majored in general studies. She is set to complete her undergraduate degree in spring 2022.
Also Read: Biography Of NFL Coach Emily Zaler
Jada Gipson Net Worth And Career
The coach initially began interning as a student equipment manager for the Texas State football team. After a year, she landed an assistant inside linebackers student coach position. Hence, Jada Gipson's net worth is heavily influenced by her career as a collegiate coach.
Before leaving her internship in the equipment department, the Mexia High alumni expressed her coaching interest to Director of Equipment Operations Andrew Johnson. Her proactiveness led her to work under the former Inside Linebackers Coach, Archie McDaniel, before the 2020 season.
Gipson's works include player management, attending all defensive and linebacker staffs meetings, running drills at practice with the scout team, etc. Aside from that, she was one of the forty women that attended the NFL Women's Careers in Football Forum in 2021. Furthermore, Jada became the defensive back intern for Cleveland Browns the same year.
.@Coach_AlexHanna & @CoachJ_Gipson for the @Browns pic.twitter.com/HLoksyJ8ur

— On Her Turf (@OnHerTurf) September 9, 2021
A football assistant coach's earnings is $45,230 per year on average. So, Jada's salary might also be around that range from her collegiate career. If she becomes an NFL coach, her income will increase more.
Hence, Jada Gipson's net worth must be a considerable sum from her coaching career. Another individual renowned for her remarkable coaching skills is Maral Javadifar.
Is Jada Gipson Dating Anyone?
The Cleveland Browns intern hasn't been so forthcoming regarding her personal affairs. She is a person of secrecy and prefers to keep her relationships private. Still, one thing is for sure, Gipson isn't a married woman and doesn't have a husband.
The sports personality's social media accounts don't hint at her possible romantic partner. She rarely posts, but it's primarily work-related stuff. So, Jada might be single, considering the lack of information about her dating status. Nonetheless, she seems to be enjoying a comfortable life with her family.
Or the Texas State coach might have tried to hide the identity of her partner. She might have done that to protect her lover from unnecessary media attention. Still, Jada Gipson's boyfriend remains a mystery.
But anyone will be lucky to have Jada as his girlfriend. Hopefully, she will open up about her love life in the upcoming days.
Gipson comes from a family of athletes who has always supported her. She made history by landing a coach position at Texas State. In addition, Jada is aspiring to be an NFL coach in the future. Her hard work and devotion are truly inspiring for all.
So, let's wish her more success in the coming days.