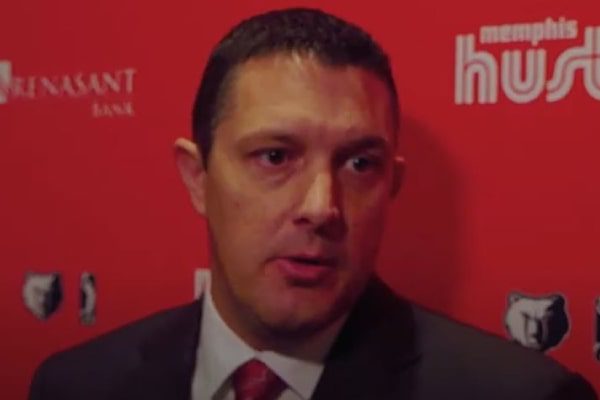 Birth Name

Jason March

Nationality

American

Profession

Basketball Coach

Partner

Barkley March

Relationship Status

Married

Eye Color

Brown

Hair Color

Black

Children

Oakley March, Easton March

Education

Bachelor's degree in education with a specialization in sports management

Twitter

https://twitter.com/jasonlmarch

Instagram

https://www.instagram.com/jasonlmarch/
Jason March is the head coach of the Memphis Hustle in the NBA G League. Having served the NBA team Memphis Grizzlies for nine years before leaving to join Sacramento Kings, March is back with the Memphis. He was ecstatic to return to his old team and is more experienced now.
March has been working as a coach for over a decade with several teams. He began his career as an assistant video coordinator for Phoenix Suns before switching to the Grizzlies. Furthermore, the NBA team welcomed him with open arms after offering him the head coach position for their affiliation team.
With the vast and ever-growing reputation of the G League, many people are curious about the coach's personal life. So, let's discuss more about March's family, career, and net worth in this article.
Rise To Fame
Jason was born to American parents. The details about his birthdate, father, and mother are pretty scarce and unknown to the public. Still, from what we know, he is from Frostproof, Florida.
March was always into basketball from a young age and likely played for his high school team. Not just that, Jason also served as the head coach of the Grizzlies' summer league squad that went on to win the 2015 Orlando Pro Summer League.

The coach graduated from Florida State University with a Bachelor's degree in education with a specialization in sports management. Then, he worked as a team manager for Hamilton and the Seminoles. That experience helped him a lot as he went on to work as an assistant video coordinator for the NBA team Phoenix Suns from 2005-2007.
Likewise, after serving two years with Sun, the Grizzlies offered him the job in the video department, and Jason agreed. He was later promoted to assistant coach and advance scout. Likewise, March was coached by Leonard Hamilton and Stan Jones at college. He recalls how they won the 2003 game against Duke, which is something he can't ever forget.
Jason March Net Worth And Career
With a coaching career of almost a decade, Jason certainly has amassed quite a fortune from his profession. From an assistant video coordinator to a head coach, he has dedicated his entire life to basketball. So, Jason March's net worth primarily consists of his earnings as a coach.
However, March is yet to reveal anything about his income. But, one can assume that his jobs as the team's video coordinator, assistant coach, and director must have paid him a considerable sum. Moreover, his works in the NBA have certainly elevated his earnings.
Here's a table of the teams that Jason has managed:
| | | |
| --- | --- | --- |
| Year | Role | Team |
| 2005-07 | Assistant Video Coordinator | Phoenix Suns |
| 2007-12 | Assistant Video Coordinator | Memphis Grizzlies |
| 2012-13 | Director of Basketball Information and Technologies | Memphis Grizzlies |
| 2018-19 | Assistant Coach | Sacramento Kings |
| 2019-Present | Head Coach | Memphis Hustle |
Table Source: Basketball.realgm.com
Likewise, an NBA head coach's earnings is $3 million a year on average. So, we can assume that Jason March's salary might be slightly lesser since G League is NBA's affiliate. Moreover, since he has also worked as the assistant coach for the NBA team Sacramento Kings, he must have generated a decent sum of money.
Also, the head coach worked as the advanced scout in his first season with the Memphis Grizzlies. As a head coach, he has led Memphis Hustle to the top of the Western Conference table, beating Jeff Newton's Iowa Wolves.
Also, according to ZipRecruiter, a scout can earn $41,815 on an average in the US. Jason might have made a significant amount while working as a scout. So, Jason March's net worth must be a notable sum from his coaching career.
Happily Married To His Partner
The head coach is happily married to Barkley March. The pair married in September 2007 and have been married for fourteen years now. Furthermore, Jason March's wife is very supportive of him and even takes her kids to his games.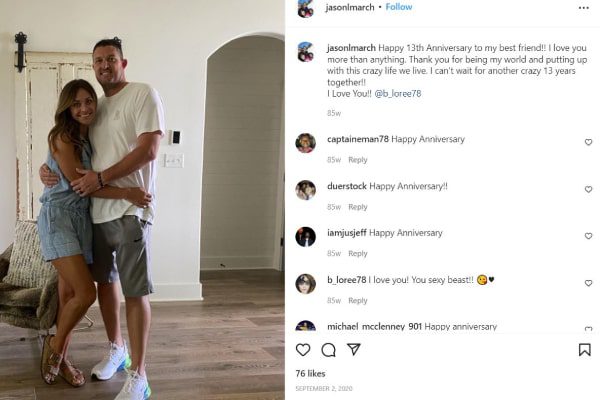 The additional details about Barkley are scarce, but the couple seems happy together and shares a blissful married life. She looks like a person of secrecy as she has kept her Instagram account private. Also, Jason March's spouse participated in the Saint Jude Marathon in 2020.
Also Read: More About Head Coach Jarell Christian 
His Children Are Interested In Basketball
Jason is a proud father of two children, a daughter, Oakley March, and a son Easton March. The kids are already following in their father's footsteps as they already play for youth teams.
Jason March's daughter, Oakley, was born in 2009, whereas his son, Easton, arrived in 2012. The latter is already a national champion, and the Florida-based coach took to Instagram to share the news. His both children have won trophies.
View this post on Instagram

March has been doing incredibly well in the world of basketball. He has come a long way from being the scout to coaching a G League team. His kids are also interested in basketball and he looks pretty confident about them succeeding as basketball players.