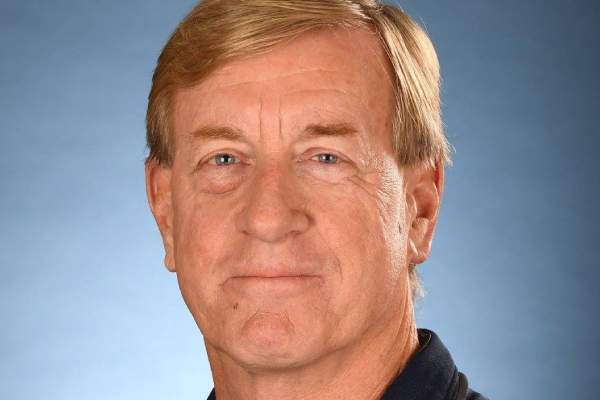 Birth Date

March 12, 1954

Birth Name

John Danowski

Age

69

Father's Name

Ed Danowski

Mother's Name

Josephine Danowski

Birth Place

Bronxville, New York, USA

Birth Sign

Pisces

Nationality

American

Profession

Lacrosse Coach

Partner

Patricia Danowski

Relationship Status

Married

Eye Color

Light Blue

Hair Color

Brown

Children

Matt Danowski, Kate Danowski

Education

Master's degree in counseling/college student development

Instagram

https://www.instagram.com/johndanowski/
The Duke Blue Devils men's lacrosse team is one of the popular teams in college lacrosse. It is led by John Danowski, an American college coach. He had a brief playing career, and as a coach, he has spent over three decades.
Did you know John was born to a sports legend? There are a few other interesting facts about him, which we will be discussing in the further paragraphs of this biography.
Born To A Football Star
The lacrosse coach was born on March 12, 1954, to football legend Ed Danowski and his wife, Josephine Danowski. John Danowski's father coached football at Fordham. Furthermore, he led the New York Giants to two NFL titles in the 1930s. Ed, who played as a quarterback and halfback, had a seven-year playing career. Furthermore, he was named Suffolk Sports Hall of Famer.
From Suffolk County to the #SuperBowl: Riverhead native and Suffolk Hall of Famer Ed Danowski played long before the Super Bowl existed, but he was a QB on the @Giants during their 1934 and 1938 NFL championship seasons! #SuffolkHOF pic.twitter.com/c5ctCLWKc3

— Suffolk Sports Hall of Fame (@SuffolkHOF) February 3, 2019
John grew up in Bronxville, New York, with his brother, Edward Danowski. He used to play football and lacrosse for Howdy Myers. Unfortunately, John Danowski's parents have already passed away. After graduating from college, he decided to pursue a career in coaching, and his mom was not too happy about his decision.
Talking about the lacrosse coach's educational background, he went to East Meadow High School. After graduating in 1972, he attended Rutgers University. In 1976, the Bronxville native earned a Bachelor of Science degree in environmental/science education. Moreover, he completed his master's degree in counseling/college student development at LIU-C.W. Post in 1978.
Also Read: Learn More About Chris Lemonis
John Danowski Net Worth And Career
After a brief playing career, John started his coaching journey. He has coached different teams, and his exemplary skills have helped him earn huge popularity and immense fortune. Therefore, John Danowski's net worth must be a notable amount.
During his high school career, Danowski helped the team win the county championship two times. At college, too, he was a four-year letterman. The former player even established single-game records in the uni for assists (13). His first coaching job was in 1982 as an assistant coach for the Long Island University, aka C.W. Post men's lacrosse team. He worked under Tony Seaman, and the following year, he was promoted to head coach.
Before the 1986 season, Hofstra University hired John as its head coach. Under his tenure, the team saw a drastic improvement in its records. He served the team for 21 years and even received several awards and titles. In July 2006, the C.W. Post graduate was hired as the head coach at Duke University, the position he still holds. He also coached the US men's national team.
Talking about John Danowski's salary, he received $1,000 as an assistant coach at C.W. Post University in 1982. After becoming head coach of the team, he earned $4,000 and an additional $6,000 as a resident hall director. At Hofstra, he got a raise to $6,000. In 2019, Danowski signed a contract extension with Duke to keep him through 2023. But, the details have not been revealed yet.
Nevertheless, the average annual salary of a lacrosse coach in the USA is $38,795. Hence, the New York native must be earning considerably. So, John Danowski's net worth must be massive.
Bill Tierney is a fellow lacrosse coach with massive earnings.
Is Married With Two Kids
Talking about the coach's personal affairs, he is a family guy and is happily married. He shares a blissful conjugal life with Patricia Danowski. However, the couple has kept their marriage away from the limelight. So, it is not sure when the duo met or got married.
In all these years of the pair's marriage, the coach and his spouse have welcomed two kids. John Danowski's son, Matt Danowski, is a former professional lacrosse attackman. He played in Major League Lacrosse and the Premier Lacrosse League. The last team he played for before retiring in February 2021 was the Chrome Lacrosse Club.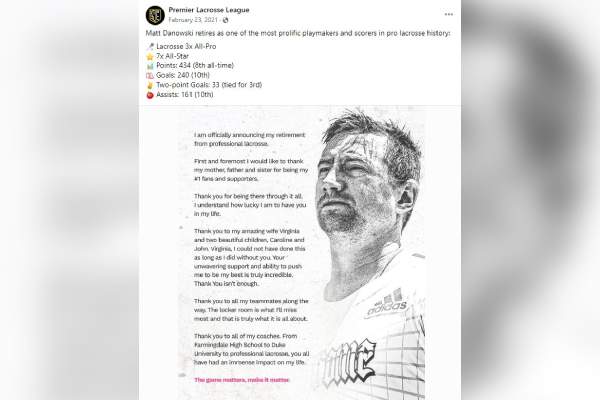 Likewise, John's daughter, Kate Danowski, is also a former college player. In addition, she is a former lacrosse letterwinner at Quinnipiac University. Furthermore, John Danowski's children have already grown up and are married. Hence, the coach must be living a wonderful life with his grandchildren, kids, and wife.
Nevertheless, John must be enjoying his hard-earned fortune and must be living comfortably. We hope he continues coaching in the collegiate division for years to come.
Trivia And Facts
John won the 1993 F.Morris Touchstone Award.
Tierney has over 1K followers on Instagram.