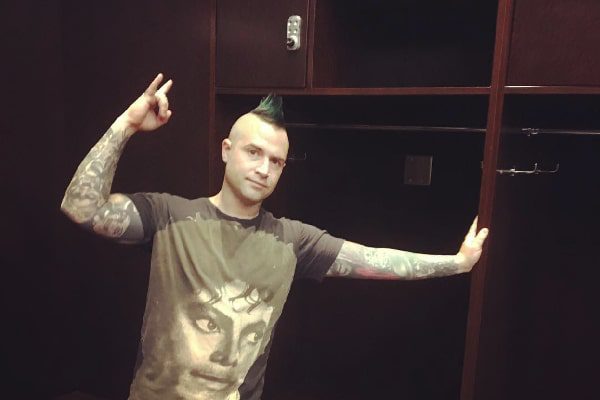 Birth Date

November 18, 1984

Birth Name

Jonathan Lewis Seward

Age

39

Also Known As

Johnny Christ

Height

5' 6"

Birth Place

Huntington Beach, California, U.S.A.

Birth Sign

Scorpio

Nationality

American

Profession

Bassist

Net Worth

$18 Million

Partner

Lacey Franklin Seward

Relationship Status

Married

Eye Color

Hazel

Hair Color

Grey

Children

Franklin James Seward
Jonathan Lewis Seward, better-known by his stage name Johnny Christ, is a renowned bassist. He is famous for his mohawk hairstyle and playful attitude on stage. Moreover, he is the fourth bassist of the heavy metal band, Avenged Sevenfold.
The bassist officially became a band member in 2002, four years after Avenged Sevenfold was formed. He has been involved in several genres of music, including progressive metal. In addition, he has also written many songs for the band.
Well, let's learn more about the artist's background, family, career, earnings, and love life in this article.
Johnny Christ Is A High School Dropout
The Avenged Sevenfold's backing vocalist was born on November 18, 1984. He had a very happy upbringing in Huntington Beach, California, USA. However, the musician hasn't revealed his parents' names or other details.
Still, Johnny Christ's father and mother must be proud of his career. The former also has a sister named Alexandria Seward.
Christ attended Marina High School in California. During his school years, he formally met M. Shadows, Zacky Vengeance, Synyster Gates, and The Rev.
During one of the Avenged Sevenfold's tours, Johnny took a few weeks off from high school to fill in for their previous bassist, Dameon Ash. Afterward, he left school and was permanently inducted into the band.
The songwriter is also a very good pal of Matt Baker, formerly from the band The Dear and Departed, and the younger brother of Zacky Vengeance. Hanging out with them must have helped him gain knowledge about the music industry.
Johnny Christ, Net Worth – $18 Million
Johnny Christ's net worth is estimated to be $18 million. It is heavily influenced by his career as a musician.
The popular artist started his career as Avenged Sevenfold's bassist in the early '00s after Dameon Ash left. He first recorded on their second album Waking the Fallen. He earned a lot of popularity and must have also made a significant amount of money.
The California native also began providing backup vocals on live shows and songs like Nightmare, Seize the Day, God Hates Us, Not Ready To Die, etc. Furthermore, his band's albums have charted higher on Billboard charts. For instance, A7X's Nightmare and Hail To The King reached #1 on US Billboard.
Let's see some of Avenged Sevenfold's earnings in different years below:
| | |
| --- | --- |
| Year | Earnings |
| 2008 | $1,300,000 |
| 2010 | $1,660,000 |
| 2013 | $1,020,000 |
| 2016 | $221,000 |
Table Source: The Richest
Likewise, the bassist has worked on songs like Unholy Confession, Chapter Four, Eternal Rest, Second Heartbeat, etc. Considering the financial success of A7X, he must have made enough fortune for himself.
Aside from that, Johnny's income benefits from his podcast Drinks With Johnny. It is also available on YouTube, and the channel boasts 28.4K subscribers.
Hence, Johnny Christ's net worth of $18 million is thanks to his successful music career.
Also Read: More About Dave Matthews' Biography
Johnny Christ Is Married to Lacey Franklin Seward
The famous bassist of A7X shares a blissful and happy marital life with Lacey Franklin Seward. The couple met each other when they were twelve years old. They met in the junior lifeguard, which is basically a program that teaches all about beach safety and how to swim in the ocean.
On top of that, the lovebirds also share the same birthday.
The duo tied the knot on September 14, 2012, after dating for a long time. Also, Johnny Christ's wife is very supportive of his career. For instance, Johnny mentioned his partner has seen many ups and downs of the band and supported him throughout it in one of his podcasts.
We wish Johnny and Lacey a healthy, prosperous, and love-filled future ahead.
Is A Blessed Father Of One Son
Johnny Christ and his spouse, Lacey, are the loving parents of their son, Franklin James Seward. They welcomed him in February 2017. Furthermore, the bassist missed a handful of performances prior to his kid's arrival. He only returned to the band on February 15, after welcoming his first baby.
Despite his busy schedule, Johnny always makes time for his child. Moreover, Johnny Christ's son, Franklin, often appears on his Instagram account. Of course, his loving parents must pamper him really well.
The artist's musical career has helped him gain significant fame and fortune. In addition, he is married to an excellent partner who has been with him through thick and thin. His musical journey has inspired many people.
So, let's wish Christ a healthy and prosperous life ahead.