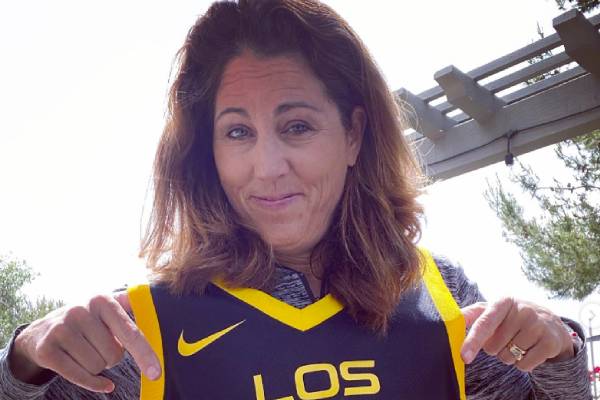 Birth Date

January 23, 1971

Birth Name

Julie Maurine Foudy

Age

52

Also Known As

Julie Foudy

Height

5' 6''

Father's Name

Jim Foudy

Mother's Name

Judy Foudy

Birth Place

San Diego, California, USA

Birth Sign

Aquarius

Nationality

American

Profession

Commentator

Partner

Ian Swayers

Relationship Status

Married

Eye Color

Blue

Hair Color

Brown

Children

Isabel Ann Sawyers, Declan Sawyers

Education

Bachelor's of Science in Biology

Twitter

https://twitter.com/JulieFoudy

Instagram

https://www.instagram.com/juliefoudy/
Julie Foudy is a retired soccer player and the current analyst and commentator for the women's soccer telecasts at ESPN. Having served as the president of the Women's Sports Foundation, Foudy is involved in political activism relating to women's rights and workers' rights. She was the first American and the first woman ever to receive the FIFA Fair Play Award.
Despite achieving so much success in her professional career, people still don't know much about the athlete. She is the co-founder of Julie Foudy Sports Leadership Academy (JFSLA) with her husband and has emphasized the importance of equal pay. Having had so much success, fans are curious to learn how Julie has managed to become such a big soccer star while she continues to fight for women's rights in the game.
Julie Decided Not To Pursue A Career In Medicine
Julie Maurine Foudy was born on January 23, 1971, to American parents Jim Foudy and Judy Foudy in San Diego, California, USA. She is very close to her parents. As Foudy started playing soccer at 16, she must have had tremendous support from her mom and dad.
Julie's parents treated her like the baby in the family as she is the youngest child. Julie Foudy's oldest sister, Krissy Foudy, is an elementary school teacher, while her two older brothers, Jeffrey Foudy and Michael Foudy, are close to her as well. The soccer star must have gotten a lot of love from her siblings.

Likewise, Julie attended Mission Viejo High School in 1989 where she was a two-time First-Team All-American along with several other awards. After that, the commentator went to Stanford University where she earned more awards while being a four-time NSCAA All-American. With the college career coming to an end, the exceptional talent was named the Soccer America's College Team of the Decade for the 90s.
Foudy completed her graduation from Stanford with a Bachelor of Science in Biology in 1993. The San Diego native was accepted into the Stanford Medical School but decided not to pursue a career in medicine and instead chose soccer. That was a bold move from Julie, and it paid off as she made quite a reputation for herself in the sports. Moreover, she was awarded an honorary doctorate by Pacific Lutheran University in May 2022.
Also Read: Know In Detail About Cammi Granato
Julie Foudy Net Worth And Career
Having won the FIFA Women's World Cup and the Olympic Gold twice, Julie has managed to make quite a name with great achievements. She was a major part of the national team from 1988 to 2004 and scored a total of 45 goals in 274 appearances. With all these successes, we can assume Julie Foudy's net worth is immense.
Foudy was called up to the national team at 16 and she attended the 1988 FIFA Women's Invitation Tournament. The commentator played a total of four World Cup finals and won in 1991 and 1999. Likewise, Julie played in three Summer Olympic Games winning gold in 1996 and 2004, and silver in 2000. The US team at that time was labeled as the golden era of US soccer.
Likewise, Foudy started her commentary job as an in-studio analyst for ESPN, and ESPN2's coverage of the UEFA Euro 2008 and 2006 FIFA World Cup. Foudy was part of the broadcast team for the 2011 Women's World Cup. Moreover, Julie founded Julie Foudy Sports Leadership Academy (JFSLA) in 2006.

Furthermore, Julie appeared in the HBO documentary Dare to Dream: The Story of the US Women's Soccer Team, and the HBO Max documentary movie LFG. Also, she served as the executive producer of the documentary short An Equal Playing Field, along with The 99ers featuring other teammates from the 1999 World Cup-winning team.
Moreover, the winning prize of a gold medal is worth $37,500. Also, the salary range of a US soccer commentator is $27,370 to $187,200. So, Foudy must be earning somewhere around that salary cap. With all these achievements, Julie Foudy's net worth must be massive.
Married For Almost Three Decades
Julie is happily married to a former soccer player and JFSLA Vice President Ian Sawyers. The smitten pair walked down the aisle on July 30, 1995. Julie Foudy's husband met her when she was playing for the youth league Soccerettes and he was the coach of the Mission Viejo Hurricanes.
Julie Foudy's hubby was born on May 2, 1962, in Sunderland, England. He also worked as the Director of Soccer for Mission Viejo Soccer Club.
In all these years of their marriage, the smitten pair have been through several ups and downs. They must be living a blissful life together away from the media.
Proud Mother Of Two
After tying the knot, Ian Sawyer's wife gave birth to two of their children, a daughter, and a son. Julie Foudy's oldest child is Isabel Ann Sawyers who was born on January 1, 2007. Likewise, her second kid, Declan Sawyers, came into this world in December 2008.
View this post on Instagram
Julie Foudy's daughter, Isabel, finished middle school and joined high school in August 2021. Also, her son, Declan, is studying in grade eight, as of 2022. The analyst often posts pictures of them traveling and having fun with each other.
Overall, Julie seems to be living a content and comfortable life with her family. Let's hope she can continue to do well in the world of soccer and keep on inspiring young women around the globe.
Trivia And Facts
Foudy went on a trip to Pakistan to ensure child labor wasn't used to make soccer balls.
She has 224.3K on Twitter and 53.8K on Instagram.
She had her first child at 35 and second at 37.
Julie has a podcast titled, Laughter Permitted.