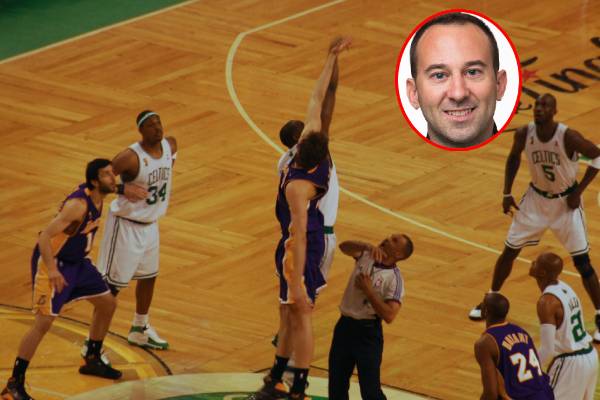 Birth Date

February 15, 1981

Birth Name

Kane Fitzgerald

Age

42

Father's Name

Tom Fitzgerald

Birth Place

Dover, New Jersey, USA

Nationality

American

Profession

NBA Referee

Relationship Status

Married

Eye Color

Blue

Hair Color

Black
National Basketball Referees Association (NBRA) is an official union of NBA referees founded in 1977. Since then, it has worked as a representative of the referees in the WNBA, NBA, and G League. For the 2021-2022 season, there are 75 officiating staff and 9 non-staff officials in the NBA. Among them is Kane Fitzgerald.
Kane has been in the limelight since the beginning of his officiating career. However, he has not revealed much about his personal life. So, let's take a look at Kane Fitzgerald's biography, including the facts about his childhood, love life, earnings, and many more.
Son Of A Referee
Kane was born on February 15, 1981, in Dover, New Jersey, USA. Kane Fitzgerald's dad, Tom Fitzgerald, has been a referee in their hometown for forty-five years. However, not much information about his mom has been revealed. Furthermore, he has not disclosed if he has any brothers or sisters or is the only child.
Fitzgerald went to Sparta High School in his hometown. After completing high school studies, he enrolled at Centenary University, from where he graduated in 2004.
Also Read: Learn About American Referee Justin Van Duyne
Kane Fitzgerald Net Worth And Career
Kane Fitzgerald's net worth mainly comprises his earnings as an NBA referee. He has been refereeing matches for many years and seems to have amassed considerably. Moreover, it was his dad who taught him the officiating job.
At the age of eighteen, Kane started his officiating career at the high school level in New Jersey. He became the first member of Board 168, mainly refereeing junior and freshman varsity games in Morris, Warren, Sussex, and Hunterdon Counties. Then, the NBA official worked at AAU and men's league contests. Finally, when he was twenty-two, he decided to pursue refereeing full time and was determined to enter the NBA.
The New Jersey-born referee officiated at the college level and spent the next four years working in NBA G League games and WNBA contests. After that, he entered NBA and has already officiated 635 regular-season and 32 playoff games. He has also worked as an NBA official for more than 10 seasons.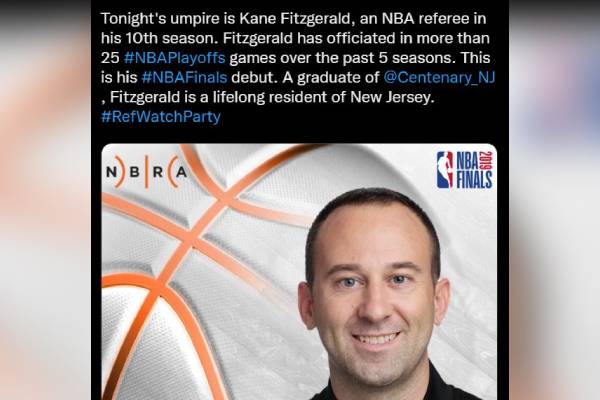 In all these years of his professional career, Kane must have pocketed a considerable amount. An NBA official earns between $150K to $550K. So, Fitzgerald's salary must also be a substantial sum. Hence, Kane Fitzgerald's net worth might be a notable amount from his refereeing career.
You might also want to know about JB DeRosa, who is another NBA referee with a considerable fortune.
Is Kane Fitzgerald Married?
The answer is Yes! Kane is happily married. However, information about Kane Fitzgerald's wife is a mystery. Despite being in the limelight, the referee seems to have mastered the art of keeping things extremely private. On top of that, Kane's social media absence has added another level of difficulty in learning about his marital life.
In one of the interviews, Kane credited his partner for his success. He claimed that she is the rock who holds everything together for their family. Well, how lucky is Kane Fitzgerald's spouse to have a loving husband like him. Plus, it's the other way around too!
Like his marital life details, Kane Fitzgerald's children are a mystery too. But, let's hope we will soon learn about the Fitzgerald family in the coming days. Nonetheless, the NBA referee must be living a comfortable life, thanks to his earnings. His parents must be proud of what he has achieved. So, let's wish Fitzgerald a great future ahead.
Trivia And Facts
Kane's favorite show is Breaking Bad.
He can play the piano.