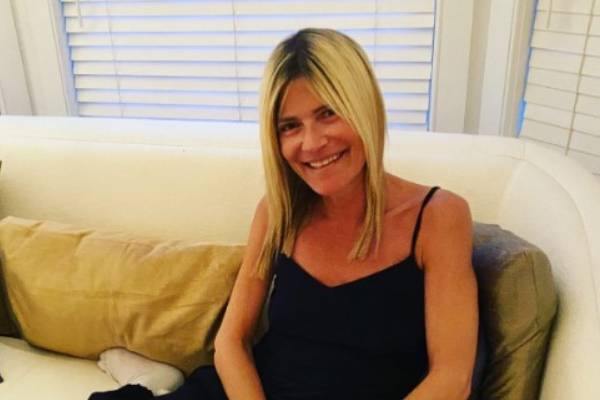 Birth Date

January 30, 1971

Birth Name

Elizabeth Grubman

Age

52

Father's Name

Allen Grubman

Mother's Name

Yvette Grubman

Birth Place

New York City, New York, USA

Birth Sign

Aquarius

Nationality

American

Profession

Businesswoman, Publicist

Net Worth

$40 Million

Partner

Chris Stern

Relationship Status

Married

Eye Color

Brown

Hair Color

Blonde

Children

Harrison Irving Stern, Jack Alexander Stern
Last updated on May 12th, 2022 at 07:25 am
Lizzie Grubman is a well-renowned publicist, manager, and socialite. She's also recognized as New York's PR princess. The 2001 Hamptons accident involving the publicist is one of Hollywood's most infamous scandals.
As a public relations manager, Lizzie's professional and personal life is a known affair to the general public. Still, people may be curious to know more about her in detail. So, let's learn about her net worth, career, family, husband, and children in this biography.
Daughter Of A Multimillionaire Lawyer
Lizzie was born Elizabeth Grubman on January 30, 1971, in New York City, New York, USA. She is the first child of her parents, Allen Grubman and Yvette Grubman. Moreover, Lizzie Grubman's father is an American multimillionaire entertainment lawyer. He became the first practicing attorney to be inducted into the 2022 Rock & Roll Hall of Fame.
View this post on Instagram
Grubman's parents got divorced in 1988. Lizzie Grubman's mother had multiple sclerosis and passed away due to ovarian cancer in 2001. The former's father is now married to Debbie Grubman. Furthermore, the publicist has a younger sister Jennifer Grubman Rothenberg.
Lizzie attended some of the best high schools in New York City, including Horace Mann School, Birch Wathen Lenox School, and Dwight School. She had enrolled at Northeastern University but dropped out before completing her sophomore year. So, she did not graduate from college.
Also Read: Learn More About Derrick Collins Biography
Lizzie Grubman Net Worth – $40 Million
Lizzie has been actively working as a publicist and manager since the 90s. She founded Lizzie Grubman Public Relations Inc. in 1996. Britney Spears, Jay-Z, and the Backstreet Boys were among her first clients. Working with such well-known celebrities, it's no surprise that Lizzie Grubman's net worth is estimated to be $40 million.
Moreover, she was dubbed the most powerful girl in New York magazine after several successful years. The New York native even starred in the MTV reality show "PoweR Girls" in 2005. She launched Lizzie Grubman PR & Management two years later and now manages Lil' Kim, Kylie Bisutti, and many other celebrities. 
In July 2001, Lizzie got involved in a massive scandal after backing her father's Mercedes SUV into a crowd of people. She had injured sixteen people outside the Conscience Point Inn at 1976 North Sea Road in the Hamptons. The incident garnered widespread media coverage and turned her into one of the most notorious women in New York.
The businesswoman at first claimed the incident was an accident. But, she eventually pleaded guilty and served thirty-eight days in jail, and received five years' probation. Out of the sixteen victims, ten people filed lawsuits against her. Finally, in 2007, Lizzie settled the last civil lawsuit, but the settlement amount and other details haven't been disclosed.
Despite all the controversies, Lizzie remained hardworking and dedicated to her work. As per zoominfo, her company has a revenue of less than $5 million a year. As a founder, Lizzie Grubman's salary must be a significant amount from the firm.
Thus, Lizzie Grubman's net worth of $40 million seems well-deserved. Also, speaking of Lizzie's dad, Allen Grubman's fortune was estimated to be $10 million by The Richest.
Crystal Blease is another successful businesswoman with massive earnings.
Has Married Twice
After the 2001 incident, Ms. Grubman stayed out of the spotlight for a decade. During those years, she married and started a new life with Chris Stern. Lizzie Grubman's husband served as the executive creative director and VP for the talent and management agency WME IMG. He also designed the couple's East 61st Street apartment (a triple combine duplex) and a five-bedroom weekend home in Sag Harbor, N.Y.
However, Chris isn't the first spouse of Lizzie. Before him, she was married to Eric Gatoff from 1995 to 1997. Moreover, Lizzie Grubman's ex-husband worked as an associate at her father's law firm.
Also, the publicist had separated from her partner, Chris, in December 2010. But, the pair seem to have reconciled and got back together.
A Mother Of Two Boys
The public relations expert is now a mother of two. Lizzie Grubman's son, Harrison Irving Stern, was born on December 12, 2006. She welcomed her second son, Jack Alexander Stern, on January 22, 2009. He was born two months before his scheduled due date.
The Stern-Grubman couple lovingly calls their sons Harry and Jack. Lizzie is often seen spending time with her boys. She also posts pictures and videos of her children on her social media accounts, which are liked by thousands of people.
Despite a happy home life and thriving business, Ms. Grubman still has difficulty discussing the events of the summer of 2001, when everything changed. She is now living a private and non-public life while balancing a happy marriage, motherhood, and a rocking career.
Facts And Trivia
Lizzie was charged with twenty-six felonies in the trial of the 2001 Hamptons accident.
She worked as an actress in The Juice in 2009.