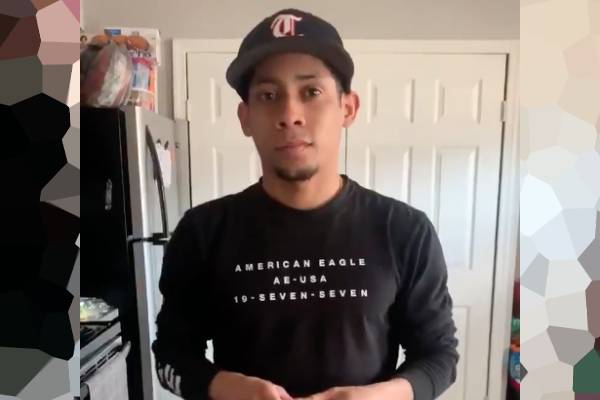 Birth Date

December 19, 1994

Birth Name

Manuel Franco

Age

29

Also Known As

Manny

Height

5' 1''

Weight

112 lbs

Birth Place

Carolina, Puerto Rico

Birth Sign

Sagittarius

Nationality

Puerto RIcan

Profession

Jockey

Partner

Nicole Carrasco

Relationship Status

In a Relationship

Eye Color

Black

Hair Color

Black

Children

Valentina Isabella

Twitter

https://twitter.com/jockeyfranco
If you are a fan of jockeys, you won't fail to recognize the winner of the 2020 Belmont Stakes, Manuel "Manny" Franco, with his partner Tiz the Law. He is a jockey who has been riding professionally for almost ten years.
The jockey has made a name for himself in the equestrian sport. Now, let's learn more about Manuel Franco's family, career, earnings, and love life in this biography.
Was Introduced To The Sport By His Father
Manuel Franco was born on December 19, 1994, and grew up in Carolina, Puerto Rico. Franco has not revealed the identities of his father and mother. However, he has mentioned that he was introduced to horse racing by his dad, who took him along to the races.
Franco attended the famous Escuela Vocacional Hipica Agustin Mercado Reveron school, which specializes in training jockeys, in 2012. After a year, he had his first win in Camarero, riding Skylight Citizen in 2013.
Also Read: Take A Look At Reylu Gutierrez's Biography
Manuel Franco Net Worth And Career
The jockey started his professional career in the sport in 2013 and has been steadily making a name for himself as a great rider in the horse racing world. Yet, being a successful jockey was not what Manny had planned when he was young.
Tiz the Law's partner initially wanted to be a Major League Baseball player. However, when his body put a restraint on his dream, Manny was advised by everyone around him to become a jockey. He gladly took the advice when he was fifteen years old.
After taking out his jockey's license, Franco got his first-ever victory in the Dr. James Penny Memorial Handicap with Coffee Clique. Since then, the talented horse racer has gained plenty of experience and amazing stats throughout his profession. As per America's Best Racing, Manny has earned $111,193,904 and 11,748 starts over his career.
Well, he has certainly made a fortune during the past few years. Hence, Manuel Franco's net worth must be tens of millions. The following table shows the earnings of the young jockey in different years.
| | | | |
| --- | --- | --- | --- |
| Year | Starts | Per Start | Earnings |
| 2018 |  1,419 |  $12,043 |  $17,088,709 |
| 2019 |  1,340 |  $12,454 |  $16,688,680 |
| 2020 |  1,011 |  $12,169 |  $12,302,732 |
| 2021 |  1,341 |  $10,472 |  $14,043,066 |
Table Source: Equibase
As per Equibase, the athlete has amassed about $111,303,213 as of April 2022. Therefore, Manuel Franco's net worth of millions is not surprising and is rather deserving, considering his remarkable achievements in the horse track.
Franco was being represented by his agent, Hall of Famer Angel Cordero Jr., up until recently. However, after parting ways with his former agent, he has hired agent Jon Panagot to represent him in the future.
Flavien Prat is another professional jockey who enjoys a net worth of multi-millions.
Is The Jockey Dating Anyone?
The talented jockey is in a romantic relationship with Nicole Carrasco. As per her Twitter posts, she is the sister of another Puerto Rican jockey named Victor Carrasco. The details about how the pair met and when the duo started dating each other are unknown.
Additionally, the duo seems to be married to each other. Manny addresses his lover as his spouse on his Instagram posts. So, could it be that Nicole is Manuel Franco's wife?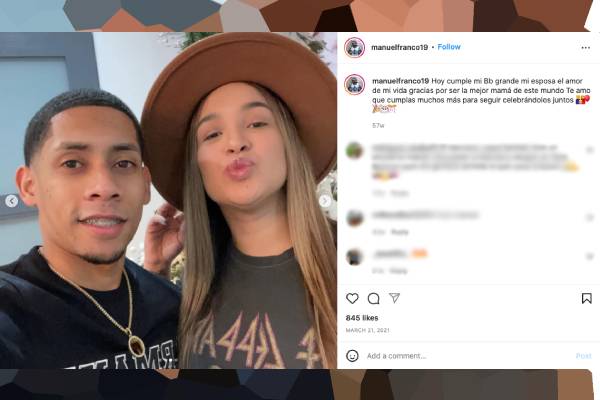 Nonetheless, Nicole is very fortunate to have Franco by her side. The jockey uploads pictures about her on his Instagram account quite often, captioned with phrases such as "the love of my life" and "I love you." It is evident just how much fondness the jockey has for her. Well, we can surely assume Nicole loves her partner just as much.
Manuel Has A Daughter
Well, Franco shares an adorable daughter with his lover named, Valentina Isabella. Nicole confirmed her pregnancy with Valentina in October 2017 by sharing a picture of her with Manuel on her Twitter account.
It seems the couple welcomed their little girl a few months later in December 2017. The duo shared pictures of them celebrating her first birthday on their social media handles. Valentina was treated like a princess on the occasion of her turning one by her parents; she wore a crown and was given a massive cake.
Family First😍 Valentina cumplio uno👧🏽. @jockeyfranco pic.twitter.com/3P0BR1LdHW

— Nicole Carrasco☘ (@rodz617) December 14, 2018
Valentina has appeared a few times more on the couple's Twitter and Instagram accounts. It seems Manuel Franco's daughter is loved and adored dearly by him and his partner. And with the jockey's earnings being in multi-millions, the little family must be enjoying a happy and comfortable life together.
Nevertheless, we wish Manuel Franco finds more success in his career and happiness in whatever he does in the future.