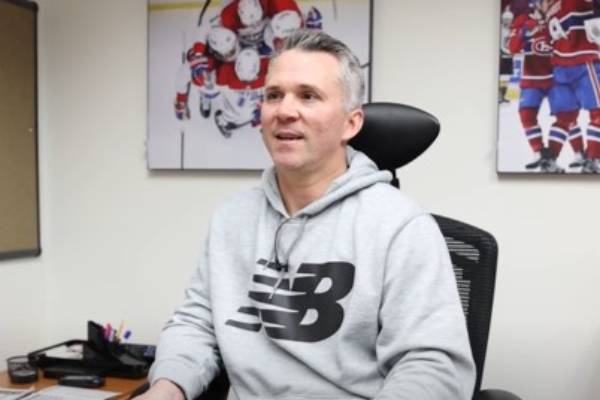 Birth Date

June 18, 1975

Birth Name

Martin St. Louis

Age

47

Also Known As

Marty

Height

5' 8''

Weight

173 lbs

Father's Name

Normand St. Louis

Mother's Name

France St. Louis

Birth Place

Laval, Quebec, Canada

Birth Sign

Gemini

Nationality

Canadian

Profession

Ice Hockey Coach

Net Worth

$40 Million

Partner

Heather Caragol

Relationship Status

Married

Eye Color

Brown

Hair Color

Grey

Children

Lucas St. Louis, Mason St. Louis, Ryan St. Louis

Education

Bachelor's Degree in Small Business Management

Awards Honors

Gold Medalist at 2014 Winter Olympics, Silver Medalist at World Championships (2008, 2009)

Twitter

https://twitter.com/mstlouis_26
A professional NHL coach, Martin St. Louis, currently holds the head coach title of the Montreal Canadiens. He is also a former ice hockey player. With over twenty years of experience as a player and coach, the former right-winger has established a prominent reputation along with numerous achievements and successful wins.
In this biography, we will try to highlight both professional and personal aspects of Martin St. Louis. First, take a look at how he established a perfect hockey resume throughout his career. Also, let's get to know the driving force behind the Canadiens' coach's success.
Lost His Mother To Heart Attack
On June 18, 1975, Martin was born in Laval, Quebec, to his parents, Normand St. Louis and France St. Louis. He has a sister, Isabelle St. Louis. Moreover, Martin St. Louis' father has always been his greatest supporter. When the NHL coach was young, they used to watch Canadian games together. Sadly, Martin's mother passed away due to a heart attack on May 8, 2014. 
Nonetheless, Mr. St. Louis is very proud of how far his son has come all on his own. Regarding his educational qualifications, Marty holds a Bachelor's degree in small business management from the University of Vermont. There, he also had a very successful collegiate playing career.
Also Read: Learn More About David Amezcua's Biography
Martin St. Louis Net Worth – $40 Million
The former Canadian professional ice hockey player transitioned to be an NHL head coach in 2022. However, he has been active in the sport since he was a university student. After completing his collegiate playing career, he went on to play for various professional teams. So, Martin St. Louis' net worth of $40 million must have been fueled significantly by his income as an ice hockey player.
Despite his talent and abilities, he often failed to gain recognition because of his diminutive height. So when the Vermont Catamounts convinced him to join their hockey program, he got a chance to prove himself as one of the top players. He also won several titles and awards, including ECAC First Team All-Star, NCAA All-American, ECAC Player of the Year, etc.
St. Louis carved an impressive NHL career as an undrafted player, where he played over 1,000 games. His playing career started with the Calgary Flames in 1997 and ended with New York Rangers in 2015. In addition, he has played with professional teams Tampa Bay Lightning and Lausanne HC as well.
Let's look at some of Martin St. Louis' salary and playing stats:
| | | | |
| --- | --- | --- | --- |
| Season | Team | Goals | Salary |
| 1998-99 | Calgary Flames | 1 | $273,000 |
| 2003-04 | Tampa Bay Lightning | 38 | $1,500,000 |
| 2006-07 | Tampa Bay Lightning | 43 | $6,000,000 |
| 2010-11 | Tampa Bay Lightning | 31 | $4,000,000 |
| 2014-15 | New York Rangers | 21 | $5,000,000 |
Table Source: Hockey Reference & Sportrac
Considering such grand salary amounts and remarkable stats, one can see that Martin had a successful playing career. He also represented Canada twice at the Olympics, in 2006 and 2014, winning gold at the 2014 Games in Sochi, Russia. Furthermore, St. Louis was a first-ballot Hockey Hall of Famer after playing in 1,134 games in the NHL over 17 years and amassing 1,033 career points.
On June 1, 2022, the former hockey champ signed a three-year contract with the Montreal Canadiens for a salary of around $3M per season. The contract is estimated to be worth $9,000,000. Such amounts from his income as a coach must have added positively to Martin St. Louis' net worth of $40 million.
Thanks to his earnings, the former sportsperson has invested in several properties. For instance, he paid $6.2 million for the Riverside mansion in 2012, which he listed for $16 million in 2020.
Similarly, Dean Evason is another NHL coach with massive earnings.
Who Is Martin's Wife?
Talking about his personal life, the Laval native is a married man. Martin is in a martial relationship with Heather Caragol, from Greenwich, Connecticut. The beautiful couple first met at the University of Vermont. Both only began dating in 1996 during their senior year. Also, Martin St. Louis' wife has a bachelor's degree in Accounting.
After dating for a few years, the adorable pair exchanged vows on July 15, 2000. Hence, they have been in a blissful marriage for over twenty years. Moreover, Martin St. Louis' spouse is very supportive of his career and has an affectionate relationship with him. The lovebirds are also proud parents of three children.
Like Father Like Sons
The 5′ 8" former right-winger is a proud father of three sons who are following in his footsteps. Martin St. Louis' first child, Ryan St. Louis, was born on June 13, 2003. He is a freshman at Northeastern University and plays on the college's hockey team. The middle child of the family, Lucas St. Louis, was born on March 30, 2005. He attends Brunswick School and plays in the USHS Preparatory.
Finally, Martin St. Louis' youngest son, Mason St. Louis, was born in 2008 and is involved with the Mid-Fairfield Rangers13U AAA.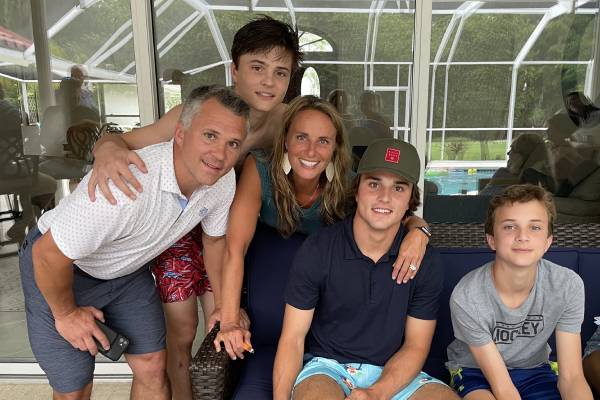 Martin and Heather must be very proud of their children's achievements. The St. Louis siblings are very passionate about ice hockey and have been playing it from earlier. Let's hope they will become successful players like their father.
Overall, the renowned ice hockey coach has closed the chapter of his athletic days and transitioned into coaching. This is his first stint with the Canadiens and fans are eager to see his performance. Hopefully, he will live up to their expectations and deliver excellent results in the days ahead.
Facts And Trivia
Martin announced his retirement on July 2, 2015.
In 2018, he was inducted into the Hockey Hall of Fame.