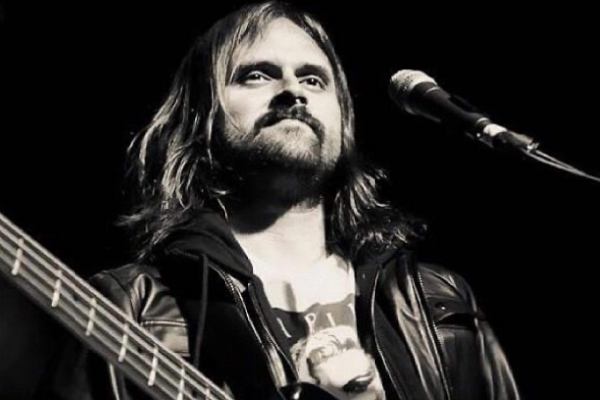 Birth Name

David Amezcua

Also Known As

Dave Amezcua

Birth Place

Los Angeles, California, USA

Nationality

American

Profession

Bass Player, Musician

Partner

Keesha Amezcua

Relationship Status

Married

Eye Color

Brown

Hair Color

Brown

Children

3

Instagram

https://www.instagram.com/tnt_ziminy/
Platinum and Emmy-awarded musician David Amezcua is the former bassist of Awolnation and a member of Hoobastank from 2008 to 2009 who has toyed with several solo projects for years. He outshined once again after his first single, She (Zoey Deutch).
He has been professionally playing bass for almost two decades. Therefore, today's article will highlight David Amezcua's professional career and personal life; hence, stick with us till the end.
Comes From A Musical Family Background
Dave Amezcua is a Los Angeles native who has not revealed his birth date yet. Likewise, although he has not shared his parents' names, they were his big musical influences. David Amezcua's father performed mariachi music his entire childhood, and his mother was a gifted pianist. Therefore, music was always a thing in his house growing up.
Similarly, the bassist's older brother often played guitar, which fascinated and inspired him to contribute something to the music industry. Speaking of his educational background, he has not revealed which college or school he attended.
Also Read: More About Chris Chaney's Biography
David Amezcua Net Worth And Career
David is one of the most skilled and conscientious bassists and musicians. He has been in the music biz for several years. Hence, the primary source of David's wealth mainly consists of his income as a musician. In his professional career, Dave has frequently played bass while on tour with bands like Awolnation, Hoobastank, and Under The Influence of Giants, which must have helped him gain a significant fortune. Thus, David Amezcua's net worth must be of a considerable sum.
Under the Influence of Giants
Bassist Amezcua was first recruited by the band Under the Influence of Giants and began to play shows in the Los Angeles area in mid-2005.
The band's notable songs include Mama's Room, Meaningless Love, Against All Odds, Heaven Is Full, Got Nothing, and many more. Later, in the late 2010s, Dave left the band.
Hoobastank
As mentioned earlier, the musician was one of the former members of the southern Californian rock band Hoobastank. He joined the band as a bassist in 2008, and after working for a year, left in 2009.
Nevertheless, the singer got to work alongside Doug Robb, Dan Estrin, and Chris Hesse. During his tenure in the band, several songs such as My Turn, For(N)ever, and The Greatest Hits: Don't Touch My Moustache were released.
Awolnation
As mentioned before, the former Hoobastank bassist was also a member of the American rock band, Awolnation, formed by Aaron Bruno. He joined the band in 2010, following his departure from Hoobastank. As Amezcua knew Bruno from the previous band, working with him again must have been a good experience.
Furthermore, with Awolnation, David was responsible for bass, synths, piano, backing vocals, and organ. After working for a few years, he bid a goodbye to the band in 2013. Later, for bass, Devin Hoffman was signed in 2013.
Some of the band's notable songs are Burn It Down, Some Kind of Joke, etc. Likewise, Awolnation also received various nominations during Dave's stint with them, such as the Top Alterative Song Award for Sail, etc.
Solo Projects
After working in several bands for many years, Amezcua debuted with his solo effort, ZIMINY, in 2020. The alternative/pop project's first single was She (Zoey Deutch), showcasing the heavy influence of 80s melodies and soundscapes with a modern touch.
In an interview, the artist also mentioned that actress Zoey Deutch has nothing to do with the song, She (Zoey Deutch). Instead, it was his wife, Keesha Amezcua, who truly inspired him. Likewise, the bassist also put out another song, Summer Nights, as a part of his project, ZIMINY.
View this post on Instagram
An average year's pay for an American bass player is $46,447. As a result, David's salary must be substantial. In addition, he also has likely earned quite well from tours and events associated with various bands. Thus, such professional ventures must have improved David Amezcua's net worth.
Has A Successful Marriage; Three Children
The versatile musician shares a content marital life with his spouse, Keesha Amezcua. David Amezcua's wife is a marriage and family therapist and is considered one of the most wonderfully compassionate and authentic therapists.
Even though the duo has kept their relationship timeline hidden, it is no secret that they are very supportive of one another and inspire each other for their personal growth. Also, the adorable couple is deeply in love, and their bond is ever-growing. The lovebirds have even been together for several years now.
From their successful marital life, the Amezcua duo is blessed with one daughter and two sons, whose identities have not been revealed yet. Nevertheless, the musician seems to be a great father to his kids and is raising them with immense love and support. Despite having a demanding schedule, he always spends time with his family and travels frequently.
Interestingly, David Amezcua's children have all inherited their mom's blonde hair and are adorable.
In essence, we hope Dave is living a comfortable life with his spouse and kids. In addition, we wish the Amezcua family more happiness ahead.
Trivia And Facts
David has 14.1K followers on Instagram.
His favorite music bands are Toto and Chicago.