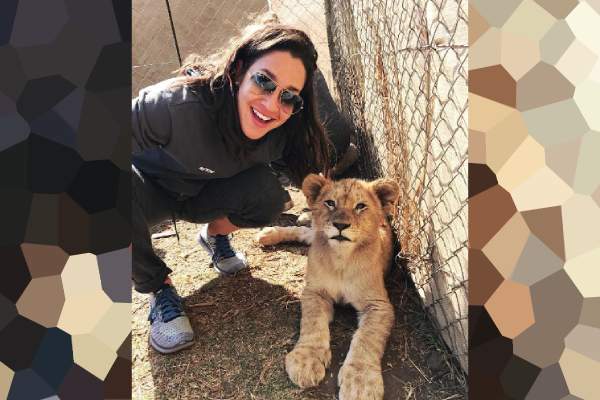 Birth Date

January 24, 1989

Birth Name

Melissa González

Age

34

Height

5' 3''

Weight

128 lbs

Father's Name

Felix González

Mother's Name

Yolanda González

Birth Place

Cortlandt, New York, USA

Birth Sign

Aquarius

Nationality

American

Profession

Field Hockey Coach

Partner

Taylor Herold

Relationship Status

Married

Eye Color

Dark Brown

Hair Color

Brunette

Education

Bachelor of Science in Kinesiology

Twitter

https://twitter.com/mellygee123

Instagram

https://www.instagram.com/mgonzalez13/
Melissa González is a retired American field hockey player who competed for the national team at the 2012 Summer Olympics. Additionally, she also participated in the 2016 Olympic Games held in Brazil, playing for the U.S. Women's National Field Hockey Team.
The athlete announced her retirement from the national team in 2018. Due to this reason, many people might not know of González and be curious about her. So, in this biography, we will learn about Melissa González, including her net worth, career, family, partner, and more.
Grew Up With Three Sisters
Melissa González was born to her Puerto Rican parents Felix González and Yolanda González on January 24, 1989. Originally from Cortlandt, she was raised in Mohegan Lake, New York. Furthermore, Melissa is the youngest child of her mother and father and has three older sisters, Erica González, Jennifer González, and Sara González.
Both of the former field hockey player's parents were educators. Sadly, Melissa Gonzalez's father passed away due to a heart attack at the age of 57 when she was only 16 years old. She used to play soccer, the sport that she and Felix shared love for. But, following the death of her beloved dad, it became too painful for Melissa to play soccer. She then dropped the ball and picked up a hockey stick.
The sportswoman went to Lakeland High School, where she led the school's field hockey team to several state championships. Then, she attended the University of Connecticut, from where she graduated with a Bachelor of Science in coaching and administration in 2011. She also completed her collegiate field hockey career at her college, winning many honors such as First Team All-American and Big East Conference Defensive Player of the Year.
Also Read: About Jill Witmer's Biography
Melissa González Net Worth And Career
The 1989-born athlete started playing field hockey when she was still in high school and found much success in her career before her retirement. She must have made a fortune being a field hockey player for the national team. Hence, Melissa González's net worth must be a massive sum.
Melissa made her debut with the U.S. national team in 2010 after earning NFHCA All-America First Team, NFHCA All-Mideast First Team, and Big East Defensive Player of the Year honors. In addition, the olympian was also a finalist for the Honda Sports Award. She served the national team as vice-captain from 2014 to 2016 and later as the captain in 2018.
Furthermore, the former captain represented her country in more than 240 international games, which included a set of Fédération Internationale de Hockey (FIH) World Cups. In December 2017, she was also nominated for the FIH's Player of the Year Award. Moreover, as mentioned before, she competed for the U.S. Women's Field Hockey Team at the London 2012 Olympic Games and Rio 2016 Olympic Games.
According to ZipRecruiter, the average annual income of a field hockey player is $33,605. Considering she was a prominent player who even competed at the Olympic games, Melissa González's salary must have been significant.
Furthermore, before she graduated from UConn with a bachelor's degree in coaching, Melissa served as a volunteer assistant coach at her college for five months. Later, she worked in the same role at Yale University for three months in 2012 and then at the University of Massachusetts Amherst for six months from 2014 to 2015.
Additionally, the two-time Olympian has also been working as an assistant coach for the Under-16 USWNT since 2019. As per ZipRecruiter, an assistant field hockey coach earns around $31,983 per year. So, the retired player must also make similar earnings. Considerably, Melissa González's net worth must be a notable amount.
Likewise, Marina Mabrey is another sports celebrity with an enormous fortune.
Is Melissa González Married?
Yes! Melissa enjoys a blissful marital life with her beloved spouse, Taylor Herold. The latter is also a former field hockey player who is working as an assistant coach at Longwood University. As per Taylor, she had a huge crush on her now-spouse, Melissa, even before they had ever spoken to each other.
The pair started talking to each other thanks to Taylor's friend, who was also on the national team. The two eventually fell in love and started dating shortly after. Nonetheless, it was the former US captain who popped the question. The adorable couple tied the knot on May 15, 2021, in Greensboro, North Carolina. Gonzalez frequently uploads pictures with her partner on her Instagram handle, sharing her love for Herold with others.
View this post on Instagram
However, Melissa González's wife seems to prefer to live low-key and has kept her IG private. Despite not sharing it with the public, we don't doubt that she loves Melissa just as much. Well, it appears the former hockey player is leading quite a happy life with her spouse. With her massive fortune, she must also enjoy a comfortable life. We wish González continues to lead a life full of happiness and prosperity.
Trivia And Facts
The 1989-born athlete's given name "Melissa" means "honeybee."
She is an aunt to her sisters' children.
She has over 5K IG followers.