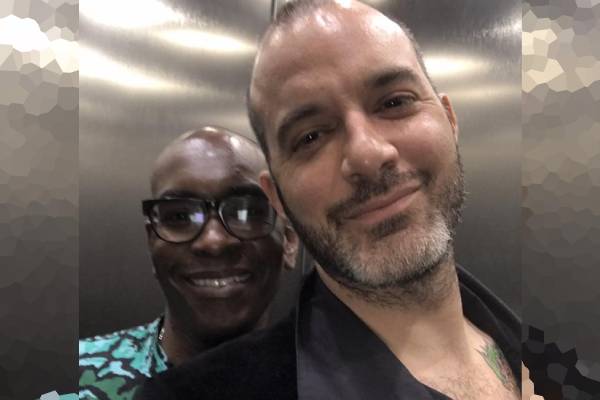 Birth Date

February 7, 1973

Birth Name

Michael F. McAleer

Death Date

18/04/2018

Also Known As

Michael McAleer

Mother's Name

Gail Sakakeeny Kelley

Birth Place

Springfield, Massachusetts, USA

Birth Sign

Aquarius

Nationality

American

Profession

Health Worker

Partner

Paul Tazewell

Relationship Status

Married

Eye Color

Black

Hair Color

Black

Education

Master of Science in Nursing

Facebook

https://www.facebook.com/mfmcaleer
Last updated on March 26th, 2022 at 03:19 pm
If you're a fashion geek, then you might be familiar with the name Paul Tazewell. But if you don't know, then he is a costume designer of the popular musical Hamilton. Tazewell has received numerous awards for his works.
Paul was married to Michael McAleer. Because of his fame, Paul Tazewell's husband too came into the limelight. So, in this biography, let's take a look at some of the interesting facts about Michael.
Was Born In Massachusetts
Michael McAleer was born Michael F. McAleer on February 7, 1973. He was born in Springfield, Massachusetts, and grew up in East Longmeadow. Michael McAleer's mom was Gail Sakakeeny Kelly.
However, there's not much information about Michael's dad. Furthermore, he had a sister named Anyssa McAleer.
Michael attended East Longmeadow High School and graduated in 1991. Then, he went to Northeastern University, and from there, he received a BA. Furthermore, he graduated from Ohio University with an MFA. He has a BSN degree and an MSN degree from Pace University.
Michael McAleer Net Worth And Earnings
As mentioned earlier, Michael came into prominence as Paul's spouse. Like Paul, Michael was also involved in costume design and different other professions. As a result, Michael McAleer's net worth must have been a considerable sum.
Michael pursued a career in Costume Design in New York City. He worked on several hits such as The Color Purple and In The Heights. His husband also worked on these two projects and was nominated for the Tony Awards in different years.
Furthermore, the musical In The Heights also has a film adaptation which was released in June 2021.
After the incident of September 11, 2001, Michael began volunteering for The American Red Cross. He then decided to pursue a different career path. His hopes of serving the greater good made him do so.
After earning BSN from Pace University, Michael started to work at New York-Presbyterian Weill Cornell Medical Center. While he was pursuing MSN at the university, Paul Tazewell's husband was working full time at Memorial Sloan Kettering Hospital in order to become a Family Nurse Practitioner.
Furthermore, Michael was also about to start an Interior Design Program at Parsons School of Design. Sadly, he passed away a week before his classes started.
Michael had received several degrees from different universities, which signifies that he was a person with several ambitions. While working at different places, he must have earned considerably.
Although the exact amount has not been revealed, we can assume that Michael McAleer's net worth must have been a huge sum. With a massive fortune, he could have afforded a comfortable lifestyle.
ALSO READ: Know About Christian Williams
Michael McAleer's Marital Life With Paul Tazewell
As mentioned earlier, Michael McAleer shared a blissful marital life with the costume designer Paul Tazewell. The couple got married on December 25, 2015.
However, the couple had not talked precisely about how they met and how long they dated before walking down the aisle. As mentioned earlier, the duo had worked together on some projects. So, they must have met while working in the costume designing field.
Michael and Paul loved each other immensely. His husband often shared some adorable pictures of them together. They also frequently went on vacations to different places.
View this post on Instagram
The couple did not have any kids. Nonetheless, they lived a wonderful life together outside the city of Westchester County.
Michael Passed Away
Michael was doing great in his profession and love life. Sadly, a tragedy occurred that changed the lives of his close ones.
On April 18, 2018, Paul Tazewell's husband, Michael passed away in his home in Brooklyn, New York. However, the reason behind his untimely demise has not been revealed yet.
As per his obituary, Michael's memorial was held in Brooklyn, NY.
Furthermore, Michael McAleer's husband often reminisces about him on his death anniversary on social media. The late health worker is survived by his mom, sister, and husband.
Let's hope the departed soul has found peace.