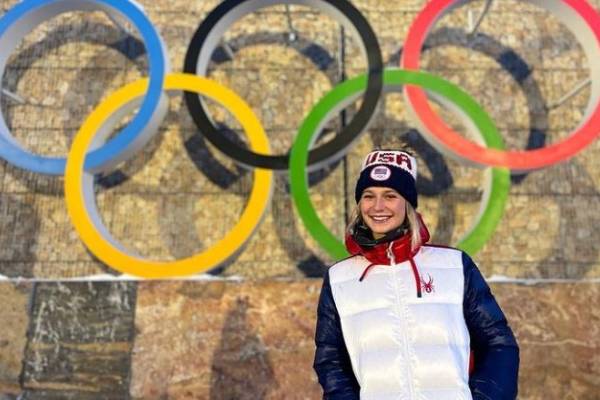 Mo Lebel is one of the rising alpine skiers in the sports world. She has competed in numerous championships in the Downhill, Slalom, and Super G divisions. In addition, she was one of the skiers selected for the 2022 Winter Olympics.
The sportswoman has represented her homecountry in many competitions and won many honors. For instance, she is the 2018 US National Downhill Champion. She also finished third in the 2017-18 NorAm downhill standings.
So, here we will go through Lebel's background, career, earnings, family, and love life.
Mo Lebel's Mom Was A Ski Instructor
The skier was born Maureen Lebel on June 13, 1998, in Truckee, California, USA. She comes from a ski family and began learning skiing at two. Eventually, she began racing at five.
Mo Lebel's father, Jay Lebel, a New Hampshire native, served in US Marine Corps. He was an avid skier with a competitive spirit that was also passed down to his children. Sadly, Mo's dad, Jay, passed away in a car accident on October 30, 2021. The former dedicated her race in a world cup downhill on January 14, 2022, to him.
Mo Lebel's mother, Lori Lebel, a passionate skier, was a ski instructor at Northstar Lake Resort. She has launched a handcrafted, eco-friendly, and sustainable neckie brand, Peace Is.
Likewise, the Olympian has two elder sisters, Jacqueline Lebel and Brigette Lebel, and an older brother Scotty Lebel. The siblings often competed with each other.
The young girl attended Sugar Bowl Ski Team and Academy before joining Mammoth Mountain Ski Team. She might have completed her formal education at high school in her hometown. In addition, she also majors in medicine at the University of Utah.
Also Read: More About Olympic Skier Breezy Johnson
Mo Lebel Net Worth And Career
Mo Lebel's net worth primarily comprises her earnings as a skier. Her income also benefits from her multiple sponsors and endorsement deals. Likewise, she must receive a considerable sum for competing for the national team.
The skier was named to the US Ski Team's National Training Group in her teenage years. She initially competed in slalom and giant slalom disciplines. However, she participated in all divisions, from slalom to downhill, in the 2018 season.
Some of her skiing stats are tabulated below:
| | | | | | |
| --- | --- | --- | --- | --- | --- |
| Date | Place | Category | Discipline | Position | FIS Points/ Cup Points |
| 2018/2/28 | Copper Mountain Resort | Nor-Am Cup | Downhill | 1 | 38.11/ 100 |
| 2018/3/3 | Copper Mountain Resort | Nor-Am Cup | Super G | 3 | 17.22/ 60 |
| 2018/4/5 | Mammoth Mountain Ski Resort | FIS | Giant Slalom | 4 | 43.57 |
| 2022/1/15 | Zauchensee | World Cup | Downhill | 40 | 45.85 |
| 2022/1/30 | Garmisch-Partenkirchen | World Cup | Super G | 40 | 74.12 |
Table Source: FIS
The Olympian has also undergone many injuries during her skiing career. For instance, she had bilateral Popliteal Artery entrapment and bilateral compartment syndrome in 2018. Furthermore, Mo also suffered from a spiral fracture in her tibia and tore all the ligaments in her elbow. She also got hurt and could not go out of the Olympic start gate. Nevertheless, her passion for skiing remains the same.
Lebel's earnings come from her sponsors Völkl International, Churchill James, Dalbello Ski Boots, POC, etc. Similarly, a skier earns $30,000 a year on average. So, Mo's salary might also be around that range.
Hence, Mo Lebel's net worth must be a notable amount from her skiing career. Another individual selected for the US Alpine Team for the 2022 Winter Olympics is Katie Hensien.
Is Mo Lebel Dating Anyone?
Well, the blonde beauty is in a loving relationship with Kipling Weisel. He is also a skier who raced for the Dartmouth Ski team. In addition, Mo Lebel's boyfriend also was a member of the US Ski Team.
The couple hasn't precisely revealed when they began dating. But, going through Weisel's Facebook account, the pair were already together in 2012. So, both have been in a relationship for several years now.
Mo Lebel's partner, Kipling, won the Alpine Combined NorAm title in 2016-2017 and ranked third in US National Downhill Championship in 2017. He was also awarded the Bobby Gebhardt Award in 2019. Moreover, the duo's love for skiing must have brought them even closer.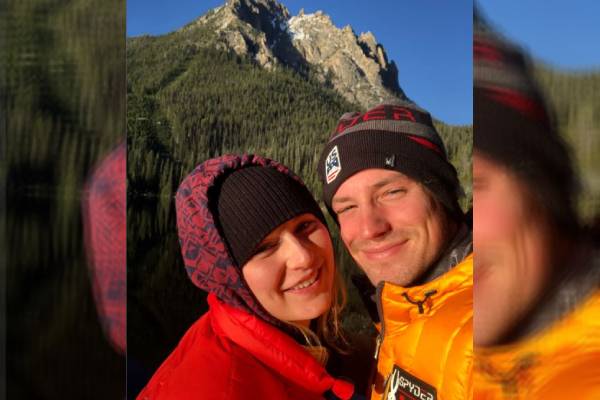 The lovebirds often share photos of their travels, holiday celebrations, and vacations on Instagram. Lebel has also often spoken about her boyfriend's support in her posts. So, let's wish them more happiness ahead.
Mo's passion for skiing has seen her making her Olympic dream come true. Despite being sidelined by injuries, she is determined to bounce back and compete in upcoming events. Hopefully, we will again see her competing in the next Olympics as well.