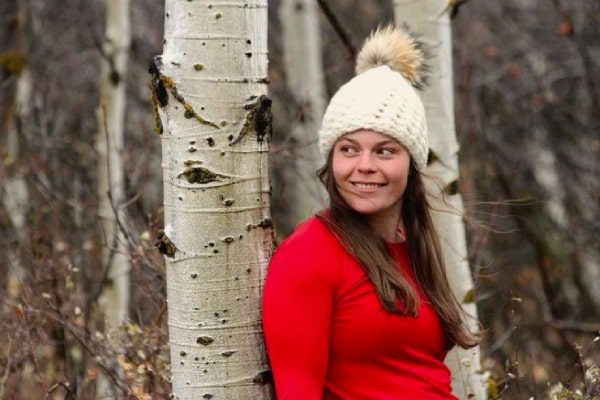 Birth Date

January 19, 1996

Birth Name

Breanna Noble Johnson

Age

27

Also Known As

Breezy Johnson

Height

5' 8"

Weight

145.5 pounds

Father's Name

Greg Johnson

Mother's Name

Heather Noble

Birth Place

Jackson Hole, Wyoming, USA

Birth Sign

Capricorn

Nationality

American

Profession

Skier

Relationship Status

Not Confirmed

Eye Color

Black

Hair Color

Brown
Breezy Johnson is a rising American World Cup alpine ski racer for the US Ski Team. A skier since age three, she participates in the speed events of downhill and super-G.
Since debuting in World Cup in 2015, Breezy has amassed seven podiums. She finally achieved her life-long dream of being an Olympian after being selected for the 2018 Winter Olympics at Pyeongchang.
Let's learn more about Breezy's family, earnings, career, and love life in this biography.
Breezy Is Her Official Motto
On January 19, 1996, Breezy was born to American parents Greg Johnson and Heather Noble. They have always been supportive of her skiing interest from the beginning. Moreover, Breezy also has a brother named Finn Johnson.
The skier started skiing at Jackson Hole Ski Mountain Resort at five and raced for the Jackson Hole Ski Club until thirteen. Moreover, Johnson graduated from Rowmark Ski Academy and Rowland Hall St. Marks. She also majored in English at Western Washington University.
Breezy Johnson's mother, Heather, did not learn skiing until she was in her 20s but later developed more interest in the sports. On the other hand, Breezy's father, Greg, was an ex youth ski racer in New Hampshire. He also became his daughter's first coach.
Surely enough, Johnson's parents are proud of their daughter's achievement at such a young age.
The American athlete's birth name is Breanna Noble Johnson, but her grandmother convinced her mom to name her Breezy after the unique name of a neighbor she liked. She constantly wears a helmet with the words 'Like the Wind,' a motto and personal saying called 'Breezy, like the wind.'
Also Read: Know More About Maria Harper
Breezy Johnson Net Worth And Career
Breezy is one of the most prominent skiers in the business right now, and her primary source of income is her skiing career. She has been very active in sports for a long time now. So, one can assume that Breezy Johnson's net worth must be a considerable sum.
Likewise, Johnson had a fantastic start at her first Olympic event as she claimed the 14th spot in the super-G event and an impressive seventh-place in the downhill. Aside from that, she ranked fourth in the downhill at the 2016 FIS Junior World Ski Championships.
Let's see some of her skiing stats below:
| | | | | | |
| --- | --- | --- | --- | --- | --- |
|            Season |              Age |            Overall |             Super G |             Downhill |             Combined |
|          2017 |              21 |                53 |              36 |                 18 |                  —— |
|          2018 |              22 |                39 |              44 |                 11 |                  —— |
|         2020 |              24 |                38 |               41 |                 20 |                     30 |
|         2021 |              25 |                17 |               30 |                  4 |                  ——- |
Table Source: Wikipedia 
Likewise, the Jackson-based skier can also be seen promoting companies like VISA, Medallia, Stio, Delta Air Lines, etc. So, her sponsors must also pay her a hefty fee. An Olympic athlete earns around $40,213 per year, including medal bonuses and other payments. So, one can suffice that Breezy's salary must be a significant amount despite being sidelined from injuries a few times.
Also, Johnson is dedicated to giving back to society and is heavily involved with Doug Coombs Foundation in her hometown. The organization helps underprivileged children get into sports.
Hence, Breezy Johnson's net worth must be a notable figure from her skiing career. Another skier who has competed in the Olympics is Mikaela Shiffrin.
Is Breezy Johnson Single?
Breezy hasn't been seen with anyone and is very private about her love life. Similarly, her Instagram account doesn't hint at her possible romantic partner. There is no mention of Breezy Johnson's boyfriend, so she is likely single.
Johnson mainly uploads her photos of skiing and her cat on social media. There also hasn't been any rumor about her dating life.
The skier is focused on her career at this age and is motivated to do better in the game. That might be the reason she's not dating anyone. Or, she is in a relationship but has decided to keep her lover's identity a secret.
Injury Setbacks
Breezy has faced many injuries which have put her away from skiing time and again. Although she spent the last few years becoming one of the best skiers in Alpine's fastest discipline, the downhill, Johnson has not been able to showcase her A-Game.
Having recovered from a knee injury in 2018 when she fractured her tibial plateau, the alpine skier returned to her beloved sports after four months and made her Olympic debut. Sadly, she tore her right ACL in training after the Olympics. She pulled her left PCL, MCL, and joint capsule the following year.
Unfortunately, the Olympian tore the cartilage in her right knee in a training session before the 2022 Winter Olympics in Beijing, missing the whole tournament.
I'm at that stage in knee rehab where my kneecap is playing pica boo.

— Breezy Johnson (@_BreezyJohnson) February 24, 2022
Even though Breezy went down in pain, she wanted to get up and ski again. But, an MRI result showed a cartilage impaction tear. Johnson still wanted to go to Beijing after some rest, but her doctors advised her not to since it could further hamper her career if she didn't undergo surgery immediately.
With such a fascinating yet troublesome career, Breezy has always been adamant about fighting back because of her love for skiing. So, let's hope the talented athlete can bounce back from injuries and return to the Olympics in the coming days.