Birth Date

August 3, 1982

Birth Name

Brandon DeGroat

Age

41

Also Known As

The Native Beast

Height

5' 7''

Weight

185.19 lbs

Birth Place

Washington, D.C., U.S.A.

Birth Sign

Leo

Nationality

American

Profession

Wrestler

Partner

Kelenna Mills

Relationship Status

Married

Eye Color

Black

Hair Color

Black

Instagram

https://www.instagram.com/nylarosebeast/

Wikipedia

https://en.wikipedia.org/wiki/Nyla_Rose
Nyla Rose is a well-renowned sports personality who became the first openly transgender wrestler to sign with a major professional wrestling company. She joined All Elite Wrestling (AEW) in 2019. Moreover, she also became the first trans wrestler to win a major American promotion title.
Pakistani-American businessman billionaire Shahid Khan announced launching AEW in January 2019, partnering with professional wrestlers Cody Rhodes, Kenny Omega, Nick Jackson, and Matt Jackson. Rose took to Twitter to confirm her inclusion with the brand soon after.
Let's talk more about the popular wrestler's family, career, earnings, and journey to fight transphobia.
Nyla Rose's Mother Initially Didn't Accept Her Identity
On August 3, 1982, Nyla was born Brandon DeGroat in Washington, DC, to an African-American family of Oneida heritage. She has a very good relationship with her mom, who took her time to accept Rose's sexuality.
The athlete has not revealed specific information about her parents. But, Rose Nyla's mother initially did not accept her sexual orientation. It was hard for her as she originally thought her daughter was a cross-dresser. So, Rose's mom did not react well when she finally came out to her.
Likewise, Nyla's mama always wanted a son, which was why the wrestler had kept her identity a secret. She knew her mother would not accept her being a transgender woman, so it took quite a while for Nyla to even come to terms with her sexuality.
But finally, the AEW fighter opened up to her parent, and it was an arduous process. Her mother eventually accepted her identity, but it took time. However, Rose Nyla's father, an engineer, hasn't made many media appearances.
Meanwhile, the professional wrestler's grandmother influenced her career as they used to sit together and watch wrestling. She has not revealed anything about her grandmom, but it can be assumed that they had a good relationship.
The young girl was first enrolled in a local wrestling school where she had her first training. She later joined the Kyda Pro Training School to practice wrestling. That increased her passion for the game, seeing it as an escape from reality.
Also Read: More About Olympic Skier Jacqueline Wiles
Nyla Rose Net Worth And Career
For almost a decade, the Washington-based wrestler has been a household name in women's wrestling. So, Nyla Rose's net worth is primarily based on her career as a professional wrestler.
In February 2021, Rose beat Tay Conti in the opening round of the AEW Women's World Championship Eliminator Tournament and got another win against Britt Baker to reach the final of that tournament. But, she eventually lost against Ryo Mizunami in the final.
The fighter has won the Women's Casino Battle Royale, UPWA Women's Championship, and WDWA West Virginia Championship one time each. Additionally, she was ranked number 16 in the PWI Women's 100 in 2020.
Rose also became the first transgender to win a major title, the All Elite Wrestling Women's World Championship in 2020, beating Japanese wrestler Riho.
A professional wrestler makes earnings of $52K a year on average. So, Nyla's salary must also be around that range.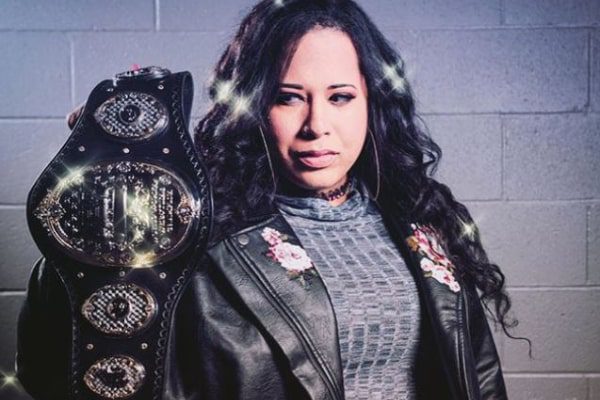 Likewise, Nyla is a trained theater actor and has generated some finance from her acting skills. She acted in the 2012 movie Dissensions and starred in the first transgender-themed Canadian TV show, The Switch, in 2016.
Aside from that, the wrestler and Marvel announced that she would be making her writing debut in Marvel Comics. She will join Steve Orlando and artist David Cutler to write Giant-Size X-Men: Thunderbird.
So, it's safe to assume that Nyla Rose's net worth has risen with her works in the entertainment genre.
Fighting Transphobia
As discussed above, Rose became the first openly transgender wrestler in history to sign a professional contract with a significant American promotion.
As Nyla launched her first championship belt on the air in a joyous moment, former WWE commentator Jim Ross made a massive blunder. While congratulating the wrestler, he said, "Nyla Rose is the king of the mountain," overshadowing the most significant moment of her career.
Not just that, a wrestling fan wanted to disrespect the former AEW champ's identity by raising a pamphlet that read, "Nyla Rose is that guy's dad," in December 2021. It deeply hurt the wrestler as she took to Twitter to spread awareness about how fighting transphobia is still happening.

Rose faced a lot of criticism and hate comments from people on social media since winning the championship. She also has to deal with people showcasing immense transphobia, which is prevalent to this very day. Despite opening up about her sexual identity and winning the title, the fight against transphobia is still on.
Alex Koones is another person supporting the LGBTQIA community.
Is Nyla Rose Married?
Although Nyla is secretive about her personal life, she has opened up about her marriage to Kelenna Mills, aka Kel Rose. However, the details about the couple's relationship are very scarce. As such, both haven't revealed when they met or got married.
Nyla Rose's wife, Mills, is very supportive and constantly tweets defending Rose and criticizing the transphobic people. For instance, she shared her opinions regarding Jim Ross's comment and wrestling fan's disrespect on Twitter.
My wife is the strongest person I know pic.twitter.com/vCyqxFMej4

— 🧵🪡Aunt Kel is the coolest Auntie🪡🧵 (@kelthecelt) December 23, 2021
The duo rarely appears in public together. But, both must be living a happy married life. Likewise, the pair might have wanted to remain low-key to avoid media attention.
The couple doesn't seem to have any children. Regardless, let's wish the lovebirds the best in the future.
Nyla has been doing very well in the wrestling world, considering her many accomplishments. She is also working hard to raise awareness regarding fighting transphobia. So, let's hope she can keep doing that and win more and more accolades in the coming years.