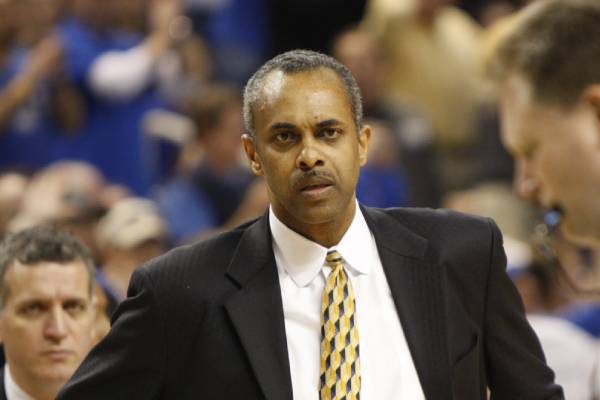 Birth Date

May 4, 1963

Birth Name

Paul Harrington Hewitt

Age

60

Father's Name

Burchell H Hewitt

Mother's Name

Dolcie M Hewitt

Birth Place

Kingston, Jamaica

Birth Sign

Taurus

Nationality

Jamaican-American

Profession

Basketball Coach

Partner

Dawnette Hewitt

Relationship Status

Married

Children

Danielle Hewitt, Kayla Hewitt, Olivia Hewitt

Awards Honors

MAAC Coach of the Year (2000), ACC Coach of the Year (2001)
Last updated on June 21st, 2022 at 05:51 am
Paul Hewitt is the head coach of Agua Caliente Clippers in the NBA G League. He is also a former college basketball player. The talented sports personality's birth name is Paul Harrington Hewitt.
Anyone who is a college basketball fan would be well-known about Paul Hewitt. He began his coaching career in 1988 as an assistant coach for a college basketball team. Since then, he has worked for various college and university teams and is a renowned name in American basketball. Although Coach Hewitt is a recognized personality, his personal life has not been disclosed.
So, let's get to know more about Paul Hewitt's net worth, career, family, wife, children, and G League coaching job.
Is Of Jamaican Origin
On May 4, 1963, Paul Hewitt was born in Kingston, Jamaica. However, he was brought up in Westbury, New York. Paul Hewitt's father and mother are Burchell H. Hewitt and Dolcie M Hewitt. Paul seems private as he has not disclosed much about his early life.
Paul graduated from Westbury High School in 1981. He has a bachelor's degree from St. John Fisher College and a master's degree from Long Island University. Paul Hewitt played basketball while studying at St. John Fisher College from 1982 to 1985. 
Also Read: Learn More About Yan Bingtao's Biography
Paul Hewitt Net Worth And Career
The former college player began his G League career with Los Angeles Clippers' affiliate Agua Caliente Clippers. Furthermore, he had worked with the Clippers from 2016 to 2020 as a college scout. The Clippers announced the long-time NCAA coach to head the team in January of 2021.
As a result, Paul Hewitt's net worth can be estimated to be increasing, considering his elevating career.
"Dwayne's an excellent basketball coach, outstanding person, and will be a great addition to the Capital Region." – Paul Hewitt HC @ACClippers (@nbagleague)

Major props continuing to come in for @CoachKillingsDK from former @SienaMBB HC Paul Hewitt. 👀#Mentality #BeGreat pic.twitter.com/GQHrE3wu3o

— UAlbany Basketball (@UAlbanyMBB) March 24, 2021
Before his NBA job, Paul served as an assistant for LIU Post Pioneers represented by C.W. Post Campus of Long Island University, USC Trojans men's basketball of the University of Southern California, Fordham Rams men's basketball of Fordham University, and Villanova Wildcats men's basketball of Villanova University.
Paul landed his first head coach job in 1997 at the Siena Saints men's basketball team that represents Siena College in Loudonville, New York. During his tenure at Siena, Coach Hewitt led the team to their first Metro Atlantic Athletic Conference title game appearance. Under his guidance, the team also appeared in the NCAA Men's Division I Basketball Championship tournament for the first time since 1989. 
Moreover, Georgia Tech announced Hewitt as head coach of the Georgia Tech Yellow Jackets men's basketball team representing the Georgia Institute of Technology in April of 2000. In his first season, coach Paul guided the Yellow Jackets to the 2001 NCAA Men's Division I Basketball Tournament.
Paul Hewitt spent more than a decade with Georgia Tech, where he also took the team to the national championship game in 2004. However, the mounting losses and declining attendance finally led to the decision of Hewitt's $7.2 M buyout in 2011. The amount must have positively aided Paul Hewitt's net worth.
In 2006 and 2010, Paul Hewitt served the USA basketball Under-18 team as an assistant coach and the head coach of the U.S. Under-19 squad at the 2011 FIBA Under-19 Championship. He also worked at George Mason University from 2011 to 2015.
An NBA head coach earns $3M on average. Therefore, Paul must be accumulating a good amount of money working as an NBA G League basketball coach. Just like Paul Hewitt, Jamie Dixon is another outstanding basketball coach.
Paul And His Wife Are Parents Of Three Daughters
Paul Hewitt is a married man. The Jamaican native lives a blissful marriage with his life partner Dawnette Hewitt. Coach Paul prefers to keep his personal life concealed from the public and away from the media. As a result, he has not revealed much about his wife or married life.
Nonetheless, the famous coach is a loving father as well. The Clippers Coach has three daughters, Danielle Hewitt, Kayla Hewitt, and Olivia Hewitt. Now, the Hewitt kids are all grown up and live their life independently.
Paul Hewitt has been associated with basketball for more than thirty years. He has numerous accolades for his success and is one of the most respected coaches on the field. Let's wish him more success and fame in the future.