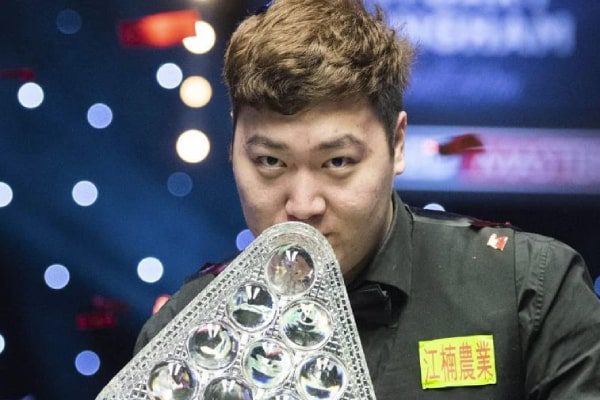 Birth Date

February 16, 2000

Birth Name

Yan Bingtao

Age

23

Also Known As

The Chinese Tiger

Father's Name

Yan Dong

Birth Place

Zibo, Shandong, China

Birth Sign

Aquarius

Nationality

Chinese

Profession

Snooker Player

Partner

Ada Zhang

Relationship Status

In a Relationship

Eye Color

Black
Yan Bingtao is a professional snooker player who has won a major ranking title. After becoming the youngest winner of the Master's title, Bingtao established himself as one of the best young snooker players. He beat John Higgins who is twenty-five years older than him to win the trophy in 2021 at nineteen.
Before that, Yan became the youngest snooker player to win the Amateur World Snooker Championship at fourteen when he defeated Pakistan's Muhammad Sajjad. He also beat the previous record set by another Chinese player Zhou Yuelong who won it at fifteen. After that win, he was rewarded with a two-year professional card for the 2015-2017 seasons.
With the growing popularity of snooker, many are wondering about the personal life of the billiard player. So, let's learn more about Yan's family, career, and net worth in this article.
Family Went Through Financial Crisis
On February 16, 2000, Yan was born in Zibo, Shangdong, China. He comes from a poor working-class family and started playing to support his cancer-diagnosed mother. His dad, Yan Dong, left his pharmaceutical job to help Bingtao pursue his interest in snooker.
Yan Bingtao's father left home with him to Beijing, noticing a different breed of talent on display. Selling most of his possessions, Dong and Bingtao left for Beijing. After his mother was diagnosed with cancer, the father-son pair struggled a lot as they rented a room with only a desk and a bed.
The family went into more and more financial despair, so Bingtao immediately started earning money through snooker. To help his mother's rectal cancer diagnosis, Yan claims it was the only way to support her battle against the disease. That was also the reason he entered the big tournaments.
Yan Bingtao's mother and father must be very proud of his achievement as he changed the fate of their lives. It was not an easy decision to leave school at such a young age, but the risk paid off as Yan is one of the best snooker players at the current moment.
Also Read: More About Skier Tricia Mangan
Yan Bingtao Net Worth And Career
Yan was only thirteen when he started his professional snooker career. Having featured in Asian Players Tour Championship events, he started gaining fame and fortune. So, Yan Bingtao's net worth primarily consists of his earnings as a snooker player.
The snooker player's career's best season came in 2021 when he defeated Scotland veteran John Higgins 10-8 to lift the Masters. With that, he earned a cash prize of $312,968. Likewise, Yan has also won Riga Masters against England's Mark Joyce, earning him $62,671.
Let's take a look at Yan Bingtao's earnings:
| | |
| --- | --- |
| Tournament | Earnings |
| 2020 World Championship | $37,556 |
| 2020 Players' Championship | $62,593 |
| 2020 Welsh Open | $25,037 |
| 2019 UK Championship | $50,075 |
| 2019 Riga Masters | $62,593 |
Table Source: CueTracker
Moreover, Bingtao must have collected a considerable sum from his wins in the IBSF World Snooker Championship in 2014 and the Asian Indoor and Martial Games in 2017. Also, he was part of China's World Cup B team in 2015 which defeated Scotland to win the championship.
We can assume that Yan has amassed a significant amount with all these wins. Likewise, according to DailyStar, Bingtao has collected over $1.1 million in total career earnings. Moreover, his income must have significantly increased since winning his first Triple Crown event in 2021.
So, we can assume that Yan Bingtao's net worth has massively increased over the years with all these earnings.
Here is another sportsperson Flavien Prat, who has also made good earnings.
Is Yan Bingtao Single?
Well, the snooker player is in a loving relationship with Ada Zhang. It isn't known when they started dating, but the pair have an excellent bond.
View this post on Instagram

Yan Bingtao's girlfriend, Zhang, also works as a translator for him. Bingtao called her upon the stage when he won the Triple Crown event. She translated his words amid immense excitement and nervousness upon winning the tournament. Hopefully, we will get to know more about Yan's other half soon.
Even after winning so many titles at such a young age, the Chinese snooker player looks hungry for more. So, let's hope Yan continues to win major trophies in the coming years.