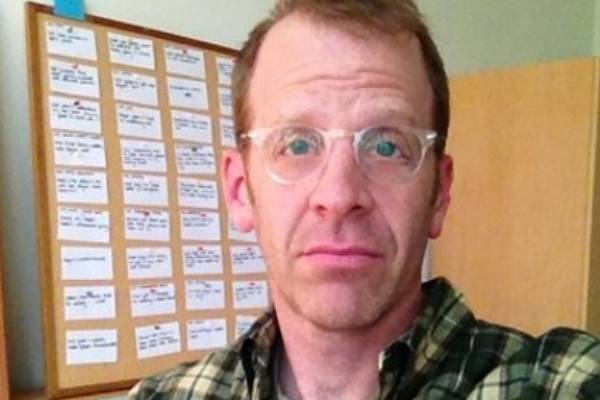 Birth Date

February 22, 1967

Birth Name

Paul Bevan Lieberstein

Age

56

Height

5' 9"

Weight

145 lbs

Father's Name

Stanley Lieberstein

Mother's Name

Judith Lieberstein

Birth Place

Westport, Connecticut, USA

Birth Sign

Pisces

Nationality

American

Profession

Actor, Filmmaker

Net Worth

$14 Million

Partner

Janine Poreba

Relationship Status

Married

Eye Color

Blue

Hair Color

Brown
Last updated on April 12th, 2022 at 12:02 pm
The Office has become one of the most loved television series globally. The actors and actresses associated with this show are known by the characters they portrayed. Well, if you have watched the sitcom, you might be familiar with Toby Flenderson.
If not, he is the supporting cast member of the show portrayed by Paul Lieberstein. Since then, he has gained immense fame, and many want to know about him. Thus, in Lieberstein's biography, let's know about his personal details.
Middle Child Of His Parents
The actor was born Paul Bevan Lieberstein on February 22, 1967. He is the middle child of his dad and mom.
Paul Lieberstein's parents are Stanley Lieberstein and Judith Lieberstein. He grew up in Westport, Connecticut, the USA, with his two siblings, Susanne Daniels and Warren Lieberstein.
Like him, Paul Lieberstein's brother and sister are also involved in the entertainment business.
View this post on Instagram
Lieberstein attended Staples High School. Then, he went to Hamilton College. There, he joined Chi Psi and graduated with a major in economics in 1989. In 2011, he was granted an Honorary Doctorate of Fine Arts Degree by Hamilton College.
Paul Lieberstein, Net Worth – $14 Million
The actor has been involved in the entertainment business for a long time now. As a result, Paul Lieberstein's net worth is estimated to be $14 million. His massive riches comprise his earnings from different movies and television series that he has worked on as an actor, director, screenwriter, and producer.
The Office star's first job in the entertainment industry was as a scriptwriter. He moved to Los Angeles with his then-writing partner to pursue a career as a writer. The writing duo's first job was on Clarissa Explains It All, but they were eventually fired after a season, and they split up.
Lieberstein then worked on other shows like Weird Science, Greg the Bunny, The Naked Truth, and Dead Like Me. The turning point of his career came when he was hired as a writer for the NBC show, The Office. Throughout the nine seasons of the show, he wrote sixteen episodes.
In 2008, the scriptwriter was promoted to executive producer, which marked the start of his producing journey. He then worked as an executive producer in different shows such as Ghosted, Space Force, The Newsroom, etc.
Paul's writing and producing career goes way back, but his acting career started only in 2005 when he took up the role of Toby Flenderson in The Office. It increased his fandom, and he then took up more acting jobs, including the movie Song of Back and Neck, which he wrote, directed, and produced.
.@TheOfficeNBC's @PaulLieberstein wrote, directed, and stars as a hapless man seeking treatment for his crippling back pain in SONG OF BACK AND NECK, an inventive romantic comedy also starring Rosemarie DeWitt and premiering in competition at #Tribeca2018. https://t.co/BGcILQpK3y pic.twitter.com/epIDky9dWv

— Tribeca (@Tribeca) March 28, 2018
As per Style Caster, Steve Carell received $175,000 per episode from The Office. So, Paul too might have earned significantly.
Furthermore, a scriptwriter in the USA makes $65,668 annually. Hence, Paul must have earned considerably over the years. As a result, Paul Lieberstein's net worth is reportedly $14 million.
Another television personality with a massive fortune is Shira Piven.
Is Happily Married
Paul not only has a successful, long-running career, but his marriage is also running smooth. He shares a blissful marital life with Janine Serafin Poreba. Before her, he was married once, but there's no information about his first marriage.
The couple is one of the celebrity pairs who prefer to keep their marriage away from the public discussion. Hence, they have not revealed when they met.
It has been reported that the pair dated for a long time and exchanged the vows on July 19, 2008. Their wedding ceremony, held at Battery Gardens NYC, was attended by their friends and families.
The married couple has been inseparable ever since, and their love is increasing with each day passing. Furthermore, Paul Lieberstein's wife even appeared as his ex-girlfriend in The Office.
Paul's spouse works at Santa Monica College as an instructor in the English as a second language department. The lovebirds have been enjoying a happy life together and are supportive of each other.
Also Read: Learn About Kristen Kish
Does Lieberstein Have Any Kids?
Although Janine and Paul have been married for several years, they have not revealed if they have any kids together. The pair is pretty secretive; hence, there's no information about their children.
However, in 2014, Paul Lieberstein's wife did make headlines about her pregnancy. He and his spouse were set to welcome their first baby, but there was no follow-up news.
Let's hope the producer opens up about his kids in the coming days.
Paul Lieberstein's Weight Loss
Being in the television world, your appearance is scanned and judged thoroughly. The same happened to The Office actor.
The producer had appeared lean on a few episodes of the show. But his appearance in the 21st episode of season seven of the show made many fans curious about his sudden weight loss. People began discussing his weight loss on various social media platforms, including Reddit.
Some fans speculated if the filmmaker had cancer, while others thought it was because of him overworking. Paul even got nauseous while on the set, which supported fans' assumptions. Well, whatever might be the reason, let's hope he confirms the cause of his weight loss pretty soon.
Nonetheless, the writer must be living a wonderful life with his wife. As he is still active in his career, his earnings might increase in the coming days. He and his siblings might work on more projects in the future. Hopefully, he will open up about his children and weight loss soon.
We wish Paul Lieberstein a successful career ahead.