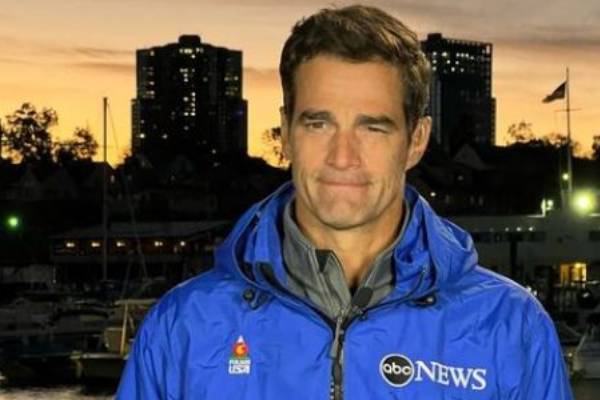 Birth Date

June 25, 1968

Birth Name

Robert Mark Marciano

Age

55

Also Known As

Rob Marciano

Mother's Name

Patricia Silo

Birth Place

Glenville, Connecticut, USA

Birth Sign

Cancer

Nationality

American

Profession

Journalist

Net Worth

$2 Million

Partner

Eryn Marciano

Relationship Status

Married

Eye Color

Brown

Hair Color

Brown

Children

Mason Anthony Marciano and Madelyn Marciano

Education

Bachelor of Science, Atmospheric Sciences and Meteorology

Twitter

https://twitter.com/RobMarciano
Last updated on March 26th, 2022 at 04:52 pm
Robert Mark Marciano, aka Rob Marciano, is a journalist and meteorologist of American nationality who currently works at ABC News. He is a familiar face of the television world, having worked for different television channels, including CNN.
In his professional career, he has gained not only significant fortune but also fame. As a result, many people have shown interest in knowing about his personal life. Thus, in this biography, let's learn in detail about Rob Marciano's parents, education, love life, kids, and many more.
His Dad Was In The Navy
On July 25, 1968, Rob was born in Glenville, Connecticut, USA. His mom, Patricia Silo, is a cancer survivor. However, his dad's name has not been disclosed yet, but Rob once revealed on his Instagram post that his father was in the Navy. Sadly, Rob Marciano's dad has already passed away.
View this post on Instagram

Furthermore, Robert Marciano has a younger sister, Joanne Marciano, who got married in September 2018. Other than that, there is not much information about his family.
The meteorologist had attended Cornell University, where he received his Bachelor of Science in Atmospheric Sciences and Meteorology. Moreover, he is a Certified Broadcast Meteorologist and holds the American Meteorological Society Seal of Approval.
ALSO READ: Learn About Racer Alexander Rossi
Rob Marciano, Net Worth – $2 Million
As mentioned earlier, Rob Marciano began his broadcasting career in the mid-1990s. Since then, he has worked in different channels and must have earned significantly. Thus, Rob Marciano's net worth comprises his income from his professional career and is estimated to be $2 million.
After receiving his Bachelor's degree from Cornell University, Robert began working as chief meteorologist for 750 KXL News Radio and KATU-TV in Portland, Oregon. His first ever job as a meteorologist was at KPLC-TV, where he served for three years from 1994.
Then, Marciano worked for WVIT Connecticut News 30 and eventually joined CNN in May 2003. He worked there as American Morning's Weather Anchor for nine years until December 2012.
Moreover, an anchor working at CNN makes anywhere from $40,000 to several million. Therefore, during his nine years long tenure, Rob must have made a good income.
A month before leaving CNN, in November 2012, Rob was announced as a new co-anchor for Entertainment Tonight. Since January 2013, Rob began working along with Nancy O'Dell and left the channel in 2014. His final co-hosting of the channel came in August 2014.
As Nancy made $4 million while working on Entertainment Tonight, Robert might have also received a salary around the same range.
In July 2014, Rob started to work as a senior meteorologist at ABC News. As per Glassdoor, meteorologists at ABC News make from $103,932 to $112,404 as annual base pay, so Rob must have earned considerably.
Hence, Rob Marciano's net worth is reportedly $2 million. Moreover, looking at his income, his fortune seems to be considerable.
Another person who has found fame as a journalist is Shannon Bream.
Is Happily Married
The ABC News senior meteorologist is happily married. He shares a blissful marital life with Eryn Woodburn. The couple has been married since November 2010. However, the married duo has not revealed when they first met and how long they were in the relationship before getting married.
Furthermore, Rob Marciano's wife, Eryn Marciano, is a real estate broker. The married duo is deeply in love with each other. He often shares adorable pictures of his wife on Instagram and gushes about his love towards her.
Welcomed Two Children With His Wife
As mentioned earlier, Rob tied the knot with his wife in 2010, and since then, they have been enjoying their blissful marital life. The Marciano couple welcomed two kids, a son, and a daughter together.
Rob Marciano's daughter is Madelyn Marciano, who was born on November 18, 2011. Then, on June 12, 2018, his son, Mason Anthony Marciano, was born.
Rob often goes to several places for family vacations. He shares his adorable picture with his wife and kids on social media.
Marciano seems to be living a great life enjoying his prosperous career. Let's hope he has wonderful days ahead in his life.