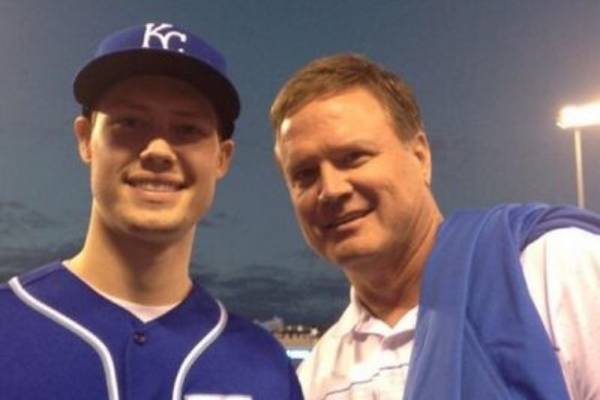 Birth Date

November 4, 1993

Birth Name

Tyler Kelly Self

Age

30

Height

6'2''

Weight

170 lbs

Father's Name

Bill Self

Mother's Name

Cindy Self

Birth Place

Tulsa, Oklahoma, USA

Birth Sign

Scorpio

Nationality

American

Relationship Status

Not Confirmed

Education

Master of Business Administration

Twitter

https://twitter.com/t_self11

Instagram

https://www.instagram.com/t_self11/
Billy Eugene Self Jr. aka Bill Self might be one of the most well-known individuals in the current college basketball scene. Having previously played for his college team, Bill is now regarded as one of the best college coaches.
Seeing his success, it is no surprise that Bill's family has also found a place in the spotlight. But, one of his children is also making a name for himself in the basketball world. Therefore, today let's look into Bill Self's son, Tyler Self's net worth, career, and love life.
Is The Youngest Child Of His Parents
Tyler was born, Tyler Kelly Self on November 4, 1993, in Tulsa, Oklahoma, USA. He is the youngest child of Bill Self and his wife, Cindy Self. Tyler Self's sister, Lauren Self is a married woman having tied the knot with Hayden Browning in 2015. Lauren is also a mother of two little ones.
Moreover, both of the Self siblings attended and received their Bachelor's degrees from the University of Kansas. While Lauren graduated in May 2013, Tyler has a degree in sports management with a minor in business and graduated in 2016. He also pursued MBA from the University of Kansas School of Business and completed it in 2020.
Tyler previously attended Lawrence Free State High School and was a significant member of the school's basketball team. Self continued playing the sport in his college and was a fan favorite. Moreover, Tyler Self's father, Bill is the head coach of Kansas Jayhawks men's basketball.
Tyler Self Net Worth And Earnings
Aforementioned, Bill Self's son was a fan favorite basketball player at Kansas University. But rather than pursuing a career as a professional player, he chose to serve in the business side of the game. Therefore, Tyler Self's net worth comprises his earnings from behind the scene jobs.
Tyler served as a student assistant at the University of Kansas Athletics from 2016 to 2017. He worked for the Williams Education Fund as well as the Marketing and Facilities department there.
The same year he graduated from college, Tyler Self joined the San Antonio Spurs' NBA G League affiliate, Austin Spurs. He worked as a basketball operations quality assurance assistant and focused on scouting/scouting coordination and team operations.
Then in November 2020, the former collegiate basketball player was promoted to general manager of the NBA G League team. He had served as Austin Spurs' assistant GM the previous season and replaced Landry Fields.
NEWS: #AustinSpurs name Matt Nielsen head coach and Tyler Self general manager

MORE: https://t.co/NbylkDWt4a pic.twitter.com/DOJuqCJiVT

— Austin Spurs (@austin_spurs) November 10, 2020
Tyler has continued to serve as the general manager of the team and has not shown any signs of slowing down.
Talking about earnings, Bill Self's youngest son surely makes a considerable amount since he sits at the top position in Austin Spurs. His salary as the GM of the team must be substantial.
A general manager in NBA reportedly earns between $1 million and $2 million while an assistant GM pockets $150K to $1 million every year. But since Tyler is working in the G League, his salary might not be around the given range.
Nonetheless, Tyler Self's net worth is heavily influenced by his work with the Austin Spurs. As for his father, Bill Self has amassed a net worth of $10 million thanks to his decades-long career as a basketball coach.
Is Tyler Self Dating Anyone?
Well, the question, Is Tyler Self Dating Anyone? is a hard one to answer as the man himself has not opened up about his personal life. All of his social media accounts are set to private which makes it difficult to learn about the former KU athlete's love life.
However, on his Instagram profile picture, Bill Self's son can be seen posing alongside a woman. So, could it be that she is Tyler Self's girlfriend? Well, only he can answer it and we might have to wait for a long time to know about it.
Well, whatever might be his relationship status, we hope Tyler is doing well both personally and professionally. Also, we wish him all the best for his future.