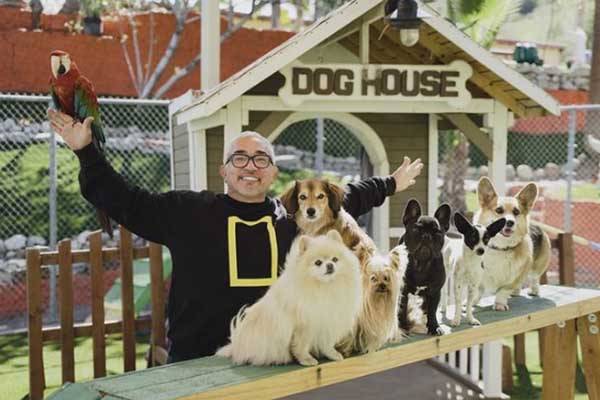 Birth Date

August 27, 1969

Birth Name

César Felipe Millán Favela

Age

54

Also Known As

Cesar Millan

Father's Name

Felipe Millán Guillen

Mother's Name

María Teresa Favela

Birth Place

Culiacán, Mexico

Birth Sign

Virgo

Nationality

Mexican-American

Profession

Dog Trainer

Net Worth

$20M

Relationship Status

Not Confirmed

Eye Color

Brown

Hair Color

Silver

Children

Calvin Millan, Andre Millan

Official Website

https://www.cesarsway.com/

Twitter

https://twitter.com/cesarmillan

Instagram

https://www.instagram.com/cesarsway/
Last updated on March 26th, 2022 at 04:48 pm
Cesar Millan is not a new name in the entertainment industry. He came into the spotlight with his series The Dog Whisperer with Cesar Millan. In addition, he has released more dog training shows over the years.
The dog trainer has more than twenty-five years of canine experience. He shares his expertise on dogs' behavior and psychology. Furthermore, the television personality has released numerous books. He is also an accomplished global speaker.
So, let's learn more about Millan's background, career, earnings, etc., in this biography.
Cesar Millan Had A Humble Beginning
The dog whisperer was born César Felipe Millán Favela on August 27, 1969, in Culiacán, Mexico. He comes from a humble farmer family.
Cesar's late grandfather, Teodoro Millán Ángulo, had a lot of experiences with animals working on farms. He taught his grandson many of the principles of dog behavior. In addition, the young guy was inspired by series like Lassie and The Adventures of Rin Tin Tin to be a dog trainer.
Cesar Millan's father, Felipe Millán Guillen, and mother, María Teresa Favela, must be proud of his career. His parents occasionally attend events and accept prizes on his behalf.
The trainer has three sisters, Nora Millan, Monica Millan, Mireya Millan, and a brother named Erick Millan. He hasn't revealed much about his educational background. But, he did receive an honorary master's degree from Bergin University of Canine Studies.
ALSO READ: More About American Journalist Rob Marciano
Cesar Millan, Net Worth – $20M
Cesar Millan's net worth is a whopping $20 million. His fortune comes from his television series, book sales, merch sales, training programs, etc. In addition, his income benefits from his YouTube channel with 2.23M subscribers.
The dog behavior expert moved to California illegally in December 1990. He initially worked as a dog groomer and met Will Smith's wife, Jada Pinkett Smith. She provided Millan with an English tutor to help him be on TV.
Cesar's first show, Dog Whisperer with Cesar Millan, was a big hit and ran for twelve years. It also gained two Primetime Emmy nominations and one Imagen Awards. Moreover, his other tv credits include Cesar 911, Mutt & Stuff, Cesar's Recruit: Asia, Cesar Millan's Socialization, etc.
Likewise, the dog trainer's income comes from his book sales, whose prices are listed below:
| | |
| --- | --- |
| Book | Price |
| Cesar Millan's Lessons From the Pack: Stories of the Dogs Who Changed My Life | $13.37 (Paperback) |
| Cesar's Way: The Natural, Everyday Guide to Understanding and Correcting Common Dog Problems | $12.99 (Kindle) |
| Cesar's Rules: Your Way to Train a Well-Behaved Dog | $24.99 (Spiral-bound) |
| Be the Pack Leader: Use Cesar's Way to Transform Your Dog . . . and Your Life | $8.99 (Kindle) |
| Cesar Millan's Short Guide to a Happy Dog: 98 Essential Tips and Techniques | $13.95 (Paperback) |
Similarly, Cesar's earnings benefit from his signature products sales. His YouTube channel also makes $1.3K – $21.4K monthly and $16.1K – $257.1K yearly. In addition, his training course's starting price is $4,905.
Thus, Cesar Millan's net worth of $20 million is thanks to his successful dog training career. Also, take a look at businessman Sheldon Bream.
Cesar Millan Is Engaged To Jahira Dar
Cesar is engaged to his long-time girlfriend, Jahira Dar. He made a surprise proposal to his lady love during their Greece trip on March 24, 2016. Furthermore, the couple announced their engagement in April 2016.
Cesar Millan's fiancee, Jahira, is an actress, former stylist, and wardrobe consultant. She has also appeared in Cesar Millan: The Real Story.
View this post on Instagram
The dog behavior expert was previously married to Ilusión Millan. After divorce, he had to pay a one-time payout of $400K, $23K monthly spousal payment, and $10K in child support. His ex-wife, Ilusión, doesn't appear much in media.
Millan Has Two Sons
Cesar Millan's firstborn, Andre Millan, was born in August 1995. He is an animal handler and has appeared on many of his dad's shows. In addition, the father-son duo teamed up to produce Dog Nation.
The Dog Whisperer's youngest son, Calvin Millan, was born five years after his brother in 2001. He is a dog trainer like his pops. Moreover, Cesar's child, Calvin, has also starred in many tv series.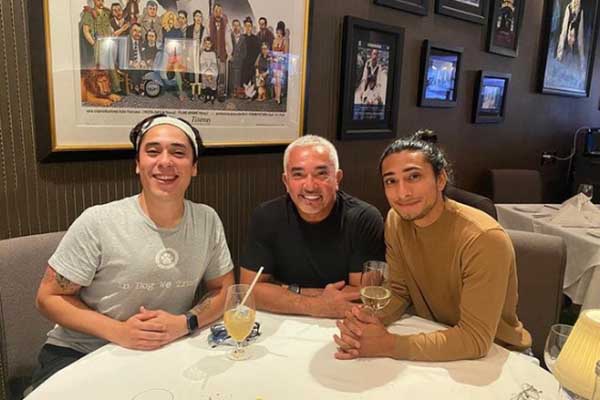 Hopefully, Cesar Millan's children will also succeed like him in the upcoming days.