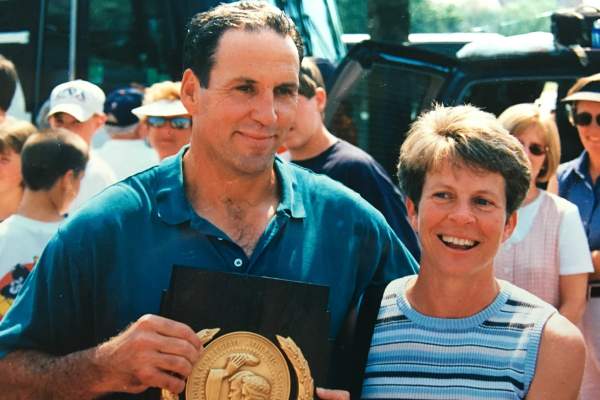 Birth Date

April 21, 1952

Birth Name

Dominic Starsia

Age

71

Also Known As

Dom Starsia

Father's Name

Dominic Joseph Starsia Jr.

Mother's Name

Margaret T. Graham

Birth Place

New York City, USA

Birth Sign

Taurus

Nationality

American

Profession

Lacrosse Head Coach

Partner

Kristin Lasagna

Relationship Status

Married

Eye Color

Brown

Hair Color

Grey

Children

Molly Starsia, Joe Starsia, Maggie Starsia, Emma Starsia

Education

Bachelor's in American Civilization
Dom Starsia is a renowned lacrosse coach of American nationality. He is the former head coach of the Virginia Cavaliers men's lacrosse team. Previously, he served for other teams, including Brown Bears and Chrome LC. Dom has been coaching since 1982 and has gained significant success.
Starsia has remained quiet about his personal life. So, let's further explore the coach's professional career and many other interesting facts.
Grew Up In A Family Of Eight
Dominic Starsia was born on the 21st of April 1952 to Dominic Joseph Starsia Jr. and Margaret T. Graham. Dom Starsia's father was a retired WWII veteran and New York City policeman. Unfortunately, the coach's parents have already passed away.
Furthermore, Dom grew up in New York City with his five siblings, Christine Gill Starsia, Richard Starsia, Gerald Starsia, Mary Beth Nevelik, and Timothy Starsia. The Starsia patriarch was a huge fan of his kids' athletic contests. Likewise, he never missed any lacrosse game following Dom's coaching career.
Moreover, Starsia went to Valley Stream Central High School. There he played football as a wide receiver. Then, in 1970, he attended Brown University, where Dom continued playing football. He also took a fancy to lacrosse and developed himself into an extraordinary defenseman. In 1974, he received a bachelor's degree in American civilization.
Also Read: Learn About John Danowski
Dom Starsia Net Worth And Career
It was at the collegiate level that Dom started to play lacrosse. He had exemplary stats as a player. Then, he pursued coaching and established himself as one of the popular coaches of his time. Seeing his career records, it is safe to assume that Starsia must have earned considerably. Thus, Dom Starsia's net worth must be huge.
As a defenseman, Starsia earned Third Team All-American, First Team All-Ivy, and All-New England honors. He was also the captain of his university's team. After college, as a standout lacrosse player, Dom was named club All-American thrice. He also played for the U.S. National Team.
After graduating from college, the New York native started his coaching career. He first joined the Brown athletic department, where he performed several roles, including head coach of the women's soccer team and men's lacrosse team. After his 10 years stint at his alma mater, the Virginia Cavaliers made the sportsman head coach in 1993. In 2016, he resigned from his college coaching rank and was replaced by Lars Tiffany as the head coach.
In February 2019, the Chrome Lacrosse Club of the Premier Lacrosse League (PLL) hired Starsia as the head coach. As per Blue Ridge School staff roster, he currently serves on the Advisory Board of the PLL. Furthermore, in November 2020, Blue Ridge School named him the boys' lacrosse team head coach.
In 2012, the head coach signed a five-year contract with Virginia. As per the deal, he earned $150K yearly as base salary and $100K in supplemental income. From his former four-year-long contract, Starsia's income was $111,700. So, after all these years of his professional career, Dom Starsia's salary must be a considerable amount.
Also, the lacrosse coach has authored a book, I Hope You Will Be Very Happy: Leadership Lessons From a Lifetime in Lacrosse, available for $19.86 in paperback. Therefore, Dom Starsia's net worth must be a substantial figure.
Is Happily Married
The New York native head coach is a married man. He shares a blissful marital life with Kristin Lasagna. Moreover, Dom Starsia's wife is the sister of Peter Lasagna, who assisted him at the Ivy school from 1983 to 1992. So, who knows, the couple might have met while Dom and Peter were working together.
However, it is not known when the Starsia couple tied the knot. Nevertheless, the duo must be enjoying their blissful conjugal life. Let's hope their marriage continues to last long.
Welcomed Four Children Together
In all years that Mr. and Mrs. Starsia have been together, the couple has welcomed four children. Dom Starsia's daughter, Molly Starsia, was born in 1982. Then, a year later, his son, Joe Starsia, arrived. Furthermore, Dom's babyboy is a former assistant lacrosse coach at Virginia.
Moreover, in 1986, Dom Starsia's twin daughters, Maggie Starsia and Emma Starsia, were born. When they were six months old, they were diagnosed with cognitive disabilities. Dom's wife thought something was wrong when their kids did not have regular motor function and didn't sit properly at 6 months. Despite the diagnosis, the coach enrolled his baby girls in a regular school; hence, they became the first babies with such conditions to attend a public school in East Providence.
37 years ago tomorrow, Emma and Maggie were born on the Monday after we hosted the NCAA Finals at Brown. They have been a significant part of my lacrosse life and for most of the guys that played for me since that day in 1985. pic.twitter.com/feziYCJf6W

— Dom Starsia (@DomStarsiaPLL) May 27, 2022
All in all, Dom seems to be living a content life. We hope he continues ascending the ladders of success in the coming days. Let's hope he has a successful career further.
Trivia And Facts
In 2011, Dom received the F. Morris Touchstone's "Coach of the Year" Award.
He does not have an Instagram account.