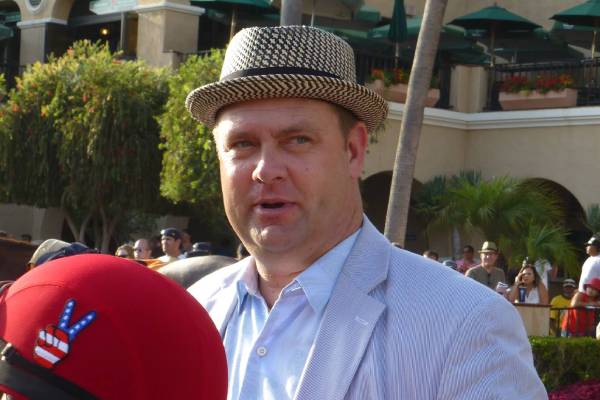 Birth Date

May 24, 1968

Birth Name

Douglas F. O'Neill

Age

55

Also Known As

Doug O'Neill

Father's Name

Patrick O'Neill

Mother's Name

Dixie O'Neill

Birth Place

Dearborn, Michigan, USA

Birth Sign

Gemini

Nationality

American

Profession

Horse Trainer

Partner

Linette O'Neill

Relationship Status

Married

Eye Color

Blue

Hair Color

Brown

Children

Daniel O'Neill, Kaylin Dixie O'Neill

Awards Honors

Trainer of the Year Award in 2002

Facebook

https://www.facebook.com/dougfoneill
Doug O'Neill is a Thoroughbred horse trainer who has trained in several horse racing events. He has earned a good name and fame for himself in horse racing sports.
As a result of his popularity, many want to know about him. Thus, without any further ado, let's look at Doug F. O'Neill's biography, which consists of information about his early life, career earnings, love life, and children.
Is A Michigan-Born Horse Trainer
Doug was born Douglas F. O'Neill on May 24, 1968, in Dearborn, Michigan, USA. When he was ten, the O'Neill family moved to Santa Monica, California.
Doug O'Neill's parents are Patrick O'Neill and Dixie O'Neill. When they moved to Santa Monica, his dad used to take him to Santa Anita Park to watch horse racing.
The Michigan-born horse trainer has two siblings, Danny O'Neill and Dennis O'Neill. Sadly, his brother, Danny, passed away after being diagnosed with cancer. Moreover, Doug's other sibling, Dennis, worked as a bloodstock agent for him, and in 2006, he was diagnosed with non-Hodgkin's lymphoma. Thankfully, he became cancer-free after removing the tumor and six rounds of chemo.
Doug attended Divine Child Elementary School through the fifth grade. However, it is not known which university he attended.
Also Read: Learn About Elena Delle Donne
Doug F. O'Neill Net Worth And Earnings
Aforementioned, Doug is a well-known name in horse training sports. He must have amassed a massive amount in his career. As a result, Doug F. O'Neill's net worth is estimated to be a considerable sum.
As mentioned earlier, O'Neill used to go watch horse racing at Santa Anita Park with his dad. While in high school, he became a hot walker and went to work at the Del Mar racetrack. In 1989, he received his trainer's license.
By the early 2000s, Doug had established himself as a major figure in the California racing scene. Moreover, at one time, he owned one of the largest stables in Southern California. Furthermore, in 2002, he acquired his first Grade 1 win, and it was also the first time he had even entered a horse in a Grade 1 race.
J. Paul Reddam, who has been sending horses to the horse trainer since the mid-2000s, has been one of his most loyal clients. O'Neill has been involved in horse training sports for a long time now. As mentioned earlier, in all these years of his professional career, he must have earned a considerable sum.
Now, let's take a look at this table that consists of Doug O'Neill's earnings in different years.
| | | | |
| --- | --- | --- | --- |
| Year | Starts | Per Start | Earnings |
| 1989 | 14 | $495 | $6,390 |
| 1995 | 11 | $1,436 | $15,800 |
| 1998 | 149 | $3,635 | $541,680 |
| 2002 | 409 | $7,936 | $3,245,798 |
| 2007 | 1,046 | $9,713 | $10,160,141 |
| 2012 | 554 | $14,234 | $7,885,772 |
| 2017 | 652 | $12,219 | $7,966,843 |
| 2020 | 597 | $7,419 | $4,428,971 |
Table Source: Equibase
In his many years of professional career, the California residing horse trainer has made earnings of $147,356,713 with 16,590 starts. Hence, Doug F. O'Neill's net worth has been heavily impacted by his earnings as a horse trainer.
While Doug has earned heftily, he had to lose a certain amount during legal battles. In 2012, he made a payment of $15,000 as a fine after he was found responsible for a horse that was tested with excess carbon dioxide levels that were above the permitted level.
In 2014, O'Neill paid $10,000 after accumulating nineteen drug violations. These fines might have made a slight dent in his fortune. But over time, he must have covered it.
Similarly, Todd A. Pletcher is another horse trainer who has earned a massive fortune to his name.
Who Is Doug O'Neill's Spouse?
The popular horse trainer is happily married to Linette O'Neill. The couple met while they were high school students. When they met, Doug O'Neill's then-girlfriend thought him to be cute and hilariously funny. But, she also pointed out he was not a typical high school student.
Doug and Linette began dating shortly after. On June 27, 1998, the pair tied the knot. The high school sweethearts seem to have made it this far, and their love must be growing stronger.
Doug F. O'Neill's wife, Linette Galvan O'Neill, manages the finances for Team O'Neill. She pays the bills and works with contractors. She supports her husband in every way possible, and he regards her as one of the most important parts of the team.
Has Welcomed Two Children With His Wife
It has been several years since the O'Neill couple tied the knot. With his wife, the Michigan-born trainer has welcomed two children.
Doug O'Neill's children with his spouse are Daniel O'Neill and Kaylin Dixie O'Neill. When his son was nine years old, he won his first Kentucky Derby.
Nevertheless, O'Neill must be living a wonderful life with his wife and kids in Santa Monica, California. His earnings will indeed ascend in the coming days as he is still very active in his career. Furthermore, Doug and his brother are working together, and their mom must be proud of them.
We hope Doug O'Neill achieves more success in the coming days.