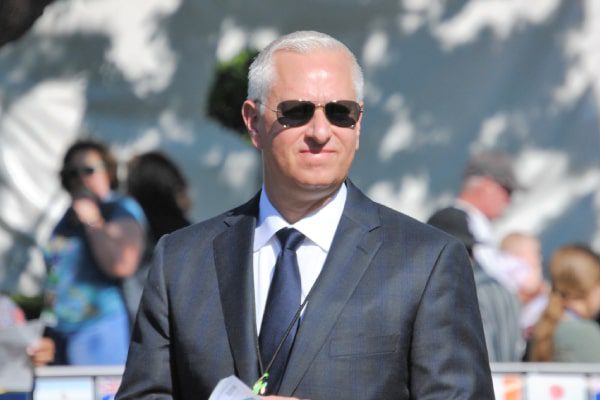 Birth Date

June 26, 1967

Birth Name

Todd A. Pletcher

Age

56

Father's Name

Jake Pletcher

Mother's Name

Jerrie Pletcher

Birth Place

Dallas, Texas, U.S.A.

Birth Sign

Cancer

Nationality

American

Profession

Horse Trainer

Partner

Tracy Pletcher

Relationship Status

Married

Eye Color

Blue

Hair Color

White

Children

Payton Pletcher, Kyle Pletcher and Hannah Pletcher

Education

Bachelor of Animal Science

Awards Honors

Eclipse Award's Best Trainer, United States Racing Hall of Fame

Official Website

http://www.toddpletcherracing.com/
Todd A. Pletcher, aka Todd Pletcher, is a renowned American thoroughbred horse trainer who has trained some of the greatest racehorses in the world. With more than 5,000 career wins, Pletcher stands tall with a remarkable feat on his name, including winning the Trainer of the Year four consecutive times.
Pletcher was trained by his father, who was also largely involved in the racing business. His two horses, Super Saver and Always Dreaming have won the Kentucky Derby, which is regarded as the best horse racing competition globally.
Many still don't know much about the horse trainer's personal life despite recognizing his professional prowess. So, let's discuss more about Todd's rise to fame, family, career, and net worth.
Trained With His Father
Todd was born to American parents Jake Pletcher and Jerrie Pletcher on June 26, 1967. Born and raised in Dallas, Texas, he trained with his dad as a hot walker at seven. As a hot walker, he was tasked with walking the horse before and after it exerts itself before another race.
Todd A. Pletcher's father, Jake, has been very supportive and proud of his career. He mentions how his upbringing near the horse racing tracks and stable helped Todd gain an interest to be a horse trainer.
During his high school days, Pletcher also worked as a hot walker for the late Henry Moreno at Hollywood Park and Del Mar Racetracks, further boosting his experience at such a young age. After graduating from James Madison High School, he worked as a groom/stable boy for Darrell Wayne Lukas, followed by training as a groom for legendary Hall of Fame horse trainer Charlie Wittingham.
Two years after graduating from the University of Arizona with a Bachelor of Animal Science, Pletcher was promoted to assistant trainer under Lukas in 1991. After getting that opportunity, he kept on going, and Todd bagged the position of Coast Assistant under Lukas until 1995.
The horse trainer got his first trainer's license in December of that year as he developed horses like Thunder Gulch, Harlan, Serena's Song, A Wild Ride, and Flanders.
Just two months later, Todd's horse, Majestic Number, gave him the first win of his career at Gulfstream Park in Florida. But, it wasn't until 2004 that he would get his first break as he trained a three-year-old filly Ashado to win in the Kentucky Oaks in Louisville. Likewise, Filly's stablemate Speightstown gave Pletcher another win in the Breeder's Cup the same year.
Also Read: More About YouTuber Miles McKenna 
Todd A. Pletcher Net Worth And Career
Since he was a little boy, the Dallas-based horse trainer has pursued his interest in horse racing and has won many trophies and awards. So, Todd A. Pletcher's net worth primarily consists of his earnings as a horse trainer. He has won several awards multiple times, which has added to his fortune.
The trainer has won the American classics title Kentucky Derby two times in 2010 and 2017 and Belmont Stakes three times in 2007, 2013, and 2017. His career comprises a whopping ten title wins in the Breeder's Cup from 2004 to 2019.
Likewise, the champ registered back-to-back victories in Queen's Plate and Prince of Wales Stakes in 1998 before winning the Breeders' Stake title.
Pletcher, who trained his horse Malathaat to a win under Shadwell Stables, also won the Eclipse Award as The Best Trainer seven times, four of which were in consecutive years. He won the Belmont Stakes with Rags to Riches (2007), Palace Malice (2013), and Tapwrit (2017).
Let's take a look at some of Todd Pletcher's top earnings:
| | | |
| --- | --- | --- |
| Year | Earnings | Per Start |
| 2007 | $28,116,097 | $22,896 |
| 2006 | $26,820,243 | $22,963 |
| 2015 | $26,278,647 | $23,380 |
| 2013 | $25,248,816 | $26,690 |
| 2010 | $23,157,098 | $21,402 |
Table Source: Equibase

With all these wins, he must have collected a considerable sum. Moreover, he is the Todd Pletcher Racing Stables owner, where he has trained more than 50 horses.

Likewise, with the total value of other trainers like Bob Baffert being around $30 million, we can assume that Todd A. Pletcher's net worth might be a significant amount.
Since there are conflicting reports from various sites, it can be sufficed that Todd totals his net worth with the horse training business. His trained horses have earned more than $427 million throughout his career, according to Equibase.
Furthermore, the two-time Kentucky Derby winner owns a $2 million house on Long Island, New York, where he spends considerable time with his family.
Tim Yakteen is another horse trainer.
Happily Married To His Long-Time Partner
Todd married his high school sweetheart Tracy Pletcher on February 29, 1992, in San Antonia, Texas. The couple met each other when Pletcher had already started working as a hot walker for his father.
Three years after getting married, Todd started his stable at the Hialeah Park, leaving his position as an assistant and winning a race just 13 days after.
The adorable pair have been happily married for thirty years now, and Tracy always speaks highly of her husband's dedication to his work and their children.
Pletcher Is A Father Of Three
Todd A. Pletcher's wife gave birth to three children. Their eldest son Payton Pletcher has already shown interest in working in his father's stable. In addition, the young man works in his dad's barn in the summers.
Likewise, Todd A. Pletcher's middle child is his son, Kyle Pletcher, while his youngest is his only daughter, Hannah Pletcher. Both kids have three-year age differences.
All of the horse trainer's children frequently visit the stables and attend many races.
Hannah Pletcher w Dad at @ChurchillDowns for #KyDerby. #Destin #Outwork #KyDerbyKids #ChurchillDowns pic.twitter.com/IbIs3SN9gq

— KyHBPA (@KyHBPA) May 7, 2016
Pletcher has trained many horses who have gone on to win major titles. So, let's hope he can continue to work as a dedicated horse trainer and watch his horses win as many races as possible.