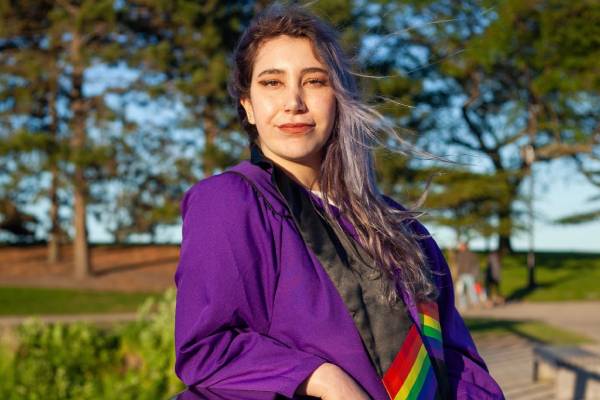 Birth Name

Emma Rose Raimi

Father's Name

Sam Raimi

Mother's Name

Gillian Greene

Nationality

American

Profession

Actress, Director

Relationship Status

Not Confirmed

Eye Color

Brown

Hair Color

Blonde

Education

Bachelor of Arts in Theatre

Instagram

https://www.instagram.com/emraimi/
Last updated on April 12th, 2022 at 12:00 pm
Many movie fans around the world have loved the Spider-Man trilogy. The film has not only amassed massive box office collections but has also helped the people associated with it gain fame. One such name is Sam Raimi.
All thanks to his professional success, Sam's name has reached every corner of the world. The filmmaker is a doting father of five children whom he and his spouse have raised away from the media limelight. Thus, in this biography, let's get to know about Sam Raimi's daughter, Emma Raimi.
Only Daughter Of Filmmaker Parents
Emma Raimi was born Emma Rose Raimi in January 1999 in Los Angeles, California, USA. She is the only daughter of her filmmaker parents.
Emma Raimi's dad, Sam Raimi, is a popular filmmaker in Hollywood who has produced and directed many popular films like Spider-Man, The Evil Dead, Darkman, etc.
Similarly, Emma Raimi's mom, Gillian Greene, also recently began working as a director. The former has four siblings, Lorne Raimi, Henry Raimi, Schooley Raimi, and Dashiell William Raimi.
Emma Raimi's brother, Lorne, has appeared as an extra in Spider-Man 3 and has also worked as a director.
The media person went to Crossroads School for Arts & Sciences. Then, for a year, she attended Humboldt-Universität zu Berlin. Finally, she enrolled at Northwestern University in 2017. 
In 2021, Emma graduated from the university with a Bachelor of Arts in Theatre.
Emma Raimi Net Worth And Earnings
As per her IMDb, Sam Raimi's daughter has also been involved in the entertainment business. With the earnings from the industry, Emma Raimi's net worth must have been a considerable sum.
Emma comes from an entertainment household. As mentioned earlier, her parents are filmmakers, including her brother. Similarly, her maternal granddad, Lorne Greene, was a legendary actor.
From a very young age, Raimi was exposed to the filmmaking business. So this might be the reason why she pursued acting. In 2007, she made her acting debut as an extra in the Spider-Man 3 movie as the girl with a camera.
Then, the actress appeared in several other movies like Bratz, Drag Me to Hell, and Oz the Great and Powerful. She has also acted in short projects like The Playful Coach, Fanboy, and Happy Pills.
In 2022, Emma appeared as Mia in the television series Cured. Furthermore, apart from acting, she also worked as a writer, director, and producer in the series.
Not only that, several other work experience of the film star has been listed on her LinkedIn. She was a student volunteer at Malibu Jewish Center & Synagogue. She worked as a teaching artist at Purple Crayon Players.
From March 2019 to June 2019, Emma worked as an art director at Voyeur Theatre Collective. Before that, she worked as a design supervisor in Lipstick Theatre for almost three years. Currently, she is interning at Action Now.
Moreover, Raimi is the co-founder of a production company, Don't Watch This Production, along with Emma Flanders.
The average pay of a filmmaker in the USA is $51,884 annually. Similarly, the base salary of an actress is $58,853 per year.
Hence, Emma must have made considerable earnings as a filmmaker and actress. As a result, Emma Raimi's net worth must be a significant amount.
On the other hand, Emma Raimi's dad, Sam Raimi, has an estimated net worth of $60 million.
Also Read: Learn About The Basketball Coach Jim Calhoun
Who Is Emma Raimi's Partner?
The rising actress came into the limelight because of her professional work and as the renowned filmmaker Sam Raimi's daughter. However, even after being famous, she has kept her personal life private.
Going through her Instagram, the Cured director has not talked about her lovelife. Hence, it is not sure if she is single or who Emma Raimi's boyfriend is. Even if she is dating someone, she might want to protect her partner's privacy.
Nevertheless, anyone dating a talented and beautiful girl like her will be extremely fortunate. Let's hope she opens up about her love life in the coming days.
Nonetheless, Emma must be living a comfortable life and all thanks to her staggering net worth. Raimi's parents must be proud of her work. Let's hope she continues achieving significant success at her work in the coming days.