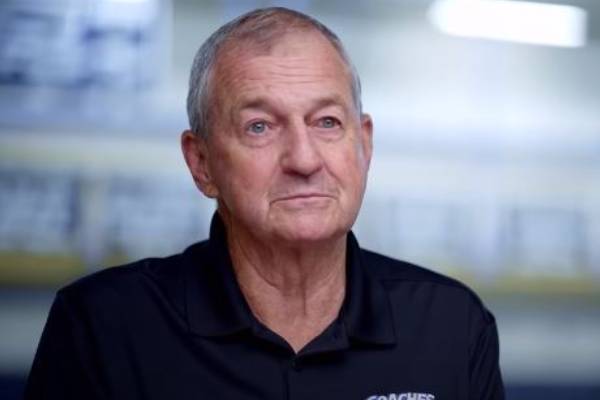 Birth Date

May 10, 1942

Birth Name

James A. Calhoun

Age

81

Father's Name

Jim Calhoun Sr.

Mother's Name

Kathleen Calhoun

Birth Place

Braintree, Massachusetts, USA

Birth Sign

Taurus

Nationality

American

Profession

Basketball Coach, Basketball Player

Net Worth

$12 million

Salary

$2 million

Partner

Pat Calhoun

Relationship Status

Married

Eye Color

Sky Blue

Hair Color

White

Children

James Calhoun, Jeff Calhoun

Education

Bachelor's Degree in Sociology
Last updated on April 12th, 2022 at 11:59 am
Jim Calhoun has been a basketball coach for a long time. He is mainly known for being the head coach of the University of Connecticut, and besides that, he has coached different college men's basketball teams.
The basketball coach is widely regarded as one of the greatest in history, and he has gained considerable fame and fortune in his professional career. Many want to know about his personal life. Thus, this biography is about the basketball coach, Jim Calhoun.
Born And Raised In Massachusetts
The basketball coach was born James A. Calhoun on May 10, 1942, in Braintree, Massachusetts, USA. He is the eldest of six children of his parents.
Jim Calhoun's dad, Jim Calhoun Sr. was a former merchant marine who passed away due to a heart attack when he was 53. When his father died, the coach was only 15 years old. Moreover, Jim's mom, Kathleen Calhoun also had a heart condition and passed away at an early age.
Jim has five younger siblings, and one of his brothers is Bill Calhoun.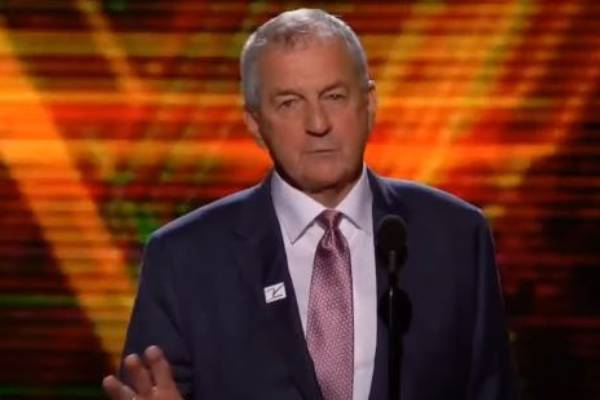 Calhoun attended Braintree High School. After completing high school, he received a basketball scholarship to Lowell State. However, he only attended school for three months and returned home to support his mom and siblings.
Twenty months later, Jim attended American International College in Springfield, Massachusetts, on a basketball scholarship. In 1968, Calhoun graduated with a bachelor's degree in sociology.
Jim Calhoun, Net Worth –  $12 Million
As a basketball coach, the Massachusetts native has earned a massive amount over the years. Hence, Jim Calhoun's net worth is $12 million. As aforementioned, his fortune comprises his earnings from the salary that he received from different teams.
Prior to beginning his coaching career, Jim played basketball at college. There, he was the leading scorer during his junior and senior seasons. When Calhoun graduated, he was ranked as the fourth all-time scorer at AIC.
Jim started his coaching career at Lyme-Old Lyme High School. Then, he coached different high school teams, including Westport and Dedham High School. In 1972, he started serving at Northeastern University and coached there until 1986.
As mentioned earlier, Jim mainly came into prominence for his coaching career at the University of Connecticut. In May 1986, he was named the head coach at UConn. He led the team to win many tournaments and championship titles.
With the UConn Huskies, Jim had a contract from 2009 to 2014. His salary during the first year of the agreement was $2 million, which later increased to $3 million. As per the deal, he received several amounts in different years.
The following table shows the amount that Calhoun received in different years with the University of Connecticut.
| | |
| --- | --- |
| Year | Amount |
| 2009-10 | $2 million |
| 2010-11 | $2.3 million |
| 2011-12 | $2.7 million |
| 2012-13 | $3 million |
| 2013-14 | $3 million |
Furthermore, the amount of Jim's base salary increased by $25,000 each year. He also received $1,675,000 in the contract's first year for institutional speaking engagements and $2 million for media-related appearances.
In September 2012, Jim announced his retirement from a 26-year career at UConn. Although the reason has not been disclosed, his health problems might be one of the factors behind it.
Six years later, in September 2018, the University of Saint Joseph named him the team's first head coach. It is an NCAA Division III program. In November 2021, Jim stepped down from the position.
In his decades-long successful professional career, Jim has earned a considerable amount. All thanks to Jim Calhoun's net worth of $12 million, he is able to live a comfortable lifestyle.
Curt Miller is another basketball coach who has found fame from his career.
Health Complication And Illness
Apart from tasting professional success, Jim also had to go through numerous complications in his personal life. He suffered from a series of health problems over different years. In February 2003, he took an immediate leave of absence after the diagnosis of prostate cancer and had surgery to have his prostate removed. Then, in May 2008, he underwent treatment for squamous cell carcinoma.
Furthermore, in June 2009, Jim broke his five ribs after falling during a charity bike event. In January 2010, he took a leave of absence due to health reasons. Again in February 2012, he took medical leave due to spinal stenosis. Jim returned to his work after overcoming his illnesses and is doing great now.
Married Since 1967
Not only his professional career is long-running, but the coach's marital life has also been going smooth even after all these years. Jim Calhoun shares a blissful marital life with Pat McDevitt. The couple has been married since 1976.
However, there's not much information regarding the relationship timeline of the duo. The married pair are involved in philanthropy and have established Pat and Jim Calhoun Cardiology Center and Jim Calhoun Holiday Food Drive.
Jim and his wife conduct fundraising programs time and again. They established the cardiology center at UConn Health Center as they both had lost their parents to heart disease.
Also Read: Learn About Tim Knight
A Father Of Two Children
The coach is a proud father of two sons. Jim Calhoun's wife, Pat Calhoun gave birth to their son, James Calhoun and Jeff Calhoun.
Jim Calhoun's children have remained away from the limelight. Nevertheless, the Calhoun clan must be enjoying a comfortable life together.
Wherever Jim's parents are, their souls must have found peace. He and his siblings must be supportive of each other. Moreover, the coach must be living a comfortable life in Pomfret, Connecticut.
We wish Jim to have successful days in the future.